Barátnős, pasiért harcolós, úti kalandos.
Meg és Kate általános iskola óta jó barátok, de most mindkettejükre rájár a rúd. Meg kozmetikai termékekkel házal, amik a nyakán ragadnak. Nem elég, hogy az észak-koreai gyártás miatt eleve nem kell senkinek, még a bőrnek se tesz jót. Kate tanárnő, akit liberális oktatási elvei miatt az igazgató megkér, mondjon fel, hogy a végkielégítést is megspórolja az iskola. Meg elhatározza, lépjenek le kicsit az életükből! Gépre ülnek és irány Florida! Strand, napsütés és pihenés. A gépen a két lány közé ül a szexi, szőke Ryan, és hirtelen nem a strand lesz a legérdekesebb program. Egy hurrikán miatt a gép máshol száll le, és az ideiglenes szálláson mindkét lány beveti magát. Megindul a barátnői vetélkedés, ki szedi fel a srácot!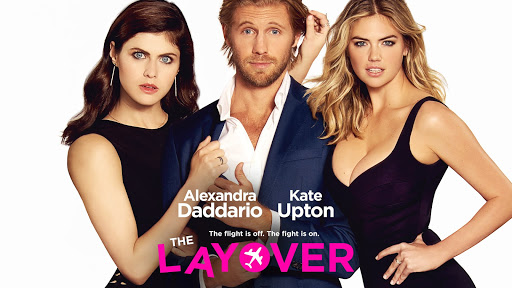 Vissza kellene lapoznom, mikor láttam olyan vígjátékot, amin utoljára tényleg jókat nevettem… mostanában inkább erős dráma jut eszembe. Talán a Thor 3 óta nem láttam semmi tényleg vicceset? Hú. Azt már elárulom most, The Layover nem töri meg ezt a sorozatot. Ez sem lett egy fergeteges komédia.
A történet nagyon tipikus, a komédiák egyik megszokott zsánere, ha néha romantikusabbra is veszik, mint amivel most éltek a készítők. Ez körülbelül az a szint, amit a Csajok háborúja mutatott. ( A Szerelem kölcsönbe jutott még róla eszembe különben, de az a romantikusabbra vett verzió.) A két jó barátnő, akik vetélkedni kezdenek egy férfi miatt, és egyre piszkosabb trükköket vetnek be egymás ellen.
Sok mindent előre lehet sejteni, mintha a film arra játszana, hogy feldobott labdákat üssön le sorra. Amikor a pihenőn Kate kimegy a WC-re, ki nem sejti, hogy Meg bezárja majd? Vagy a végig mellettük settenkedő, rendes, de nem éppen szexi Craig sorsa is előre sejthető. Nem tud meglepni a film, így igazán megnevettetni sem. Mindig pont az jött, amire számítottam.
Annyira, hogy a film poénját is jó előre kitaláltam. Ami azzal kapcsolatos, hova utazik Ryan, de ennél többet nem árulok el! Rutinos filmnézőnek nem lesz nehéz rájönni egyedül is…
Ha már poénok. Humoros, de nem igazán vicces a film. Szerencsére nem megy el az olcsó, altesti poénok felé, de azokból is ad ízelítőt. Nekem többet is, mint amit még elviselnék. Lesz itt Trainspotting szintű undorító WC, szénsavtól büdös büfögés, és hasonlók. Én jobban díjazom, ha egy film ennél igényesebb szórakoztatást nyújt. Van ebben olyan is, végig is bírtam nézni a filmet egy nekifutással, nem akasztottak meg a butább poénjai.
A szereposztáson is jókat mosolyogtam. Kifejezetten szórakoztatónak találom, amikor azzal játszom, ki honnan ismerős. Daddario egyszerű rejtvény volt, legutóbb épp a sokkal gyengébb és buta poénokkal teli Baywatch-ban domborított. Kate Upton modell – itt is a mellmérete a legjellemzőbb tulajdonsága. Matt Barr volt a nehezebb dió, de rájöttem! Az ő halálát sajnálgattam anno a Harper szigeten. A színészi teljesítményük negyed ennyire sem kötött le, itt nem kellett nagyot – talán kicsit se – játszani. Szépnek kellett lenni és kész.
A végére ugyan ki akarják hegyezni a sztorit arra, hogy a jó barát éri a legtöbbet, és ostobaság egy pasi miatt egymásnak esni, de ez elég erőltetett. A poénokkal és úti kalandokkal akarják eladni a filmet. Ez szórakoztató csajpárbaj, semmi több.
Egyszer megnéztem, néha mosolyogtam is rajta, de ismétlésre nem vágyom belőle.
The Layover 5/3 kiszámítható, de azért nézhető kis komédia – ismerős elemekből előállítva.