Családos, gyilkolós, menekülős.
A Ryan család vívja a maga harcait: Carly kamaszlány lett, aki már alig beszél az anyjával, és lopkod a tárcájából is. Kendall unatkozik otthon, és a régi állásába se veszik vissza. Férje, Brent a kapuzárási pánik tüneteit produkálja. Szerető, rendes család, de a felszín alatt egyre forrnak az indulatok. Az iskolában valami történik, a szülők a kapuban várnak és rendőröknek kell megfékezni őket. Mire Carly észbe kap, már végig kellett néznie,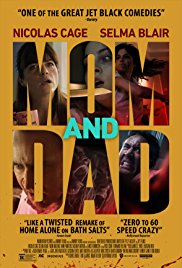 ahogy pár szülő végzett a gyerekével. Rohan haza az öccséhez, igyekszik megelőzni a szüleit. A házba rekednek, mert a hazaérkező apa és anya kést és egyéb eszközöket ragadnak, hogy azzal végezzenek a két gyerekkel. Megindul a gyilkos hajsza egy mottóval: tudod, hogy szeretlek. De néha annyira meg akarlak ölni!
A Brooklyn Nine-Nine egyik utóbbi része arról szólt, hogy Kevin életveszélybe kerül egy fenyegetés miatt, és el kell rejtőznie. Peralta marad vele, és unaloműzőnek elhozta a Nic Cage filmgyűjteményét. Amitől a komoly tudós Kevin persze szenved – már kimehet a házból, mire felfedezi, hogy akadt a filmek között értékes is. Ki is akad, hogy nem ezeket nézték meg.
Miért mesélem ezt el? Mert miközben a Mom and dad ment a gépemen, az járt a fejemben, hogy Kevin ehhez mit szólt volna. Attól tartok, ez sem tetszett volna neki jobban, mint a Con Air vagy a Szellemlovas.
Pedig még némi ötlet is akad a sztoriban. Ahogy a szülők bekattannak és elkezdik levadászni a gyerekeiket, kész. A focipályás jelenet nem is kicsit idézte meg bennem a Zombieland hasonló jelenetét, csak ott szülők helyett zombik indultak gyilkolni. De eszembe jutott a Kingsman első része is, amikor gyilkos üzemmódba változtak az emberek.
Ám sajnos az ötlet nem tartott ki a film végéig. Ugyan bénább kivitelben, de ahogy a szülők elkezdenek megőrülni, és megkezdődnek a gyilkosságok, a széles merítés még fekete humorral vicces is. Még arra is figyeltek, hogy ne vigyék túlzásba a durvább jeleneteket, és sok mindent csak egy rövid bevágás erejéig mutassanak. (Azt most se értem teljesen, hogy Carly barátnőjének anyja mivel fujtotta meg a lányát, annyira pillanatnyi volt a bevágás.)
De aztán jön a ház és a Ryan család, beszűkül a film világa. És egyszerűen nem tudták mivel kitölteni a maradék játékidőt. Sok jelenetnél éreztem, hogy humornak szánták, de nem lett vicces. Ahogy az akciók is becsúsznak a béna kategóriába.
Fordulatnak a nagyszülők érkezése? Az is olyan rész volt, amiről az agyam hátuljában érzem, hogy poénnak szánták, de mégse tudok rajta nevetni. Akciós horrornak túl béna és nem látványos a film, komédiának meg nem vicces eléggé.
Azon is töprengek még, hogy a végére betett jelenet akar a tanulság lenni? Hogy igazából ez a film arról szól, hogy minden szülőnek van olyan pillanata, amikor legszívesebben megfujtaná a gyerekét, csak az emberi ösztönök és normák ezt nem engedik? Ha nagyon akarom, bele tudom magyarázni, de most nem nagyon akarom.
Két mondatot érdemel az is, hogy egykor régen Nic Cage és Selma Blair is sztároknak számítottak, ma meg csak ilyen szerepet kapnak. Különben Blair visszafogottabb őrülete jobb.
Az alapötletben látok fantáziát, sajnálom, hogy nem vették viccesebbre a filmet.
Mom and dad - 5/3 agymenés, amiből jó kis horror komédia is lehetett volna. De valami hiányzott hozzá.