Nyomozós, összeesküvős, vonatos.
Michael jó családapa, akinek az a célja, hogy a családjának mindent megadjon. Karriert is váltott a kedvükért: amikor apa lett, a rendőrséget hagyta ott és egy biztosítónál helyezkedett el. Egy téves befektetés azonban elvitte a megtakarításait, az állásából menesztik, pont, amikor a fia bejutott egy jó egyetemre, és be kellene fizetni a tandíjat. Elkeseredetten tart hazafelé a vonaton, amikor egy titokzatos nő leül mellé. Arra kéri, keressen meg neki egy utast a vonaton, tegyen a táskájába egy jeladót. Prynne a neve, és azt tudja, meddig megy. 100000 dollár érte a jutalma. Michael az előleg láttán keresni kezdi a titokzatos utast. De hamar rá kell jönnie, hogy gyilkosok kerítették a markukba, akik fenyegetik a családja életét, és egy szemtanút akarnak kivégeztetni. Valamit tennie kell, de kiben bízhat?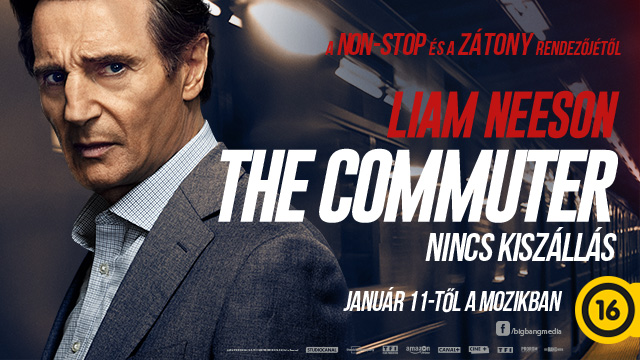 Liam Neeson olyan karrierváltást produkált pár éve, ami az óta többek inspirált hasonlóra, de rajta kívül senkinek nem akar összejönni. Neeson lett az akció papák etalonja: tudjátok, az idős, de még mindig belevaló férfi, aki elintézi a rosszfiúkat.
A Nincs kiszállás is Neeson egy újabb ilyen filmje. Még a rendező is régi ismerős, Collect-Serra már két hasonló történetet is forgatott, Neeson főszereplésével. Itt a következő is.
De máris meg tudom jegyezni, hogy ezúttal sokkal jobban eltaláltak az arányok. A film sokkal inkább a thriller határán mozog, mint az akciófilmén. Michael egy olyan helyzetet kell, hogy megoldjon, amiben ugyan segítenek neki a kiadós pofonok is, de elsősorban az agyára van szüksége. Egy megoldhatatlannak tűnő rejtélyt kell megfejtenie.
A film okosan építkezik: gyorsan felvázolja nekünk Michael karakterét, szimpatikussá teszi, tudunk vele azonosulni és drukkolni neki. Majd felül a vonatra, és elindul a halálos játék. Folyamatosan csepegtetik nekünk az információkat, így a szereplővel együtt kell rájönnünk, hogy mi folyik itt igazából, és mi lenne a helyes lépés. Mert jó érzékkel egyre bonyolítják az eseményeket, és nagyon hamar egy komoly összeesküvés szálai bontakoznak ki.
Ami akciót a filmbe beletettek, működik. Már arra is oda van figyelve, hogy ne legyen nagyon elszállt az egész. Neeson nem kellett, hogy végigverje a terroristákat. Ugyan jól tartja magát a színész, de látszik rajta, hogy nem egy 30-as fiatalember. Kevesebb az akciójelenet, főleg a verekedés. De szerintem jobb is így.
Amit kellett (a vonat végzete) akcióban nagyjelenet, korrektül megoldották.
Jó stábot is kapott a film. Neeson egyértelműen a húzónév, de olyan remek karakterszínészek végszavaznak neki, mint Vera Farmiga, Patrick Wilson vagy éppen Sam Neil. (Utóbbinak pusztán a morcos tekintetéve sikerült elérnie, hogy őt is gyanúsítottnak kezeljem.)
Karakterek szempontjából is Neeson van a legjobb helyzetben. Michael van legjobban felépítve – a többiek csak papírmasé figurák mellette, akik egy-egy vonással lettek jellemezve. Farmiga karaktere, Joanna, róla pedig semmit nem tudunk meg. Ő a titokzatos nő, aki mozgásba hozza a dolgokat, de miért teszi? Ugyan némi választ plusz poénként rejtenek a végére, de az nem tesz a karakterhez semmit.
Nincs kedvem számolgatni, Neeson akció papa filmjei közül ez hányadik a tetszési soromban, de jó helye lenne. Nekem nagyon bejött, hogy nem csak akció, hanem az agyam is mozgatták.
The Commuter - Nincs kiszállás: 5/4 jól felépített, érdekes történet, amiben jobban figyeltek a cselekményre, mint az akcióra.