Nyomozós, pszichológiás, sorozatgyilkosos, kosztümös.
A XIX. század lassan véget ér, elkezdődik a XX. New Yorkban egyre divatosabbak a pszichével foglalkozó orvosok, akik között az egyik legjobb Laszlo Kreizler. A doktor megszállottan érdeklődik a beteg elmék iránt, egy gyerekkori trauma miatt. Így amikor brutális gyerekgyilkosságról szerez tudomást, mozgósítja az embereit, hogy a gyilkos nyomába eredhessen. Hamarosan rájön, hogy sorozatgyilkos garázdálkodik: lánynak öltözött prostituált fiúkat kap el, csonkít meg halálosan. Mivel jó barátja az új rendőrfőnöknek, Roosevelt engedi neki, hogy egy kis csapatot összeszedve az ügyön dolgozzon. A zsidó származású, orvos nyomozó ikrek, egy illusztrátor úriember, a rendőrség első női alkalmazottja is a csapat tagja, akik a gyilkos nyomában a saját démonaikkal is küzdenek.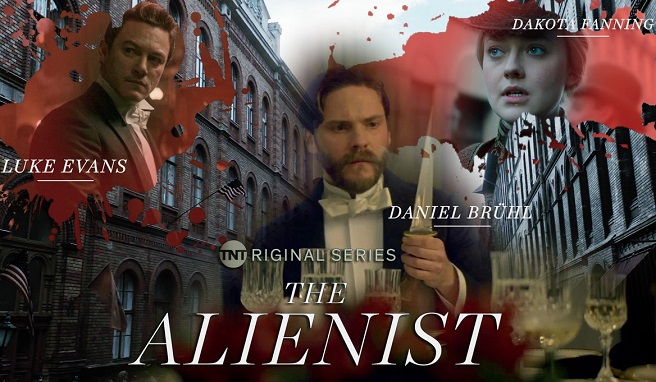 Nagyon vártam, hála Caleb Carr regényének, aminek mai napig sajnálom, hogy csak egy folytatása született. A halál angyala igényes krimi volt, remek történelmi környezetben. Szerencsére a sorozatban sem kellett csalódnom – nem tökéletesen másolja a regényt, de a szellemiségét remekül átvette.
Nem tudom megállni, hogy ne dicsérjem meg a látványtervező és kosztümös, díszletes munkáját már az elején. Roppant érzékeny vagyok arra, amikor Budapest más várost játszik, és rühellem felismerni, mondjuk, a filmbeli Párizsban Pestet. Ez a sorozat is nálunk forgott, és egyszer nem jutott eszembe, hogy nem a századfordulós New York van előttem. Pedig néha direkt az utcákat, házakat nézegettem – hiába, a BBC Maigret feldolgozása ilyen szempontból annyira fáj, hogy ez is szempont lett nálam.
De a The Alienist korhangulatot nem csak a városképpel, épületekkel teremt meg jól. A szereplők eszközei, ruhái is hitelesek, hozzák magukkal a történelmi hangulatot. Fanning kapott gyönyörű kosztümöket, de a társadalom alsóbb rétegeit is jól elkapták képileg. Izgalmas, ahogy a szürke szűrő mellett is színes, dekadens alvilágot teremtettek vizuálisan.
A történet kellően összetett és kényelmesen is építkezik. A szereplők hosszú sorát kibontja, nem csak a legfontosabb szereplők kapnak karakterizálást és múltat. Kifejezetten jót tudtam szórakozni a mellékszálakon is – igaz, ez néha inkább felháborodás volt. Nagyon durva, milyen módszerekkel dolgoztak, milyen korrupciót adtak el tisztességnek anno. A végén is, hogy válik a gyilkos bestia hőssé a halálban csak a látszatok miatt… undorító.
A krimi egyszerre klasszikusan krimis, nyomokkal és szemtanúkkal, de végig benne van a pszichés oldal is, Kreizler munkájának és érdeklődésének hála. Nem tudom, a készítők mennyire szánták poénnak, ahogy a munkatársait is finoman elemzi és megjegyzéseket ejt el nekik, de én annak értékeltem.
A sorozat a végére nagyon felpörög, de heti nézősbe jól belefért így. Ha egybe nézem, talán sokalltam volna, így viszont tetszett. Okos sorozat is, több egy sima kriminél.
A szereposztás is parádés. Állítom, Brühl a német színészek közül a legjobban eladható most, és itt is remekül teljesít. Luke Evans is simán hozza a karakterét. A meglepetés Dakota Fanning, akit nagyon nem tudtam előre ebben a szerepben elképzelni, de a végére bírtam is.
Simán működik a Ripper Street hiányának pótlására, de a regény után is érdemes nézni.
The Alienist - 5/4 korrekt látvány és történet. Erős a szereposztása. A végére fel is pörög, korrekt adoptáció.