Családos, üres házas, fenyegetett.
A Wallace család élete nem tökéletes – állandóak már az anyagi gondok – de a család összetart és szeretik egymást. De minden veszni látszik, amikor az apa halálos gázolás áldozata lesz. Naomi képtelen fenntartani a házukat, nem talál állást. A húga segíti ki, kölcsön adja a vidéki házát, ahol megszállhat a fiával, amíg jobb helyre akadnak. Csak hétvégen kell felszívódniuk, amikor nyílt napot tartanak, és lehetséges vevők nézik meg a házat. Logan nehezen viseli a változást, de hamarosan rá kell ébrednie, hogy nem csak a gyász és az idegen ház miatt vannak rossz érzései. Valaki a nyomukban van, valaki figyeli őket, és bármikor elkezdődhet a terror és a futás az életükért.
Ez mégis mi volt? Netflix, miért kellett ez? Nem győzlek dicsérni, hogy a legtöbb kedvenc sorozatom ti adjátok le,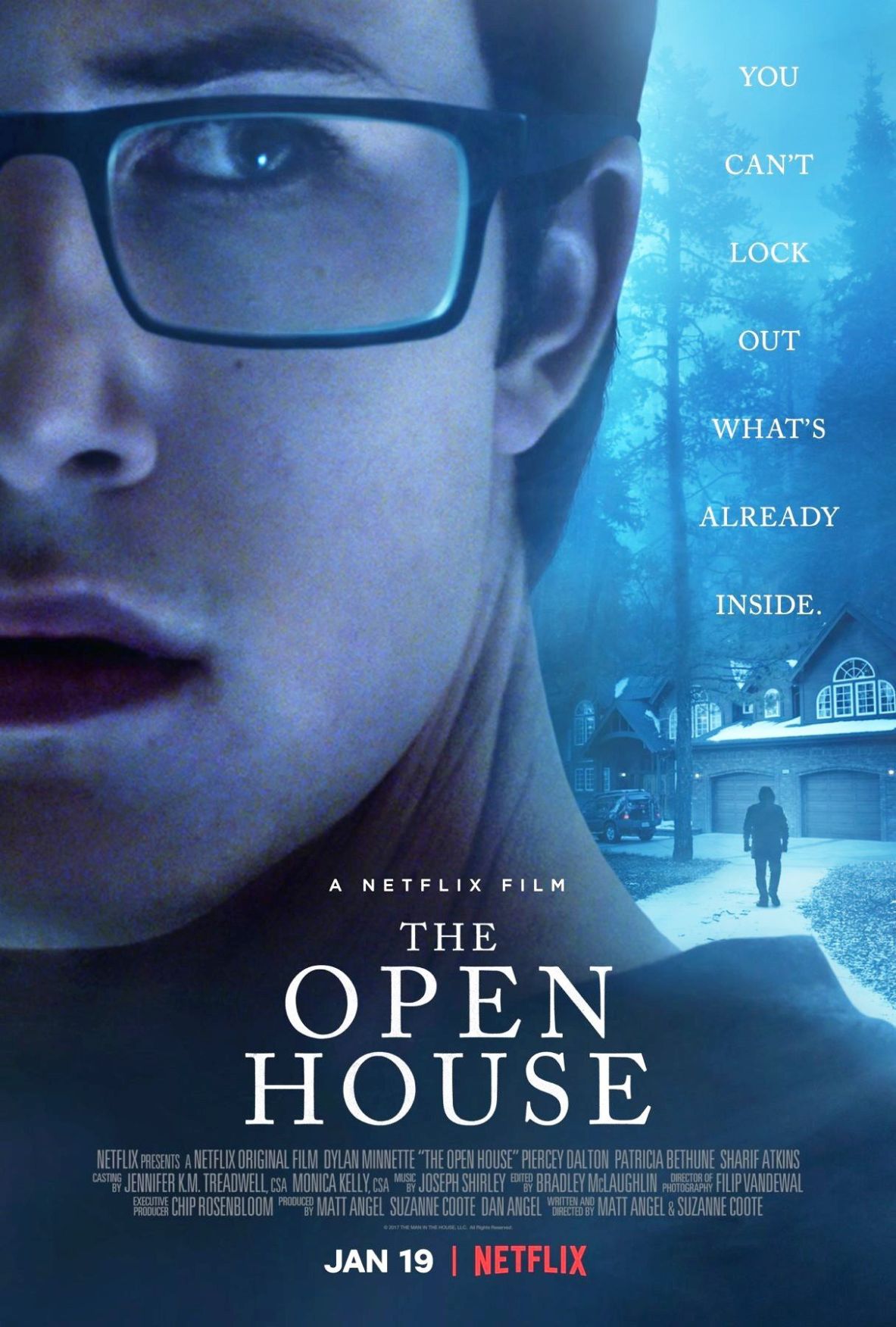 és egyre jobb filmeket is gyártotok! Erre jön ez a horror? Amit sikerül úgy reklámozni, hogy érdekeljen is, és ilyen csak a végeredmény? Sikítani lenne kedvem, de komolyan! Horrorban rég ért ekkora csalódás, pedig ebben a zsánerben szokott lenni bőven!
Hol is kezdjem a panaszlistám? Annyi bajom van vele, hogy nem is tudom.
Bár, van egy erős tippem, mivel kellene kezdenem. Azzal, ami a legkevésbé ment le a torkomon. A film vége. Félreértés ne essék, nem az fájt, ki halt meg, ki maradt életben. Ha a műfaj horror, benne van a pakliban, hogy a főszereplők is elhullnak. Én azt nem bírom, ha nem kapok válaszokat. Tudni akarom, ki gyilkol és miért! Ha ez csak annyi, hogy van egy pszichopata, aki így éli ki magát, akkor ennyi. Lehet bosszú, lehet anyagi haszonért, betegségből… mondhatni, mindegy, csak legyen indok!
De itt nincsen! Engem halálra idegesített, hogy a gyilkos egy senki, akiről semmit nem tudok. Vagy több ember volt, akik összeálltak? Még akár az is lehet, mert nincsen semmilyen válaszom a film alapján. Értem, ez miért lehet koncepció. Félelmetesebb az arc nélküli gyilkos, aki logika nélkül bármikor lecsaphat. De ebbe nem tudtam beleélni magam, csak abba, hogy tudni akartam miért történik ez a szereplőkkel, és a film nem hajlandó ezt feltárni!
Kettes gondom, hogy az ígéretes trailer ellenére a film egyáltalán nem lett ijesztő. Még a jump scream módszereket is mellőzik, és nagyon sokáig altatnak. Talán a film felétől éreztem egy kis feszültségteremtést, de ijeszteni mintha nem is akartak volna! Ha az új generációs horrorok azzal akarnak újulni, hogy már nem is ijesztőek, akkor köszönöm szépen, én nem kérek belőlük! Komolyan, nem voltam oda sok új horrorért, ami díjesőt is begyűjtött, de most visszasírom őket ezt látva!
Ha belegondolok, egy része volt a filmnek, aminek volt valami hatása rám. Amikor a szemüvege nélkül, vakon rohan az erdőben Logan, és mutatják is, mit lát, pontosabban mit nem lát. Mivel nekem is a szemem a gyenge pontom, abban éreztem, miért félelmetes. De nem a látvány miatt, nem a film miatt, hanem a személyes tapasztalatok miatt. Fogadnék, akinek jó a szeme, rá nem lesz hatással az a jelenet sem.
Bár nem azzal szoktam szórakoztatni magam, hogy megnézem, milyen volt egy film kritikája, most kíváncsi voltam, hogy csak én voltam ilyen elégedetlen, vagy másoknak se jött be ez a film. Elmondhatom, az eredményeket látva, hogy nem tetszett ez a film sokaknak.
The open house - 5/2 unalmas, lassan növelt feszültséggel, egy jobb utolsó szakasszal, de érthetetlen véggel.