Bosszúállós, rejtélyes halálesetes, háborús bűnös.
Sofia szolid életet élő zongorista, akinek a mindennapi rutin segít a vakság mellett is teljes életet élni. Egy alkalommal a felső szomszédja, Veronique zaklatottan száll be mellé a liftbe. Pár szót beszélnek, a lány meg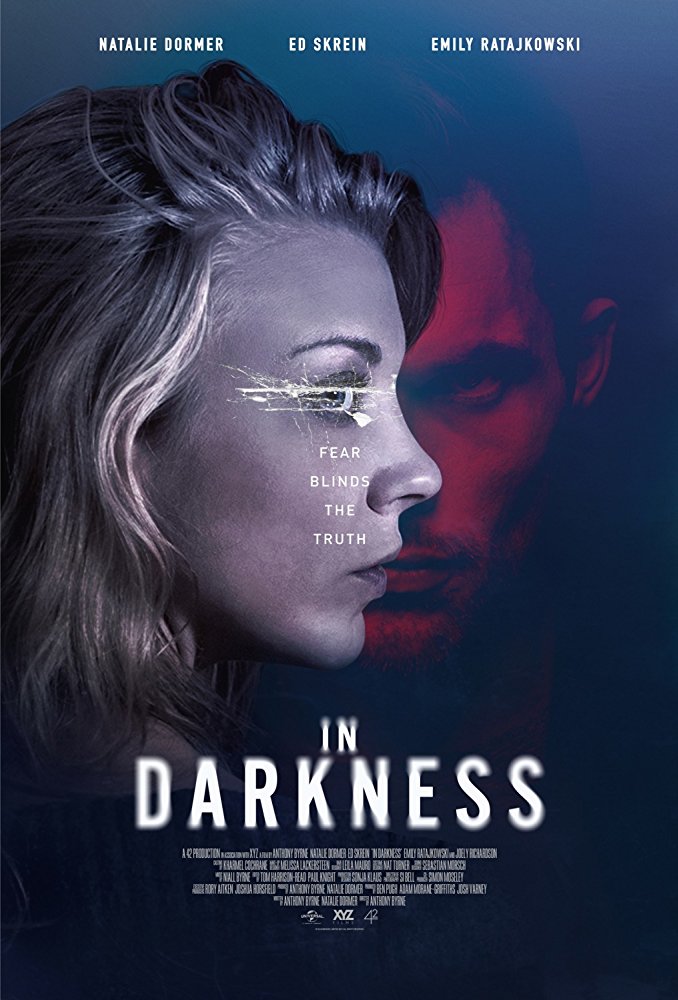 isöleli. Másnapra a lány már nem él – kiugrott az ablakon, öngyilkos lett. A rendőrség komolyan nyomozni kezd, hiszen kiderül, a lány apja az a Radic, akit sokan halottnak akarnak látni háborús bűnökért. A hajsza más irányból is megindul: Veronique birtokában volt egy pendrive, amit sokan meg akarnak szerezni. Sofiát is elrabolják, megfenyegetik, de egy titokzatos idegen a segítségére siet. Nem sejtik, hogy Sofia terve is készen áll: mert van egy múltbeli tartozás, amit meg akar fizettetni.
Ennek a filmnek is megvan a maga előtörténete. Natalie Dormer sokat szenvedett attól, hogy nem keresték neki való szerepekkel. Úgy döntött, akkor más oldalról közelít. Keresett magának egy társat, és maga írta meg a forgatókönyvet. A végeredmény pedig a Sötétségben. És amondó vagyok, ha vannak még ilyen történetek a tarsolyában, akkor nagyon szívesen néznék több Dormer filmet.
A cselekmény ugyanis remek. A vak lány, összeesküvés cselvetés hátán, és mindenkinek megvan a maga titka. Szinte senki sem az, akinek látszik, és nem is sejti az ember, mennyiféleképpen kapcsolódnak össze a szálak. A film pedig nagyon okosan és logikusan építkezik. Ha thriller lenne, regényben, akkor is szívesen olvasnám.
A játékidőt dinamikusan, feszes tempóban kitölti, változatos eseménysorokkal. Bőven belefér, hogy megismerjük Sofia mindennapjait, de lesz itt emberrablás, kínzás, verekedések, rendőri nyomozás, háborús emlékek és még sorolhatnám. Mozgalmas, de okosan az.
A karakterek is okosan vannak ábrázolva és összerakva. Vannak, de nem többségben egysíkú figurák, a többiek több réteggel rendelkeznek. De ezt nem fogom elmesélni, mert erősen spoiler lenne. Így beérem azzal, hogy változatos motivációik vannak, és lesz a nézőnek nem egy meglepetésben része. Még a gyakorlott zsánernézőknek is.
Ha már karakterek, akkor érdemes kicsit a színészekre is ránézni. Dormer nem véletlenül vállalta be az írást, magának akarta a főszerepet. És nagyon jól játssza is. Tudjuk, hogy a színésznő nem vak, de hitelesen eljátssza. Funkciója van a filmben minden mozdulatának, a meztelen jelenetének is történetépítő jelentősége van. Ok, a Marc – Sofia szerelmi szálnak nincs különösebb indoka a cselekményben, nélküle is működne, de különben a többi szépen összeilleszkedik. És ha már Marc, akkor Ed Skrein. Jót mosolyogtam azon, hogy Dormer és Skrein is ismerős lehet a Trónok harcából, de a sorozatban egy közös jelenetük sem volt. (Skrein le is lett cserélve, Michiel Huisman vette át a karakterét.) Ő a gyengébb eresztés, a játék nem is nagyon megy neki, de amikor kell, lendületesen szétveri a vele szembe jövőket. Azért helyes srác, tudtam sajnálni a figuráját. Joely Richardson meg már rutinból hozza a történet egyik negatív karakterét.
Kiemelném azt is, mennyire ügyesen bánt a film a zenével, és a kamera beállításokkal. De a kedvencem a zenekezelés, nagyon kifejező és pluszt adott a filmnek.
Határozottan pozitív csalódás, több ilyen okos filmet szeretnék még látni!
Sötétségben- 5/4,5 csavaros és eredeti, ami végig tartogat csavarokat. Dormer nagyon jó, és a casting is ok.