Családos, rossz környékes, ügyeskedős.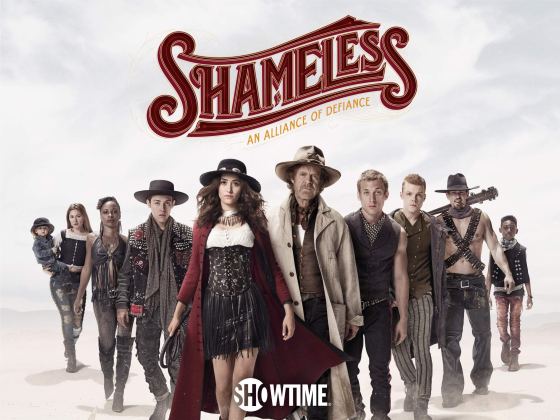 A Gallagher család minden tagja próbál küzdeni, még a legkisebb is. Ha már vissza kell mennie az állami iskolába, legalább legyen pár barátja és lehetősége. Carl egy új barátnő, aki nem mellesleg egy katonatiszt lánya, oldalán igyekszik katonai főiskolára bekerülni. Közben balhékba is keverednek, és Frank is mindig csak uszítja a fiát. Lip egy ideig a lelépő barátnője unokahúgára vigyáz, majd se veled, se nélküled kapcsolatba kezd a főnöke sógornőjével. A lány kellően őrült, néha maguk sem tudják, hogy állnak egymással. Ian szembenéz magával, és felelős döntést hoz a múltban történtekről. Fiona úgy érzi, végre révbe ért. Van egy bérháza, jó barátja, már jövőt tervez – míg minden össze nem omlik. Úgy elhagyja magát, ahogy soha még. Debbie veszi át a házi teendőket, és a család próbál segíteni Fionának. Kivéve Franket, aki éppen egy őrült barátnőt próbál megtartani és a Hobo Ember lenni.
Ez a sorozat gyomrot igényel. Olyan őrült dolgok vannak benne, hogy ha tényleg belegondolunk, nem is tudom, sírni kellene-e rajta, vagy nevetni. Ok, talán nem annyira merész és tabudöntő, mint a kezdetekben, de azért még mindig visznek be gyomrosokat, miközben figyelnek arra, hogy a sorozat komédia maradjon, ne csússzanak nagyon drámába.
Az idei évadban is hoztak be nehéz kérdéseket. Ott van Xan esete, akit a drogos anyja rendszeresen hátrahagy, és a lánynak semmilyen biztos pont nem jut az életében. Lip próbál a támasza lenni, de ezt meg a rendszer nem engedi. Miért is lakjon családban, olyan emberekkel, akik figyelnek rá, ha be lehet dugni egy árvaházba is? Vagy, ott volt a Hobo verseny. Kihoztak egy új sört, aminek a cég reklámarcot keresett. Lecsúszott, részeges alakokat, akiket aztán durván versenyeztettek is. Látszólag vicces, ahogy pl. koldulni küldik őket, de ha mélyebbre nézünk, nagyon erős társadalomkritika volt benne. Hogyan lesz a reklám miatt mindenki eladó és beteg. Egy az egyben megmutatják, mennyire mélyen van az a réteg, aki ebben játszik, de az is, akit ez szórakoztat.
Ingrid, aki komolyan beteg. Tulajdonképpen őrült, aki maga is pszichológus, és más betegeket kezel. Nem is értettem, hogy engedheti a rendszer, hogy a hozzá hasonlók szabadon bóklásszanak. Minimum rendszeres felügyeletre szorulna, nem élni bele a világba.
Akadtak persze könnyedebb, humorral operáló konfliktusok is. Lip és Carl kapcsolatai is a könnyedebb vonalat képviselik, ahogy Vi és Kevin mindennapjai is.
Jó dolgokat találtak ki az évadban, talán Fiona teljes leépülése volt sok. Már annyi mindent túlélt, szerintem komolyabbakat is, mint ami itt történt vele, és most zuhant össze. De legyen, zuhanjon meg. De ne épüljön akkor ilyen könnyen fel! Amilyen mélyen volt, én nem hittem el, hogy csupán egy döntéssel, jobban lesz, össze is tudta rakni magát.
A sorozatnak még mindig jót tesz, hogy ennyire sok testvér története. Sok történetet el lehet mesélni, és ha valakihez nincs ötlet, vagy mást forgat, előtérbe tolnak mást. Így pörgött végig az évad, nem lehetett unatkozni, mindig zajlottak az események.
A színészek már nagyon egyek a karaktereikkel, és ismert színészek is felbukkannak egy-egy mellékszerepben. Most Katey Sagal jutalomjáték volt az őrült Ingrid karakterével.
Bár furcsa lesz a csapat Fiona nélkül, várom, mit találnak ki a 10. évadra.
Shameless - 5/4 néhol drámai, máskor vicces, talán már nem olyan polgárpukkasztó, de még mindig üt.