Kórházas, betegekért dolgozós, életet rendbe hozós.
A New Amsterdam közkórház új igazgatót kap. Dr. Max Goodwin ismert a betegbarát politikájáról, az eredményeiről és a forradalmi ötleteiről. Itt is merész taktikával kezd: kirúgja a fél sebészeti osztályt, akik lesújtó munkát végeztek eddig. Megkérdezi, az orvosoknak mire van szükségük a jobb munkavégzéshez, és elő is teremti nekik, legyen az felszerelés, forrás vagy akár a jelenlegi rendszer átalakítása. Állandó mozgásban van, minden osztályon rajta tartja a szemét, és keresi a módszereket, amivel javíthatja az egészségügyi rendszert. Közben a saját életét is igyekszik rendbe hozni: a terhes felesége után költözött ide, akinek elege lett a férje munkamániájából, és elhagyta. Max bizonyítani akarja neki, hogy képes változni érte és a babáért. Közben mindenki elől titkolja, hogy torokrákkal küzd. Élet-halál harcot vív minden nap, miközben megváltoztatja a körötte levők életét és munkához való hozzáállását.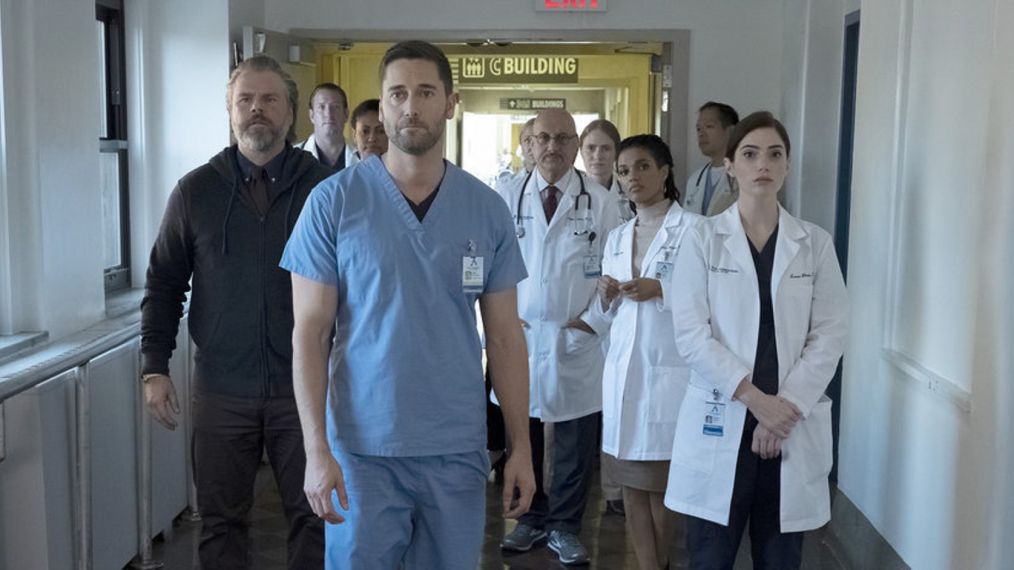 Kórházas, orvosos sorozatok. Három van, amit fixen nézek: The Good Doctor, The Resident és az idei újonc, a New Amsterdam. (A Chicago Med fél évadáig jutottam, azt majd még pótolnom kell.) Nem kis várakozásokkal ültem le elé, mert ennek a sorozatnak a kedvéért hagyta ott Eggold a The blacklist-et. Nem is néztem idén még egy részt sem a kalapos bűnöző és lánya – nem lánya kalandjaiból, Eggold volt abban is a kedvencem.
Bár Tom halála még mindig rosszul esik, de ez a sorozat nagyon tudott érte kárpótolni. Pillanatok alatt beszippantott, és ki is tartott a lelkesedésem végig. Mivel a főszereplő a kórház orvosi igazgatója, ő konkrétan nem gyógyítja a betegeket, de mindenhol ott van és segít. Így kapunk orvosi eseteket – vannak egészen izgalmasak is benne, és hátteret arról is, hogyan működik egy kórház. Max pedig viszi az egészet abba az irányba, ahogyan működnie kellene.
Olyan ötletek vannak benne, hogy az ember álla leesik. Nagyon megnézném igaziból is, ahogy Max pár ötletéből párat átvennének a valóságban is. Az, amikor felmérte, hány olyan embernek fizetnek, akinek már nem is kell a munkája – pl. a régi röntgenes, aki elavulttá vált az informatikai rendszer miatt, majd talált nekik értelmes munkát, ami tényleg hasznos. Vagy, amikor lakást bérelt a hajléktalannak, mert így lényegesebben keveset költenek rá, mintha minden ürüggyel bejön a kórházba és kivizsgáltatja magát, hogy ne az utcán legyen.
Max annyira szimpatikus karakter, hogy a magánéleti és egészségügyi gondjai komolyan fájtak nekem is. Nagyon drukkoltam, hogy Georgia visszafogadja, és rendben legyen minden a babájukkal is. Majd a rákkal való küzdelem… az torokszorító most is, és még vége sincs annak a szálnak. Ahogy megmutatják, hogy roppan bele a kezelésekbe…
De a kórházi dolgozók is csupa remek ember. Különcségekkel, hibákkal – Max sem tökéletes ember – de pont ettől olyan szerethetőek. Van kis szappan faktor is, de ennyi kell is bele. Nem csak az orvosi esetekért, a dokikért is lehet drukkolni.
Igazán ismert név nincs benne, de a hozzám hasonló sorozatnézők fel fogják fedezni az ismerős arcokat. Eggold, The Blacklist. De van itt Sense8, The last ship, Alias, Quantico, stb. színésze is.
Nagyon kemény nyitott vége lett az évadnak, mikor is kezdik a 2. évadot? Várom!
New Amsterdam - 5/5 drámai, emberi, jó karakterekkel, érdekes esetekkel. Nem egyszer szíven talált a széria.