Barátnős, ügyeskedő, csalós.
Connie a vetélése óta nem találja a helyét. Mindent az anyaságra tett fel, és a család anyagilag is majd beleroppant, hogy a mesterséges megtermékenyítés költségeit kifizessék. Rick éjjel-nappal dolgozik és meg sem próbál osztozni a felesége gyászában. Connie pedig a kuponokkal vigasztalódik. Szereti az érzést, amikor egy csomó dologért sokkal kevesebbet, vagy éppen semmit nem kell fizetnie. Így ismeri meg JoJót is, aki a kuponozás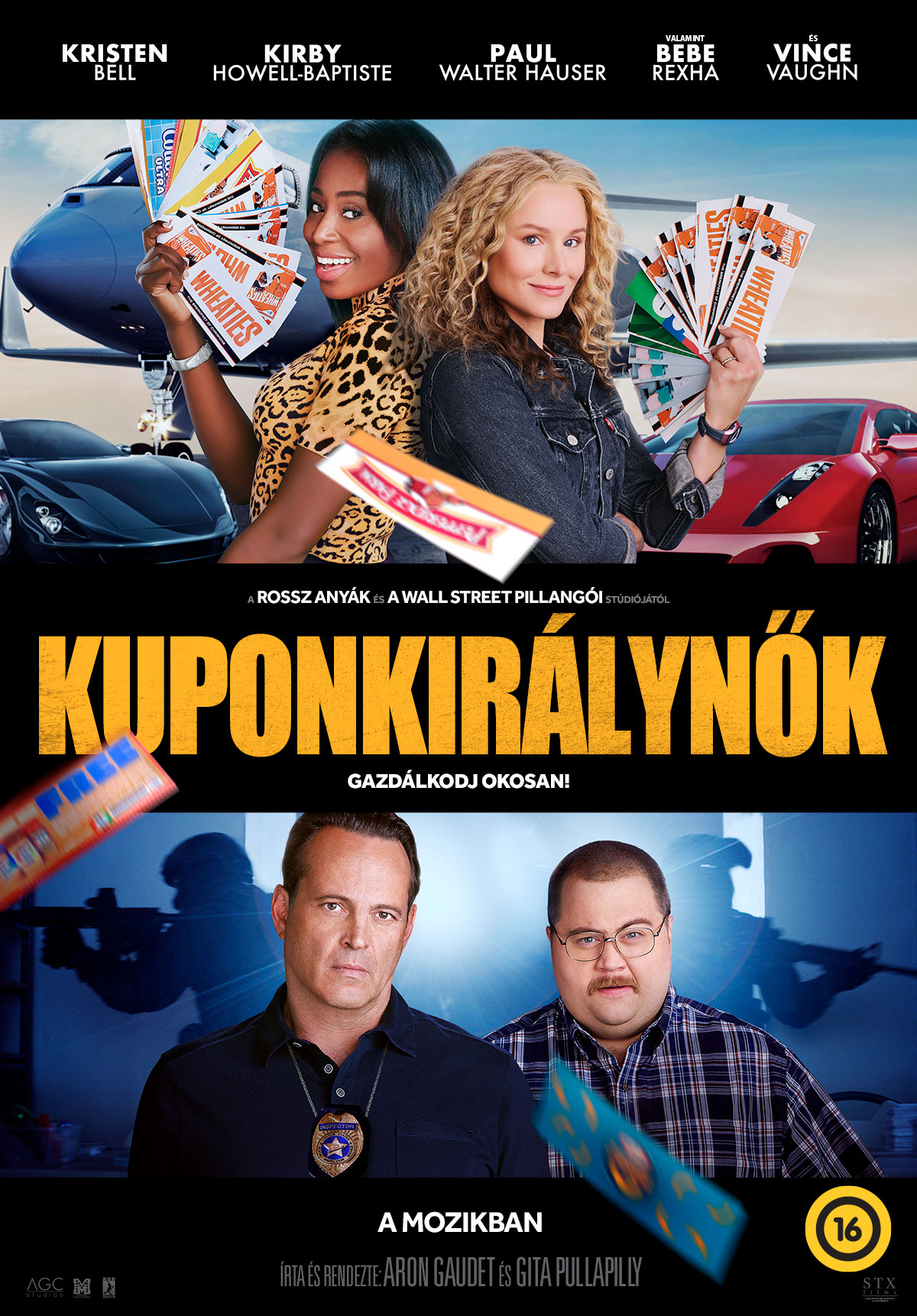 rejtelmeibe vezeti be a nézőit a YouTube-csatornáján. Egy véletlennek köszönhetően Connie rájön, hogy a nagyvállalatok a panaszkodóknak előszeretettel küldenek ingyen termékre feljogosító kupont. Innen már csak egy lépés, hogy rájöjjön, miképpen lehet ebből nagyon sok pénzt csinálni. Egy kereskedelmi visszaélésekkel foglalkozó ügynök felfigyel a megszaporodott kupon használtra, és egy postai ügynökkel kiegészülve a lányok nyomába ered.
Komédiaként érkezett ez a film, de még mindig próbálok rájönni, hogy min kellett volna nevetni rajta. Nálam ez pont az a szint, ami inkább bosszant, mint nevettet. Az emberi szerencsétlenkedés ilyen formában nem tud megnevettetni.
Mert mit is látunk, ami elvileg komikus? A lányok nem győznek mit kitalálni, milyen drága dolgokat vegyenek, hogy tisztára mossák a pénzüket. Sportkocsik az indulás, de aztán vesznek nagy tételben fegyvereket és még spermát is. El nem tudom képzelni, hogy gondolkodtak. Annyi volt a terv, hogy vesznek dolgokat, aztán eladják és az a pénz már rendesen költhető lesz. De mit gondoltak, kinek adnak el spermát? Vagy, hogy akartak meghirdetni egy autónyi lőfegyvert? Nem is értem, hogy nem jutott eszükbe ékszert venni. Vagy valamilyen műalkotást.
Az már csak hab a tortán, hogy már eleve a tisztára mosott pénzük akarták így tisztára mosni. Ahogy írtam, fárasztó. Nem mintha a nyomozó páros a történet másik történetvonalán jobb lenne. Ott az a visszatérő poén, hogy Kilmurry postai, és nem szövetség ügynök. Mondjuk, ez nem akadályozza meg abban, hogy úgy intézkedjen és nyomozzon, mintha az FBI lenne a munkaadója.
A fogyasztói társadalom és a nagy cégek működésének szatírájaként némileg több fantáziát látok benne. Miért alakul ki a helyzet? Mert mindig többet és többet akar mindenki. Meg lehet nézni, hogy mennyi holmi fel volt halmozva Connie tárolójában is. Egy élet alatt nem lehet annyi gabonapelyhet megenni, amennyit összevett, csak azért, mert éppen arra volt kuponja. Ugyanezt látjuk akkor is, amikor JoJo oldalán belemerülnek a költekezésbe. Ész nélkül.
A vállalatok részéről látjuk, hogy ezzel a módszerrel hogyan szerelnek le elégedetlen vásárlókat, akik aztán vissza is térnek hozzájuk. Nem is nekik tűnt fel a visszaélés, hanem a kisebb szinteken levő kereskedelmi egységeknek, akiknek jobban fájt a kiesett bevétel. A végén el is mondják, az óriáscégeknek ez csak aprópénz, hagyják is, hogy a lányok nagyon könnyen megússzák a csalást és a kereskedelmet. Mert nekik a negatív sajtó fájóbb pont lenne – nem véletlenül akad ki Ken, amikor a végére ráébred, hogyan működik a rendszer.
Külcsínre elment a film, amit egy ilyen típusú komédiába bele lehet tenni, beletették. A luxus termékeket, a helyszíneket. A színészek, az egésznek a dinamikája és a humora azonban fontosabb lett volna. Sarkítottnak éreztem az egészet, és a humoromtól nagyon messze esett. Nem is gördülékeny a történet, a nyomozók szála lassította az egészet, és a női barátságnak szentelt, komikusnak gondolt részek sem az igaziak.
A casting. Papíron nem tűnt rossznak, nézve nem működött. Főleg a Hauser – Vaughn duó borzolta az idegeim. Mintha nem is komédia forgott volna, hanem egy komoly nyomozós film. De nem az, így a figuráik rossz értelemben röhejesek. Kristen Bell pedig egyszerűen nem szimpatikus. Miatta nem bírom rászánni magam a The Good Place megnézésére sem.
Abszolút felejthető film. Mivel igaz történet az alapja, az ad neki egy plusz színt, hogy ezt élőben így meg lehetett játszani, de különben untam.
Kuponkirálynők – 5/3 az a vígjáték, ami nem igazán vicces. Nézhető, van kis társadalomkritika is benne, de semmi extra.