Virtuális világos, embereken segítős, összeesküvős.
Mara Kint az egyik legjobb túsztárgyaló volt a szakmában. Ám egy családi katasztrófa összezúzta az életét: a sógora kikészült, fegyvert fogott a feleségére és kislányára, és Mara nem tudta megállítani. 2 évvel később egykori főnöke keresi meg a nőt, aki most egyetemi kurzusokat tart pszichológiából. Van egy új cég, a Reverie. Virtuális valóságba viszik be az emberek tudatát, akik itt újraélhetik életük szép pillanatait, akiknek segít a program traumákat feldolgozni. De nem mindenki akar visszatérni az életébe onnan. Ezért kell Mara, aki bemehet, és ráveheti őket, hogy térjenek vissza. Segít a balerinának feldolgozni a lebénulását. Az idős asszonynak újraélni élete legnagyobb tettét. A gyászoló özvegynek a felesége elvesztését túlélni. Miközben a program Mara traumáját is kezelni kezdi, a cég egykori alapítója minden elpusztítására készül.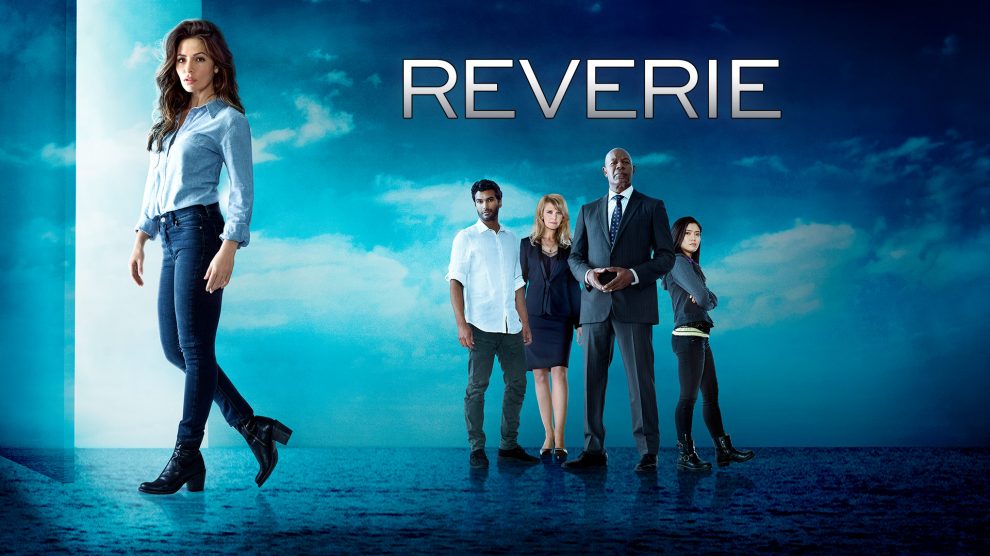 Időnként jósolgatom, hogy a virtuális valóságok lehet az a téma, ami divatiránnyá válik. Egyelőre még nem folyik ez a csapból is egyik zsánerben sem, de azért egyre több alkotás érkezik a témában. Az egyik legutóbbi ez a sorozat volt, a Reverie.
Nem hozta azt, amit vártak tőle. A nézettsége is sokat zuhant a nem is magas kezdésből (a végére az elkezdők fele kiszállt), és a sorozat sem az a thrilleres, virtuális világos nyomozás lett, amit vártunk.
Ez egy női, lelkizős sorozat, amit sci-fi köntösbe öltöztettek. Ki emlékszik még az Angyali érintésre? Én is csak nagyon haloványan, de abba emlékeim szerint az volt, hogy egy földre szállt angyal segített az embereknek egy-egy nagy traumán túllendülni. Erről szól a Reverie is, csak itt angyal helyett Mara és a virtuális valóság van. Ami nagyon csak keret, a programban maradtak továbblépése, fájdalmának feldolgozása a lényeg, de nagyon csak konyhapszichológia szinten. Mesés, ahogy minden traumát olyan könnyen és 2-3 beszélgetéssel megoldanak.
A valóságok sem lettek látványosak. Az első részekben még próbálkoztak CGI trükkökkel, de annyira bénák lettek, hogy le is álltak velük, és a Reverie is ugyanolyan helyszíneket kapott, mint a kinti valóság. Ami egyszerre jó is, meg nem is. Hiszen jobb volt, mint a béna CGI valóságokon bosszankodni, de ugyanakkor kihasználatlanul hagy egy lehetőséget, amivel fel lehetett volna dobni a sorozatot.
Hiányzott az akció, valami rendes átívelés, vagy a napi részekből valami igazi izgalom. Ugyan az évad második felében megjelent az egykori társalapító, Oliver, akinek megvoltak a maga kis tervei, de ahhoz képest, hogy zseni a srác, nem jutott messze az összeesküvésben. Felgyújtani mindent, komolyan ennyi tellett tőle?
A végére hagyott csavart már nem is említem. Az évad legrosszabb meglepetése címet is simán nekiadnám. Nem is kell meglepődni, hogy egyelőre nyoma sincs második évados berendelésnek – könnyen lehet, hogy ez ennyi volt.
Sarah Shahi sokkal jobb volt a Person of Interest évadaiban. Itt leginkább csak dobálta a haját. Mellé sorozatos arcokat szerződtettek, Heroes és Döglött akták fanok örömére.
Egyszer meg lehetett nézni, de nem kaptam kedvet én sem a folytatáshoz.
Reverie - 5/2,5 krimi helyett lelkizés, gyenge CGI, az új irány se nyerte el a tetszésem.