Világmentős, parazitás, harcos, összeszokós.
Eddie Brock élete sínen van: egy sikeres műsort vezet, leleplező riportokat készít. A menyasszonya a nő, akit mindennél jobban szeret. Ám most azt a feladatot kapja, hogy készítsen interjút a milliárdos, zseni Carlton Drake-kel. Eddie érzi, hogy a férfival valami nem stimmel, és miután belenéz a Drake ügyvédjeként dolgozó Annie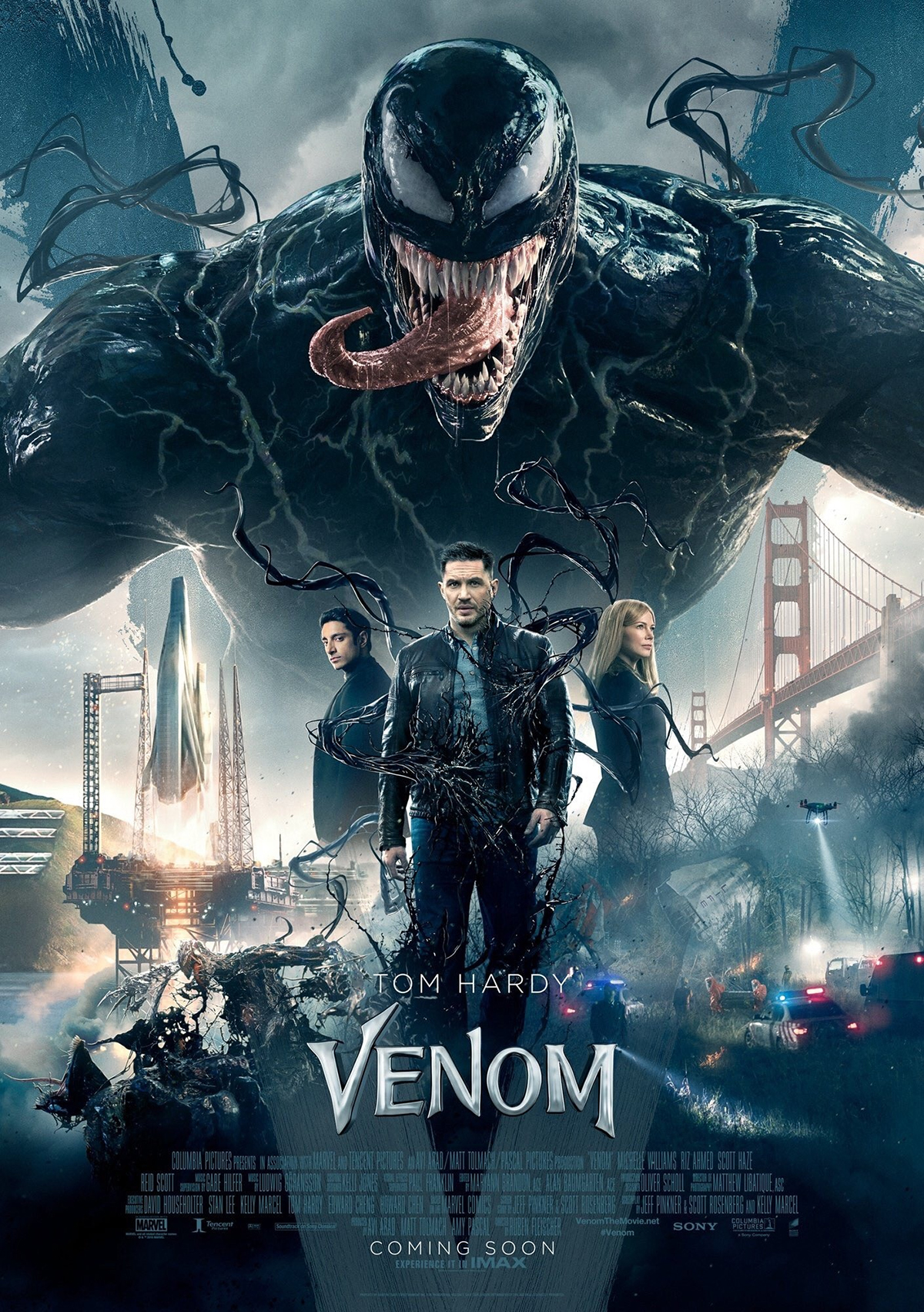 aktáiba, igencsak kínos kérdéseket tesz fel illegális orvosi kísérletekről. Drake kirúgja a nőt, és Eddie állásának is annyi. Fél évvel később Drake egy kutatója keresi fel a lecsúszott Eddie-t, mert már nem bírja, amire a főnöke kényszeríti. Idegen parazitát szerzett, mellyel az embert akarja összehozni. Beviszi a férfit a laborba, és amikor Eddie kapcsolatba kerül a lénnyel, megfertőződik. A parazita vele életképes, és Venom igencsak élvezni kezdi a hatalmát, miközben Drake le akarja vadászni a kettőst.
Néha már kezdek kiábrándulni, és arra gondolok, nem is érdemes egy filmre várnom, mert nagyobb annak az esélye, hogy csalódás lesz, mint annak, hogy tetszeni fog. Néha ugyan nagyon be akarom csapni magam, és elhitetni magammal, hogy annyira nem is volt rossz a végeredmény, de legtöbbször de. Legjobb példa erre Batman vs. Superman.
Sajnos, azért merengek ezen, mert a Venom nem hozta azt, amit vártam tőle. Ma már vannak olyan képregényfilmek, melyek bizonyították, hogy 18-as karikával is be lehet vonzani a nézőket és sikerfilmet összehozni. Ment Deadpool két részben is, és ott volt a Logan, ami sok tekintetben az egyik legerősebb képregényfilm, és nem csak X-Men körben.
Konkrétan azt vártam a Venomtól, hogy Deadpool minőséget tesz le az asztalra.
DE nem! Semmilyen téren nem jött össze a megfelelés az elvárásoknak.
Nem, ez így nem igaz. Egyetlen nagy erőssége van ennek a filmnek, és ezt nem csak a rajongó mondatja velem. Tom Hardy maximálisan kihoz mindent a karakteréből, a film összes emlékezetes pillanata az övé, és tökéletesen hozza a szerepe minden színét. Amikor rosszul van, amikor nagyon pörög, amikor a parazitával küzd, amikor szerelmi bánata van, amikor harcol. Kiemelhetném őt a filmből, és ráírhatnám, hogy ő az egészben a jó.
Mert a cselekmény sajnos, banális. Sokára indul be a cselekmény, és onnantól kezdve is nagyon egyszerű a sztori. Nincs min meglepődni, alacsony a feszültség, és még logikai gondjaim is vannak vele. Csak egyet emelek ki: ha a szimbióták csak a nekik megfelelő emberrel képesek életben maradni, akkor a film főgonosz idegene hogyan ugrál olyan könnyen testből testre? A szerelmi szál, az űrlényes vonal, mind olyan gyerekes, hogy ha nem lenne benne annyi durvulás amennyi, gyerekfilmnek gondolnám.
A látványtól is sokkal többet vártam, és itt elsősorban nem csak az erőszakra gondolok, bár valóban nagyon sterilre vették a figurát. Könyörgöm, Venom fejeket harap le és embereket eszik! És nincs egy csepp vér sem? Olyan jó kis horror közeli filmet lehetett volna ebből összehozni sötét látványvilággal, de nem. Alig mertek valamit bevállalni.
Hiányzott a humor is. Nagyon kevésszer megcsillan valami az antihős mozik feketébb humorából, de ez is bántóan takarékra van véve.
Nekem csalódás, de Hardy rajongóknak tudom ajánlani, ő tényleg mentette a menthetőt.
Venom - 5/3 nyári popcorn filmnek elmenne, de Hardyt leszámítva csalódás. Korhatáros, egyszerű.