Ügyvédes, játszmás, kapcsolati rendszeres.
Mike és Rachel elmentek, a cég megmentése érdekében Harvey és Louis Robert Zane partnerei lettek közös irodával. Zane a saját kedvencét is hozta magával, a kíméletlen és gyakran nem a szabályok szerint játszó Samanthát. Az első hónapok az új status quo kialakításával telnek: ki legyen új partner? Kinek a neve kerüljön a falra? Ki legyen a vezető partner? Miután túljutottak a nehézségeken, a munkába vetik bele magukat. A cég új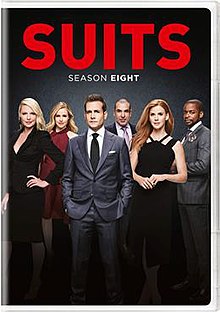 ügyfele, a bútorokkal foglalkozó Thomas nem csak az üzlet, Donna miatt is tényező lesz a cégnél. A nőnek most komolyan el kell gondolkodnia azon, képes lesz-e elengedni, amit Harvey jelent neki. Louis az apaságra készül, miközben a többiek irányítását is gyakorolja. Közben Daniel Hardman csak az alkalomra vár, hogy visszavágjon a csapatnak.
Suits, minden évad után, már egy ideje, téptem a hajam. Nem értettem, minek néztem még, amikor évadról évadra esett a színvonal. Most reménykedtem kissé, mert végre elment Mike és Rachel. Abban is lehet reménykedni, hogy Rachel soha többet vissza nem jön, hiszen Meghan Markle már friss anyuka és hercegné. (Grace Kelly se ment vissza filmezni, pedig ő messze nagyobb színésznő volt.)
Mégis, a sorozat első fele növelte a kétségbe esésem. Nem az ügyek voltak fontosak, hanem Samantha és Alex piti versengése, kiből legyen a következő névadó partner. Lehetett ez volna jó is, ha tényleg ügyek és jogi rátermettség dönt, de majdnem az lett belőle, hogy Harvey és Zane kit, hogyan támogat titokban. Annyira rossz értelemben szappan lett… Utáltam!
Valamit a készítők is érzékelhettek, mert a féléves szünet után nagy arculatváltás jött, és azt vettem észre, nézem a részeket egymás után, és hosszú évek óta először lelkesen! (Ezzel egészen egyedül voltam, a sorozat 2. felére még jobban esett a nézettség.) Az le tudott kötni, hogy milyen jogi kiskapukat keresnek, hogyan trükköznek, milyen vállalati jogi ügyeket intéznek. Ezek az esetek adták el nekem, ha a vállalati jog sokkal szürkébb is, mint a büntető perek, amik pl. a The good fight részeiben követhetőek.
Díjaztam azt is, hogy mivel közeledik a vége, bár már ezt is sokszor megjátszották, de már tényleg érezni, hogy varrják el a szálakat, a magánéleti dolgokat is rendezik. Harvey és Donna közti kapcsolat kezdetektől erősebb volt, mint egy barátság. Talán, most… Inkább le se írom, nehogy ezzel kavarjanak be a zárásra. Már röhejes, ahogy komoly kapcsolatokat rúgnak fel egymásért, de még sincsenek együtt. Ideje ezt már elrendezni!
Louis rengeteget fejlődött, mint ember. Idén annyira szerethető volt, hogy szívesen néztem az ő részeit is. Ahogy az apaságra készül, ahogy beletanul abba, hogy vezető partner legyen. Talán így kevesebb a humor közte és Harvey között, de megérdemelte már, hogy ne a sorozat ügyeletes bohóca legyen.
Félig-meddig húzónévnek igyekeznek használni Katherine Heigl-t, bár nem tudom, ki az, aki miatta kapcsolódna be. (A nézettséget látva: senki.) Elmúlt az időszak, amikor a romantikus komédiák üdvöskéje volt, a karaktere is teljesen más. Részemről Gabriel Macht miatt még most is inkább idekapcsolok, mint Heigl miatt.
Most várom a 9. évadot, érdekel, mivel fognak zárni.
Suits - 5/3,5 az eleje moslék, de a 2. fele történetben, jogi és magánéleti szinten is sokat javult.