Fejvadászos, csillagközi, védelmezős, kalandos.
Mandalorian volt, az egyik legjobb fejvadász a céhben. Most különleges feladatot vállalt el, amiért kisebb vagyont fizetnek: egy 50 éves menekültet kell begyűjtenie és leadnia, lehetőleg élve. Ám Mando döbbenetére egy különös,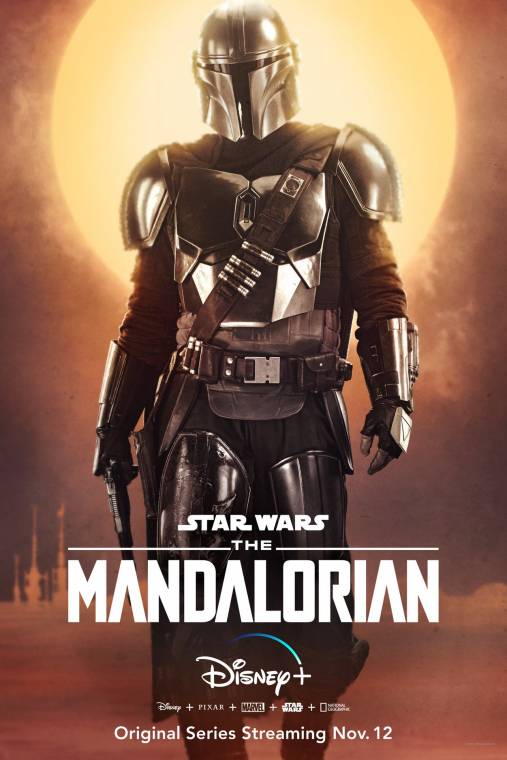 még gyermek lényt talál, aki az életét is megmenti. Leadja, de a lelkiismerete megszólal, képtelen magára hagyni a kicsit. Visszamegy érte, és menekültté válnak, akikre fejvadászok sokasága és egykori birodalmi katonák is vadásznak. Míg a helyüket keresik, megmentenek egy farmer közösséget, szöktetnek meg foglyot és állnak bosszút az átverésért, míg lehetőségük nem nyílik megállítani a gyerek nyomában járó sötét erőket.
Star Wars – ha minden jól ment volna, akkor az utolsó mozi lenne most a téma, amit sokan szeretnének. De nem így alakultak az események, a mozi csalódás. Így decemberben Star Wars háztájon a sorozatuk, The Mandalorian, ami pozitív visszhangot tudott kelteni.
Először is, érdemes pontosan belőni, mikor is játszódik a sorozat. A Birodalom már elbukott, vagyis Darth Vader itt már nem játszik. Még bujkálnak birodalmiak, a köztársaság igyekszik rendet teremteni. Kylo Ren még nincs, a mozik története még a sorozat jövője. Félmondatokból össze lehet rakni, mikor is járunk, de arra nem fektettek külön hangsúlyt, hogy a mozikhoz képest besorolják az időrendbe. Gondolom, arra számítottak, aki belevág ebbe a szériába, a félmondatokból is pontosan tudni fogja, mikor és hol járnak.
A történet annyira külön szálon fut, annyira semmi köze a Skywalker családhoz, hogy akár előismeretek nélkül is élvezhető. Kicsit olyan, mint egy western, csak itt a világűr a vadnyugat, amiben Mando a magányos pisztolyhős, aki járja a vidéket.
Tetszett a sorozat felépítése: egyszerre van átívelés, összefüggenek a részek, mégis, szinte mindegyik egy külön történet, egyben kaland is. A Gyermek megmentése és védelmezése, ami az egész történeten átível. Még rengeteg kérdés is maradt, akár egy következő évadra való. Azért azon kattog az agyam, hogy mennyire lehetett sikeres ez a vállalkozás, ha a Gyermeknek nyoma sincs a Kylo Ren korszakban – bár, ha 50 év alatt ennyire keveset nőtt, akkor még szinte bébi, amikor az újabb galaxisközi vészhelyzet előállt.
Minden részben akad egy munka, vagy egy segítségnyújtás, amit le is zárnak, és a csapat halad tovább a csillagokban. A 4 résztől egészen rákaptam, megáll a sorozat a saját lábán.
Talán a grafikája nem olyan erős, mint a mozifilmeké, de így is elég látványos. Nem volt hiányérzetem, és még jól is állt a sorozatnak, hogy nem olyan világfordító események vannak benne, mint a mozifilmekben. Ez egy gyermek megmentése, egy hitvallás betartása. Emberközeli történet, amiben nagyon meg lehetett kedvelni a szereplőket.
Érdekesnek találtam a Mandalorian hitet, ahogy titkon fennmaradtak. Egyszerre nemes elvek bajnokai, közben a leghalálosabb gyilkosok közé tartoznak az univerzumban. A szektájuk, de Mando története is fokozatosan mesélődik el, tetszett is így.
A gyermek, akit direkt nem hívok bébi Yodának, meg nagyon cuki. Tuti, érte is sokan nézték.
Jó a szereposztása, elég látványos, jó a története és az évadzárót Taika Waititi tette emlékezetessé. Simán jobb lett, mint a Skywalker kora.
The Mandalorian - 5/4,5 humoros, korrekt a története, jó a casting. Annyiban marad alul a mozitól, hogy olcsóbb.