Gyereket mentő, szörnyekkel küzdő, titkos szervezetes.
Kelly okos gyerek, akinek már-már természetfeletti érzéke van a rejtélyek megfejtéséhez, legyen az bonyolult matematikai vagy fizikai képlet is akár. Nem meglepő, hogy az iskolában kockának számít, és csak messziről álmodozhat a cuki osztálytársáról, míg a nyomuló pompon lányok le is csapnak a fiúra. Egy buliba készül, hogy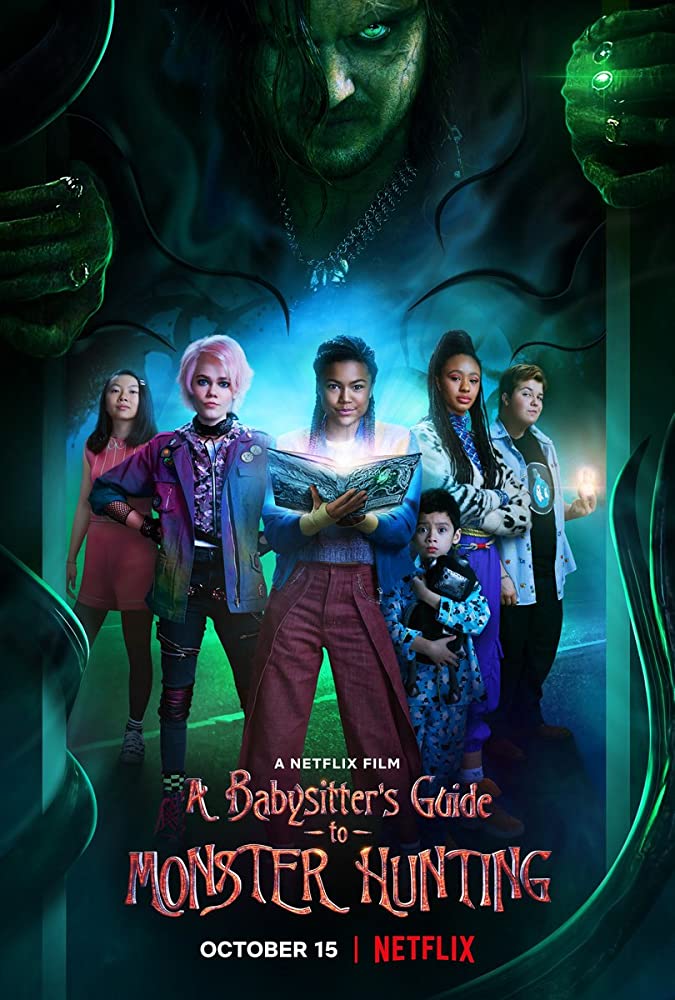 megmutassa magát, de az anyja keresztülhúzza a számításait. A főnöknőjének kell egy bébiszitter, és a nő beajánlotta a lányát. A kissrác aranyos, csak egy stiklije van: nem mer aludni, annyira fél a szörnyektől. Kelly megnyugtatja, és ő maga lepődik meg legjobban, amikor a mumus tényleg eljön, és elrabolja a gyereket. Segítséget a semmiből feltűnő Liztől remélhet, aki egy titkos szervezet tagja, akik a gyerekeket védik a szörnyektől. Kelly csatlakozik hozzá, és együtt erednek a mumus nyomába.
A kritika se szerette túlzottan, de ott olyan közepesen áll a film. Attól függően, hol nézem, kicsit felette vagy alatta van. Én az utóbbi csapathoz csatlakozom: nekem se tetszett ez a film, több szempontból sem.
Nézzük a történetet! Már alapból a bébiszitterek titkos szervezete elég problémás. A Kutyák és macskákból ugrott be róla a kutyák titkos kémszervezete, csak itt még az sem játszik, hogy a szereplők cukik lennének, mint abban a kutyák voltak. Ahogy történetet akarnak adni a szervezetnek, úgy lesz egyre rosszabb a helyzet. Azt még lenyelném, hogy olyan gyerekek kerülnek be ide, akik szembesültek a szörnyetekkel, maguk is áldozatok voltak egykor, de megmenekültek, és most segítenek más gyerekeknek. Csak éppen történelmileg is ágyazni akarják a szervezetüket, és olyan tagokkal büszkélkednek, mint Kleopátra és Florence Nightingale. Most komolyan, Kleopátra?
Kelly története is tipikus. Ő az újonc, aki a legmenőbb szörnyvadász bébiszitter társául szegődik, akivel jól összebarátkozik. Arról nem is beszélve, hogy itt igen jól fog jönni a képessége, amivel pillanatok alatt megold képleteket. Hogy valaki egy matek- és fizika példa megoldásával fejtse meg, hogyan kell mágikus csapást mérni… Jó, inkább bele se megyek. Nem tetszett a szervezet, ahol mindenki gyerek és olyan gyökértelen az egész. Pénzük pl. honnan van, mert egy gyerekesebb James Bond műhely, amit üzemeltetnek…
A rosszak is. A mumus – amikor először felbukkant, az ugrott be róla, hogy ilyen lehet Joker, amikor nem sikerül a sminkje. Később már a Johnny Depp alakította Bolond Kalaposra asszociáltam róla. Amikor meg énekelni kezd… nem ijesztő lett, hanem röhejes. Rendben, gyerekfilm, nem horror szintre mennek le, de ennél azért vehették volna komolyabban a gonoszok kinézetét. A mumus szolgái is, már szinte aranyosak, pedig elvileg ők lennének a SZÖRNYEK!
A látványvilág tehát nekem nem jött be. Túl színes, túl őrült, túl vidám és túl mesebeli, miközben nem egyszer gagyi is. Ha már rászánják a pénzt, kinézhetett volna valahogy. Jó, próbálom mondogatni magamnak, hogy szórakoztató gyerekfilm akar ez lenni, de akkor is: cukik a gonosz szörnyek? Nem!
A szereposztásban egy olyan volt, amin felhúztam a szemöldököm. A tinik nem voltak ismerősek, de a Mumus Tom Felton lett. Nyomorult, szerintem visszasírja, amikor Draco Malfoy lehetett vagy a Majmok bolygójában a gondozó srác.
Nem tudnám megmondani, egy gyereknek mennyivel jön be jobban, nekem nagyon nem.
Útmutató bébiszittereknek szörnyvadászathoz - 5/2 nem tetszett se a történet, se a szereposztás, se a látványvilága. Még gyerekeknek is gagyi.
A Babysitter's Guide To Monster Hunting | Official Trailer | Netflix - YouTube