Sorozatgyilkosos, ügyet bíróságra összeállító, taktikázó.
A rendőrség egy szokványos bejelentésre száll ki. Az egyik lakó az ereszben talált valami furcsa maradványt, ami gyanús volt neki. Mire a rendőrség kiér, egy része már nincs is meg, de maradt elég, hogy lássák: ezek emberi maradványok. A kérdéses lakás, ahonnan a maradványok származnak, egy nyugodt tisztviselői, aki az ismerősei szerint a légynek sem tudna ártani. Dennis Nielsen, becenevén Des, nem csak beengedi a lakásba a nyomozókat,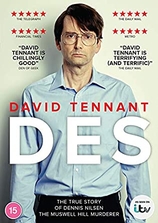 de szívesen elmond mindent. Elmondja, hol vannak további tetemek, kivel és mit csinált. Még a védőügyvédje is kiakad, így esélye sincs a védelemre. A rendőrség igyekszik mindent szabályszerűen végezni, ám éri őket egy meglepetés: a tárgyaláson Des minden vádpontban ártatlannak vallja magát. Még van egy trükk a tarsolyában, mellyel el akarja kerülni a börtönt, aminek része volt az is, hogy mindent tálcán nyújtott át a nyomozóknak.
Megtörtént eset az alapja, amiből egy három részes mini sorozatot készítettek. Annyira kerek és zárt történet, hogy folytatást ne várjon senki. Ez limitált széria, inkább egy film sorozatban való elmesélése, nem pedig egy klasszikus tévésorozat.
A cselekmény nagyon gyorsan a krimi közepébe helyezi a nézőket. A maradványokon látni, hogy emberiek és Des a kezdetektől az álom gyanúsított. Sorol minden tényt és adatot, nem tagad semmit. Még azt is bevallja, hogy megkönnyebbülés a számára, hogy végre lebukott. A történetei és a felkészültsége pedig dermesztő. Nagy számban tüntette el az embereket, és eddig senki nem sejtett semmit, a rendőrség még csak azt sem tudta, hogy egy sorozatgyilkos él a környéken.
Nézőként fel is merül a kérdés, az ügyön dolgozó nyomozó is feszegeti a kérdést, hogy mit mondd a rendszerükről az, hogy a véletlen lebukás – amiről aztán kiderül, hogy nem is annyira véletlen, Des műve volt az is – nélkül mindent megúszott volna. Az, hogy még csak fel sem tűnt senkinek, hogy emberek tűnnek el, gyilkolják őket.
Mivel vagyok annyira thriller fanatikus, simán rá tudom vágni, hogy sok múlik azon, hogy a pszichopata különben normális életet él, és megtéveszti a környezetét. Nincs gyanús jel, hogy valami baj van a fejével. Az sem egy utolsó szempont, hogy Des mennyire a társadalom pereméről válogatta az áldozatait. Drogosokat, melegeket, hajléktalanokat és lecsúszott embereket ölt meg, akik, ha hiányoztak is valakinek, a társadalomnak nem, így nem törte senki magát, hogy az esetleges eltűnéses ügyet lezárják. Ha középosztálybeli, vagy módosabb fehéreket kezdett volna el sorozatgyilkolni, feltűnt volna. De nem így tett.
A sorozat zamatát adja, hogy milyennek mutatja be a sorozatgyilkost. A végletekig hideg, semmi nem hat rá érzelmileg. Annyira átlagos, jó odorú, hogy ha az ember nem tudja a körítést, simán szimpatikusnak találom, azzal együtt is, hogy az érzelmi skálája mennyire beszűkült. Des karaktere, ahogy Tennant életre kelti, viszi el a sorozatot.
Mert az, hogy ártatlannak vallja magát, és a kiemelt nyomozó mennyire be akarja azonosítani az áldozatokat, nem nyújt elég feszültséget. Ha nincs mellette egy karizmatikus színész, ha teljesen nem is fulladna nélküle unalomba, de közel lenne hozzá.
Egy pszichés, csendes sorozat ez, amiben inkább annak a ráeszmélése az ijesztő, hogy a normális szomszéd is simán lehet titokban érzéketlen sorozatgyilkos, mint a mutatott tényleges cselekmény. Ha látjuk is, hogy a férfi mit tett a testekkel, más lenne a helyzet, de ebben legfeljebb az elmesélt történetein szörnyülködhetünk. (Jó, nekem fekete a humorom, én abban a poént is megláttam, hogy költöznie kellett, mert nem fért el a hulláktól.)
Egyszer mindenképpen érdekes volt megnézni, ha másért nem is, Tennant egy újabb karakteréért. De nem lesz egy rendszeresen visszanézendő mini sorozat.
Des – 5/4 Tennant szokás szerint kiválóan játssza a karakterét, és ez megadja a történetbe a pluszt.
https://www.youtube.com/watch?v=EzXgIV-EJQE