Ahogy ígértem, akkor nézzük, miért tűnt el Sidney Hall!
A film elején megismerünk egy középkorú férfit, aki meg akarja fejteni a Sidney Hall rejtélyt. Nyugaton vándorol,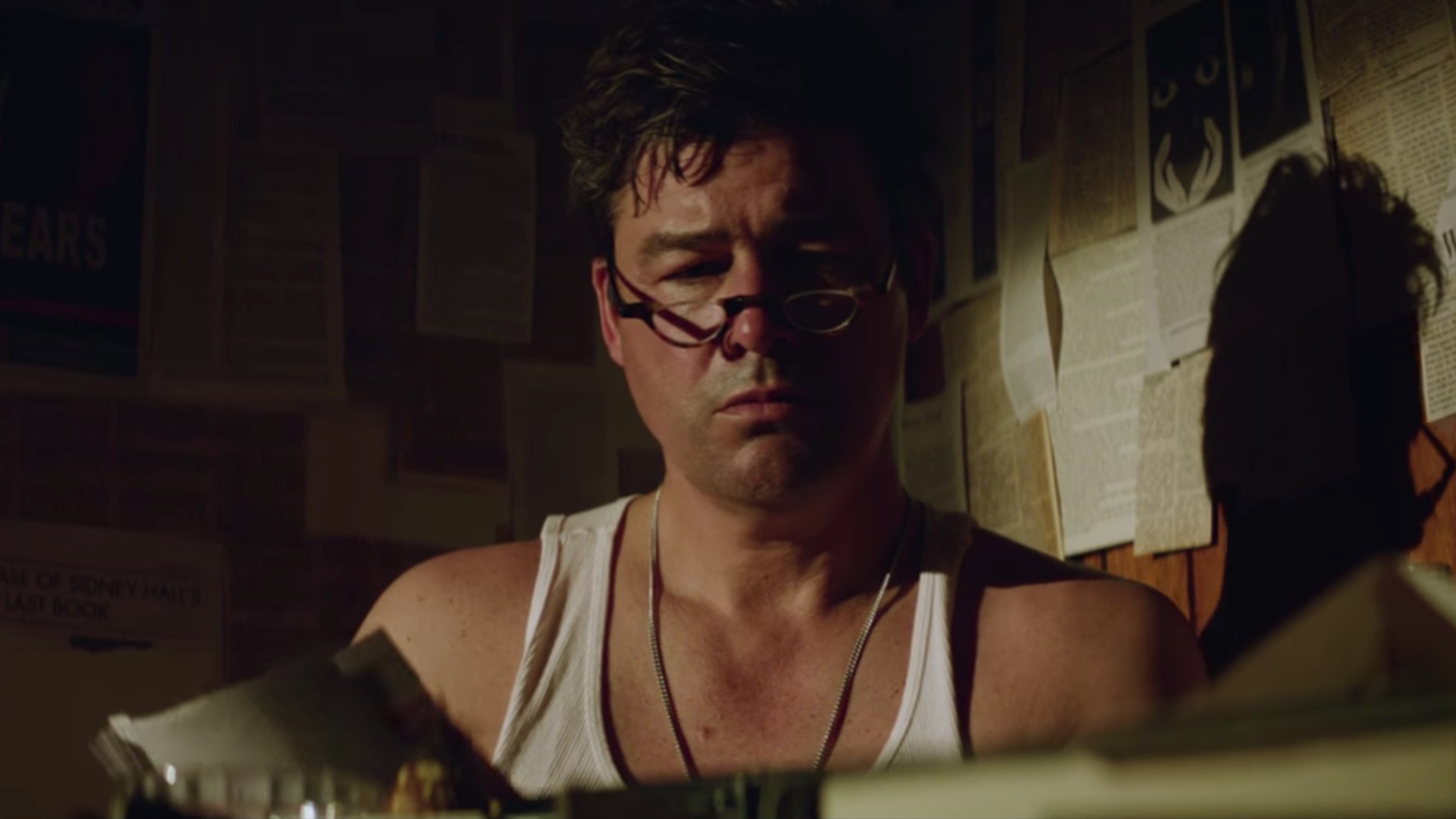 autóval követi Sidney nyomait, akivel mindig van egy kutya, csövesnek néz ki, és időnként egy-egy könyvtárba összeszed pár könyvet, amiket felgyújt a kukába. A kutató szerint a saját két regénye példányait égeti el.
A nyomokat követve eljut egy faragóhoz, aki hamis iratokat is készít. Sidney tőle vett egy új személyit és jogosítványt, végre megtudja az új nevét.
Amikor a rendőrségi híreket hallgatja, hallja, hogy letartóztattak egy ilyen nevű férfit. Sidney az, valóban csövesként kinézve. Kihozza, a kutyáját is elhozta a menhelyről, és meghívja a fiatalembert ebédre. Nem érti, akinek ilyen tehetsége van, miért él így, miért nem ír. Más évekig keresi, és nem találja, ami benne megvolt.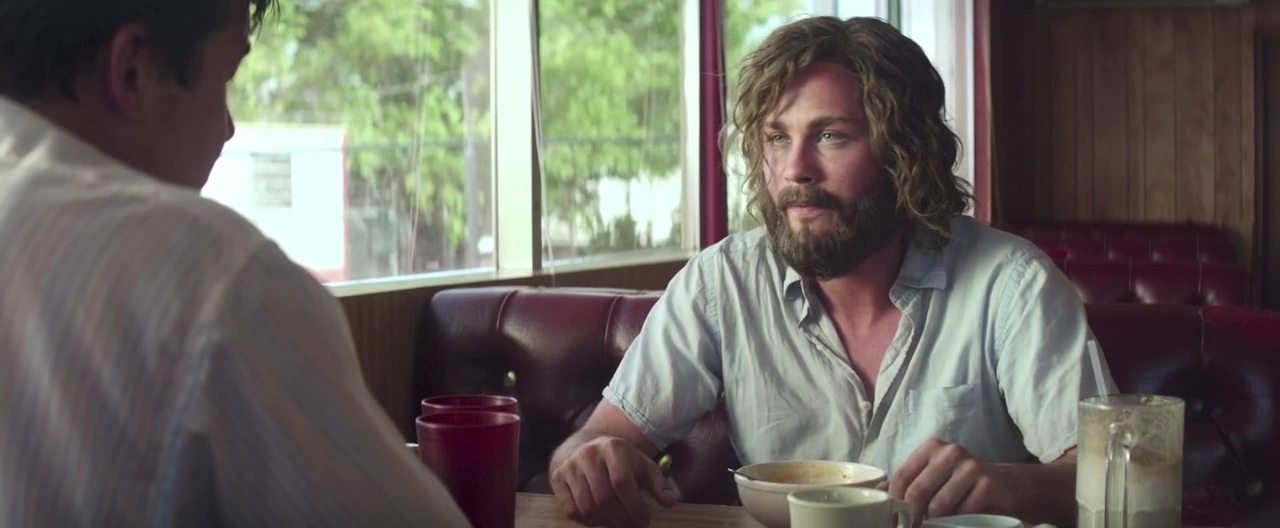 Elmondja, regényt akar írni róla. Sidney csak mosolyog rajta, és egy másik írót ajánl a figyelmébe, aki szerinte koruk nagy írója. Francis Bishop, aki az utolsó aktív évében elnyerte előle a Pulitzer díjat. Ahogy a férfi hárítana, Sidney elmosolyodik, leesett neki: ez az utána kutató férfi maga Bishop. Engedi hazavinni magát, de válaszokat nem ad neki.
Bishop egy utolsó történetet elmond neki búcsúzóul, mert nem hiszi, hogy Sidney keresi még: pár éve meghalt a felesége. Őt is megviselte, a kamasz fiát még jobban. Magába fordult, nem beszélt, már bajtól kellett tartani. De akkor a srác elolvasta Sidney regényét, és elkezdett beszélni. Most jól megvannak, Sidney könyve megmentette a fiút. Sidney elmosolyodik, megköszöni és elsétál. Bent látjuk az üres házat, amit csak a kutyájával oszt meg - akinek a neve Homer (jegyezd meg, később fontos lesz!).
Nem sokkal később Bishop a kórházból kap hívást. Sidney nagyon rosszul van, és ő az egyetlen, akivel beszélni akar. A férfi bemegy, és most megkapja a válaszokat.
A filmben korábban felvillanás szerűen két másik idősík keveredett, de az érthetőség miatt ezeket én most ide külön teszem:
a kamaszkor, Brett Newport története. Sidney tehetséges írópalánta volt már középiskolában is, csak a konzervatív tanárnő nem bírta felfogni a fiú modern hangját. Ennek ellenére rendületlenül írt, az iskolaújság rendszeresen meg is jelentette a történeteit. Egy napon szerelmes levelet kapott, egy Melody nevű lánytól. Az iskolába kereste, ki lehet. Mikor már majdnem feladta, meglátta a szomszédjukba költöző új lányt. Gyönyörű, és Melody a neve. A lány élőben azonban tartotta a távolságot, míg Sidney nagyon a közelébe akart kerülni. Az iskola szépfiúja a gazdag, remek sportoló Brett Newport volt, aki szívesen szívatta a gyengébbeket. Kért egy szívességet Sidneytől, még gyerekkorukba együtt elástak egy dobozt. Most kellene neki, de nem talál vissza. Azért, hogy legyen kedvesebb pár sráccal, Sidney hajlandó segíteni. A doboz meglesz. Brett közelről rendes srác, és valamit titkol, Sidney rosszat érez vele kapcsolatban. Miután kiásták a dobozt, Brett apja elkapta őket, elvonszolta a fiát, aki egy hétig nem ment iskolába sem. Mikor visszajön, sérülésekkel van tele. Sidney már látta a dobozt – egy videó kazetta volt benne. Egy felvétel, amelyen Brett apja egy gyereket molesztál szexuálisan. Brett attól fél, az apja már a húgát is bántja. Nem tudja, mit tegyen. Sidney felajánlja, együtt elmennek a bizonyítékkal a rendőrségre. Hétfőn. Hétvégén még vidámparkba van a két srác Brett húgával és Melodyval, aki ekkor már Sidney barátnője. De még hétfő előtt Brett öngyilkos lesz. Melody biztatására Sidney róla kezd regényt írni, aminek első fejezeteit a kedvenc tanárának meg is mutatja. Ő elküldi egy kiadónak, és a srácnak szerződést ajánlanak. Melody és Sidney felpakolnak, együtt akarnak lelépni. A lánynak van egy álomháza nyugaton, és egy álma, hogy együtt járják a vidéket. Még abban is megegyeznek, bármi történik s velük, a 30. születésnapjukat együtt töltik majd az álomházba. Sidney pszichotikus anyja nem akarja elengedni a fiát – ha ő nem választhatott kamaszként, Sidney se teheti, vele kell maradnia! Fellöki a fiát, aki becsapja az asztalba a fejét, vérzik is neki. Az apja állítja le a feleségét és engedi el a fiát, akit később látunk is útra kelni Melody oldalán.
A húszas évek, a sikeres író: a Brett története ihlette regény hatalmas siker. Sidney már a Pulitzer döntősei között van, és az újabb regényén dolgozik. A feje sokat fáj, időnként hallucinál, és egy durva válás közepén van. Amikor a neje lelépett, félőrülten állt neki írni, az asszisztense mentette el a pusztítása elől a lapokat. Viszonyt folytat a kiadója lányával. Aki komolyabb kapcsolatot akarna, Sidney nem. Egy 23 éves srác öngyilkos lesz, akinek Sidney könyve volt a kedvence. A sajtó nekiesik, nem kapja meg a Pulitzer díjat sem. Francis Bishop kapja, aki eddig jelentéktelen könyveket írogatott, de Sidney elolvasta a hatodikat, és ő be tudja ismerni, ütős az a kötet. Ő csak abban reménykedhet, hogy elül a könyve körül a botrány és felfedezik majd, mit mond igazán. A káosz közepette visszajön Melody, aki a válófélben levő felesége. A nő, akit Sidney még mindig imád, kamaszkoruk óta. Akinek megvette az álomházuk is. Melody a gyerekük várja, és adna még egy esélyt maguknak, csak az igazat akarja. Volt valakije a férjének, amíg külön voltak? Sidney nemet mond. Egy este egy étteremben vacsoráznak. Sidney készül elmondani, hogy ki kell vizsgáltatnia a fejét. Ami előtt eljöttek, ahogy az anyja az asztalnak lökte, akkor valami történt. Melody a baba nevén mereng. Homer, ha fiú – Sidney ezt nagyon leszólja. Helen, ha lány. De melléjük lép Sidney kidobott szeretője, és a nőnek esik. Sidney döbbenten néz: te nem csak egy hallucináció vagy? Melody elrohan, Sidney utána.
A kórházban minden történet végét elmondja Sidney: a fejsérülés, ami most, 30 évesen kórházba juttatta, az a sérülés, amit még az anyja okozott. Brett haláláért magát okolja máig. Mikor megjöttek a vidámparkból, Sidney anyja a fia naplóit bújta, látta a kazettát is. A fiának esett, a kazettát a tűzbe dobta. Tönkrement. Sidney kénytelen volt elmondani Brettnek, aki ezt követően lett öngyilkos.
Miután az étteremből elszaladtak, a liftbe ugrott a neje után, a bocsánatáért könyörögve. De elakadtak. Melody asztmás volt, nem volt nála az inhaláló. Hiába hívott Sidney segítséget, idő, amíg ki tudták szedni őket onnan. Közben Sidney karjai között Melody megfulladt, a halálba magával vitte a gyerekük is.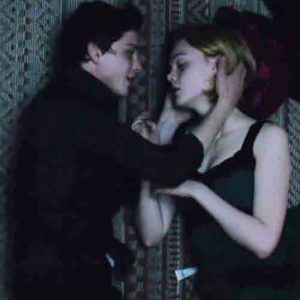 Meséli, máig arról álmodik, az a legnagyobb álma, hogy ezt a jelenetet újraírja. Hogy időben kiszedik őket a liftből. Hogy Melody és a baba jól vannak. De nem lehet. Kábán hazament, ránézett a naptárra, melyen már be volt jelölve, mire várják a babát. Majd bezárta a lakást és elment, csak a ruhában, ami rajta volt. Nyugaton vándorolt, ahogy Melodyval kamaszként kitalálták. Egyetlen társa egy kutya lett, akinek a Homer nevet adta. És 30 évesen elment a házába, ahol ott kellett volna lennie a feleségének is.
Az eltelt évek alatt folyamatosan írt. Ezeket Francis kezébe adja minden joggal együtt. Szeretné, ha megírná a történetét. Majd kiüresedik a tekintete, meghal.
Záró képként a szomorú, papírokkal elhajtó Francist látjuk.
Kegyetlen, igaz? Szerintem nagyon az.
Én egy percre sem Sidney hibájának láttam az eseményeket. Levezettem fejbe, mindent az anyja rontott el. Ha nem dobja a tűzbe a kazettát – minden másképp alakul. Vagy, ha Brett megmentése nélkül, csak Sidney történetét nézem, ha nem löki az asztalnak és sebesíti meg a fiát, nem lesznek sikeres íróként gondjai a valósággal. Nem távolodik el Melody, nem jön össze a kiadós lányával, és nem lenne olyan helyzet, hogy a liftbe ragadjanak. Úgyhogy, én Sidney anyját tudtam utálni.
Annyira sajnáltam az egész bandát! Brettet is, és a végére Sidney miatt is sírni tudtam volna. Olyan igazságtalan, amikor az ártatlanok szenvednek!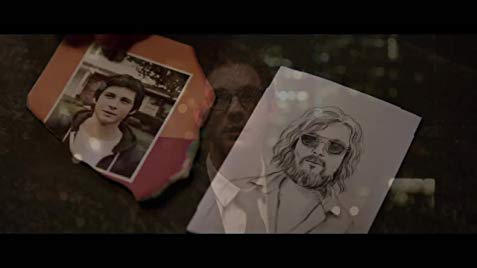 Amíg nem láttam a végét, azt vártam, a 30. születésnapon ott lesz Melody és a pár éves gyerek. És még lehet happy end. De ez… az lett volna a csoda, ha Sidney valamiképpen nem kattan meg.
Íróként is sajnáltam. A zseni a gyengém, és íróként ő az volt. Remekül mutatja a film, milyen utat jár be a regény, és hogyan lesz kultikus, Sidney rejtélyével együtt.
És most úgy tűnik, hogy depresszív ez a film, de nem. Roppant tragikus, de dramedy. Nagyon aranyos, ahogy a kamasz Melody és Sidney összejönnek. Thrilleres, ahogy próbálják Brett apját megbuktatni. Azon meg kifejezetten jót vigyorogtam, amikor Sidney és Francis egy asztalhoz kerülnek, beszélgetnek, és kiderül, kicsoda Francis.
De a szívem párszor összetörte. Ahogy Melody megfullad, míg Sidney énekel neki és ringatja… olyan értelmetlen halál. Olyan tragikus.