Háborús, hajós, különleges osztagos.
Nagy ünnepséget rendeznek, az Államok megadja a módját, hogy megemlékezzenek mindarról, amit a Nathan James és legénysége elért. Az Egyesült Dél-Amerika ezt a pillanatot választja, hogy lecsapjon. Tavo bombázói Pearl Harbor poklát utánozva minden előzmény nélkül megsemmisítik a flottát, katonák tucatjait ölik meg, és egy hackertámadással az ország védelmét is megbénítják. A Nathan James azonban pont nem volt a kikötőben, egy csapat kommandós beépített munkán Dél-Amerikában maradt és képesek visszavágni, Tom pedig a kezébe veszi az irányítást és megkezdi a manőverezést. Miközben a harcmezőn is helyt kell állniuk a technikájuk elvesztése ellenére, a kém nyomára akadnak, még nem érintett országokkal tárgyalnak és készülnek a visszavágásra.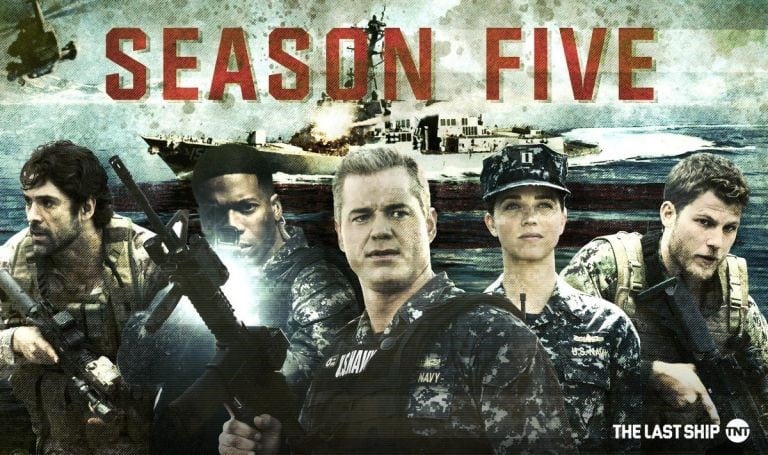 Félreértés ne essen, az elmúlt 5 évben egyszer sem éreztem úgy, hogy a legjobb sorozat, amit láttam, The last ship lett volna. De voltak olyan évadai, amelyek kifejezetten jó szórakozásnak bizonyultak és emlékezetes pillanatokat hoztak. Volt abban valami érdekes, ahogy a tengeri ütközeteket és a hajót be tudták mutatni.
Pont ez volt az, amit idén nagyon meg akartak ismételni, de ezért nagyon erőszakolni kellett a történetet. Tulajdonképpen már kezdett minden visszaállni, a világ a gyógyulás útjára lépett másodszor is. Hogy legyen ebből megint technikai hátrány és egyetlen hajó? A válasz komédiába illő. Egy dél-amerikai diktátor egyszerre két halálos csapást is mér: a számítógépes rendszert és a japánok után szabadon az amerikai flottát is megsemmisítik. És mégis, az évad első felében, hiába az erőszakolt indítás, működött a feszültség és az akciók. Tétje volt minden lépésnek.
De túl sokat akartak mesélni és fogni. Erre az évadra már más a világ, egy egész háborút kellett volna megmutatniuk. De egyetlen hajóval? Annyira nagy tétekben játszottak, de ezt nem tudták megmutatni nekünk. Az szinte komédiába illett, amikor több hajó összecsapását mindössze egy radar képen mutatták. Országok között szövetkeztek, akcióztak, de ez is túl nagy, hogy ilyen kicsiben lássuk.
Amikor időugrás jön, és már az amerikaiak támadnak vissza, még rosszabb lett a helyzet. Valahogy nem akar összeállni a történet, nem hiteles. És egy ponton már nem féltünk senkit, mert azt pontosan lehetett érezni, hogy a finálé előtt egy fontos karaktertől sem búcsúzunk.
Idén volt egy rész, aminek a koncepciója érdekes volt. Amelyben megmutatták, hogy a flottán túl, otthon mennyire szerencsétlenek ezek az emberek, akikre a világ nagyja hősként tekint. Legmarkánsabban Tom családjában látni ezt, de más példát is könnyű találni. De annyira furán volt megírva a rész, és furcsán is volt forgatva, hogy a végeredmény csak zavaró.
Igyekeztek magánéleti szálakat is behozni, de ezek is elvesztek a nagy háborúban, nincsenek is rendesen lezárva, ettől pláne hiányérzetem volt. Kara és Danny között most akkor mi van? A végére kibékültek, újra család lesznek, vagy mi? És mi lesz Tom sorsa? Hajóznak Sashával? Egyszerűen semmit nem zártak le, és komolyan ez az egésznek a vége?
Vegyem poénra? A Nathan James elsüllyedt, kit érdekel, a tengerészek sorsa? Engem!
Néha megvillant valami, miért szerettem anno. De sokkal jobbat vártam ennél.
The last ship – 5/3 felemás évad. A hajós akciók még érdekesek, de túl sokat akarnak fogni mindenből.