Gyilkosos, nyomozós, rokon mentős, konfliktuskezelős.
Jön a megtisztulás napja, amire sokaknak sokféle terve van. Jane üzletasszony, aki rég szenved attól, hogy a főnöke azért nem lépteti elő és ismeri el, mert nem hajlandó lefeküdni vele. Így, miközben egy üzleti tárgyalás alibit biztosít neki, megszervez a főnöke ellen egy bérgyilkosságot. Penelope, a gyerekkori traumáján nem tud túl lenni, és áldozatnak jelentkezik egy szektába. A bátyja, az egykori tengerészgyalogos pedig kész átgázolni a véres városon, hogy megmentse. Jenna és Rick az első gyermekét váró házaspár, akik a nagy üzletet akarják megkötni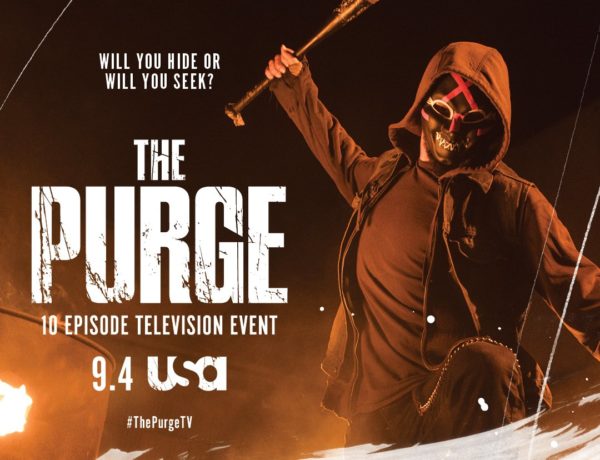 ezen az estén, de helyette a múltjuk árnyaival kell szembenézniük. Miközben elszabadulnak az események, és az életükért küzdenek, az életük egy ponton összefonódik és közös lesz a harc a túlélésért.
Ez egy újfajta univerzum építés kezdete. Igaz, a Marvel erre is tett már kísérletet, de ők visszakoztak belőle. Az Agents of SHIELD az elején még laza szálakkal kapcsolódott a filmekhez, de aztán teljesen külön történetei lettek. The Purge, viszont tartozni akar a filmekhez is. Olyannyira, hogy a sorozat konkrétan ráutal a legutóbbi filmre.
Nem kell nagy összekapcsolódásra gondolni, az is érteni fogja, aki csak a filmet, vagy csak a sorozatot nézi meg. Arról van szó, hogy Penelope és Miguel akkor voltak gyerekek, amikor az első Megtisztulás éjszakája volt. Ők is ott voltak a szigeten, átélték, amiről a legutóbbi film szólt. De ennyi, nincsenek ennél konkrétabb utalások, ha emlegetik is a szigetet közben!
Jót tett a filmnek, hogy sok szereplővel indítottak és nagyon sok arcát megmutatták annak, melyik társadalmi réteg hogyan éli meg a Purge éjszakáját. Mivel ez sorozat, sokkal több minden fért el benne, mint egy filmben. Az utcák őrülete, az új üzleti élet modellek, de olyanok is, mint egy házasság próbatétele e véres világban. Volt emberi oldal, volt társadalmi üzenet, és az egész pörög.
Ezért is jó a sok karakter: nem lesznek unalmasak, mert mindig válthatunk, és a másik szereplővel történt izgalmas történések feldobják újra és újra a részeket.
Tetszett az is, ahogy a karaktereket kezelik. Szimpatikusak, lehet drukkolni nekik, de senkiről nem mondható el, hogy ártatlan bárányka vagy klasszikus hős lenne. Mindenkinek van egy sötétebb oldala, egy komoly titka vagy egy lezáratlan konfliktusa. De ettől izgalmasak – igazából senki se csak jó vagy rossz, és ezt ezek a karakterek szépen megjelenítik.
Mivel elég sokan vannak, lehet majd kedvenceket is választani. Nekem a Betancourt házaspár lett az. De mielőtt bárki is választana magának kedvencet, hadd álljon itt egy figyelmeztetést! Ez egy thriller – horror sorozat, amiben emberek szabadon ölik egymást. Ez alól a főszereplők sem kivételek, így készüljetek arra is, hogy nagyon sokan nem élik meg a sorozat záró jelentét, amiben megmutatják, ki mit csinál 1 évvel később.
A látványvilága simán eléri azt a szintet, amit a filmekbe is beletettek. Elég sok helyszín, külső és belső is. A halálok talán nem olyan brutálisak, de nem is kellettek. Nekem az is elég megrázó volt, amikor valaki, akit bírtam, kap egy haslövést, aztán elvérzik. Nem kellett a hatáshoz belezés vagy valami még gyomorforgatóbb.
Elég jól ment, hogy berendeljék a 2. évadot, így majd jövőre is megyünk írtani. Jöttök ti is?
The Purge - 5/4 több szál szépen összeér, horror és thriller is, és még a filmekbe is beleillik. Izgalmas.