Zombis, túlélésért küzdős, kisvárosi.
A Föld örökre megváltozik. A tengelyén megdől, már más szögben halad a pályáján. Az embereknek eleinte csak az tűnik fel, hogy sokkal később lesz éjszaka. Centerville rendőrfőnökét is bosszantja, hogy a Nap szinte le se akar menni. Ám hamar akad nagyobb baja is: a helyi étteremben brutális kettős gyilkosság történik. A két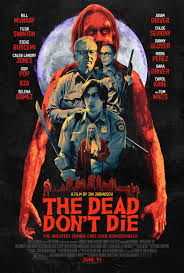 pincérnőt nem egyszerűen megölték, szétmarcangolták. A helyettese, Ronnie, meg van róla győződve, hogy nem állattámadás történt. A zombik ideje jön el. Bár eleinte nem hisznek neki, páran vannak, akik megpróbálják biztonságba helyezni magukat. Mert amikor újra eljön az éjjel, a temetőkből tömegesen kelnek fel a holtak, és letarolnak mindent, ami az útjukba kerül.
Már aludtam rá egyet, de még mindig gondban vagyok ezzel a filmmel. Az biztos, hogy komolyan venni nem lehet. Paródia, de hogy jó vagy rossz? Még nem döntöttem el.
Ha a cselekményt nézzük, az végtelenül egyszerű. Adott egy jellegtelen kisváros, ahol egyszer csak elszabadul a pokol és özönleni kezdenek a temetőből az élőholtak. Mindenki harcol velük, ahogy tud. Az elején, a felvezetésben ugyan van egy minimális krimi szál – vajon ki ölte meg a két pincérnőt – de azt sem lehet komolyan venni. Pláne, hogy van, aki kapásból előjön a zombikkal. Később megtudjuk azt is, honnan tudta előre: mert ő már elolvasta a forgatókönyvet, a végét is.
Már ez is mutatja, hogy paródia. Amire rásegítenek a színészekkel teli utalásokkal. Adam Driver, aki a Star Wars új trilógiában a főgonosz, Star Wars logójú kulcstartót cipel, és van, akivel meg is beszéli, hogy jók azok a filmek. Tilda Swinton, aki olyan érdekesen néz ki, hogy rendszeresen ufóhoz hasonlítják, itt vajon mit alakít? Úgy van, ufót. Bill Murray meg nem először kerül szembe élőholtakkal, de a Zombieland ötletesebb szerepet biztosított neki. Érdeklődve is várom, hogy a 2. részben milyen szerepet kap, mert benne lesz abban is.
Paródia az is, ahogy szembeszállnak az élőholtakkal. Tényleg, kinek mi kerül a kezébe. Azért szögbelövővel szembeszállni a hordával… ok, nem is lett jó vége a dolognak.
Ami viszont tetszett benne, és tényleg van benne ötlet: itt a zombik, miközben klasszikusan olyan agyatlan evőgépek, mint általában, egyetlen ingert megőriztek az életükből. Amit emberként nagyon imádtak, azt hajtják az új létükben is. Van, akinek ez kávét jelent, de vannak internetfüggők is, meg akik most is a fájdalomcsillapítójukat keresik. Már Romero kapcsán azt mondták, a zombik a fogyasztói társadalom kritikája, itt még direktebben megfogalmazzák ezt, és működött is. Valóban, bele lehet látni a mindennapi robotba belekergülő embertömegeket, akik függenek. Ki ettől, ki attól. Nem véletlen az sem, ki az egyetlen ember, aki túléli a zombikat a filmben.
Látványra is a paródia vonalba tartozik a film. Nem lett véres zombi horror, csak olyan popcorn horror. A zombik külalakján dolgoztak, de azért ez nem a The walking dead.
A szereposztás meglepően erős lett. Eleve Adam Driver és Bill Murray viszik a főszerepet, mellettük olyan mellékalakokkal, mint Tilda Swinton, Selena Gomez, Chloe Sevigny, Steve Buscemi vagy Danny Glover.
Még emésztgetem kicsit, de azért ez nem olyan paródia, amitől kiakadok. Nézhető.
The dead don't die - 5/3,5 paródiának egyes részei remekek, erős a szereposztás is, de valahogy mégse az igazi.