Kutyás, ismeretlen vidéket felfedezős, barátokra lelős.
Buck délen él, egy gazdag ember jól tartott kutyájaként. A nagy méretei miatt ugyan bajt kavar néha, de szeretik és ő is szereti a családot. A méretei miatt figyel fel az ebre egy ügyeskedő, aki meglátja a lehetőséget, hogy északon eladja az állatot. Az aranyláz kitört, és jó piaca van az erős, szánhúzásra alkalmas kutyáknak. Buck rablók kezébe kerül, majd Alaszkába hajózzák be. Perrault kutyáinak egyike lesz, ahol egyre jobban megtanulja a szánhúzást a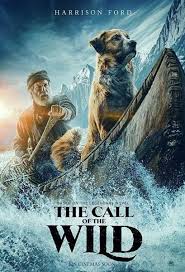 postás mellett. Saját, vadonbeli énje is egyre jobban feléled, és a szánhúzó kutyák élére áll. A fejlődés azonban elavulttá teszi a kutyás postát: újra a piacon találja magát. Egy elvakult, aranyéhes fiatalember veszi meg a fogatot, és hajtaná a halálba, Buck hiába próbál ellenállni neki. Egy békét kereső öreg menti meg, és vonja be a saját kalandjába.
Jack London az aranyláz egyik krónikása, aki kalandregények sorában örökítette meg a korszakot, a jellegzetes embertípusokat és a határok életét. Az életművében jelentős szerepet kaptak az ebek is. Ketten is vannak, akik erőteljesen a kultúrkincs részévé váltak: Fehér Agyar és Buck. Ők rendszeresen kapnak is filmes feldolgozásokat.
A vadon hívó szava Buck történetét meséli újra.
Mi benne a pláne? Kapásból két dolog van, amivel meg akarják fogni a nézőket. Az egyik Harrison Ford, aki ugyan nincs végig jelen a filmben, de minden plakáton hatalmas méretben láthatjuk. Már lényegesen kevesebb filmet vállal, idén nem is jön tőle más, majd jövőre a tervek szerint a következő Indiana Jones. Van olyan neve, hogy fiatalok és idősebbek is ismerjék – a régi, legendás szerepeit ő is viszi tovább.
Ha azonban figyelmesen nézzük a szereplőket, rájöhetünk, hogy nem Ford az egyetlen húzónév. Ott van a franciák egyik legkelendőbb exportcikke, Omar Sy is. Nagyon karakterére van írva Perrault alakja. Egy kedves, csupa szív, szerethető figura. Azt már nem firtatom, abban a korban hogyan lehet egy fekete felelős kanadai állampolgár… Buck egyik ellenfele pedig az a Dan Stevens, aki lehetett a Szépség Szörnyetege vagy éppen az X-Men Légiója, nekem akkor is Matthew Crowley megtestesítője marad. Meglepően jól állt neki a gonosz karakter. Amire viszont nem jöttem rá: ki volt benne Karen Gillan?
A másik, amivel becsalnák az embereket, Buck. Nem igazi ebbel, egy CGI állatot készítettek. Nagyon meg is vagyok hasonulva miatta. Egy-egy ponton annyira életszerű, olyan jól elkapták a kutyák tipikus nézését, hogy az már döbbenetes. Máskor viszont zavart, hogy csak majdnem életszerű. Mintha egy nagyon jó hamisítványt néznék: mintha igazi kutya lenne, de mégsem.
A tájak különben gyönyörűek, és láthatjuk is azt a vadont, melynek hívó szava rátalál a házi kutyából vezér szánhúzóvá, majd legjobb baráttá és végül falkavezérré lett Buckra.
A történet kalandos, érdekes, és nagyon családinak tűnik. Van azonban benne egy-egy olyan rész, ami miatt érdemes átgondolni, mekkora gyerekeket visznek be rá. Az aranyláz az emberi mocskot is vonzotta, és ha kutyaviadalt nem is kell a film után elmagyarázni a gyereknek, halált és verést igen.
Szerettem az üzenetét. Mivel Fehér Agyar filmet is nem régiben láttam, a cselekményben látok hasonló vonásokat, és az üzenetben is. Ez egy mese a szabadságról, amit mindenki keres, de csak kevesen találnak meg. Az embereket elvakítja az arany, a fájdalmaik, a birtoklás. A kutya ellenben megtalálhatja a vadonban azt az ősi, tiszta és határtalan szabadságot, amit Buck is meglel a végére.
Arra inkább nem írok poént, hogy ma már nincs vadon, ami hívogathatna minket…
Veszteségesnek tűnik most, a kritikusok se rajongtak érte, velem a történet simán nézette.
A vadon hívó szava - 5/4 a CGI hol gyönyörű, hol bántotta a szemem. A történet családi, de gyerekkel óvatosan.