Állatos, válaszokat kereső, sárkányos, varázsos.
A gonosz varázsló egy most kikelt sárkányfiókát akar megszerezni. A keselyűjét küldi el a kicsiért, aki be is gyűjti az állatot. Ám egy egymást hajszoló légy és madár megzavarja a röptét, és a csomag elveszik. Egy törpe és pszichiáter barátja találnak rá, és segítenének neki hazajutni, csak nem tudják, az hol van. Azt találják ki, egy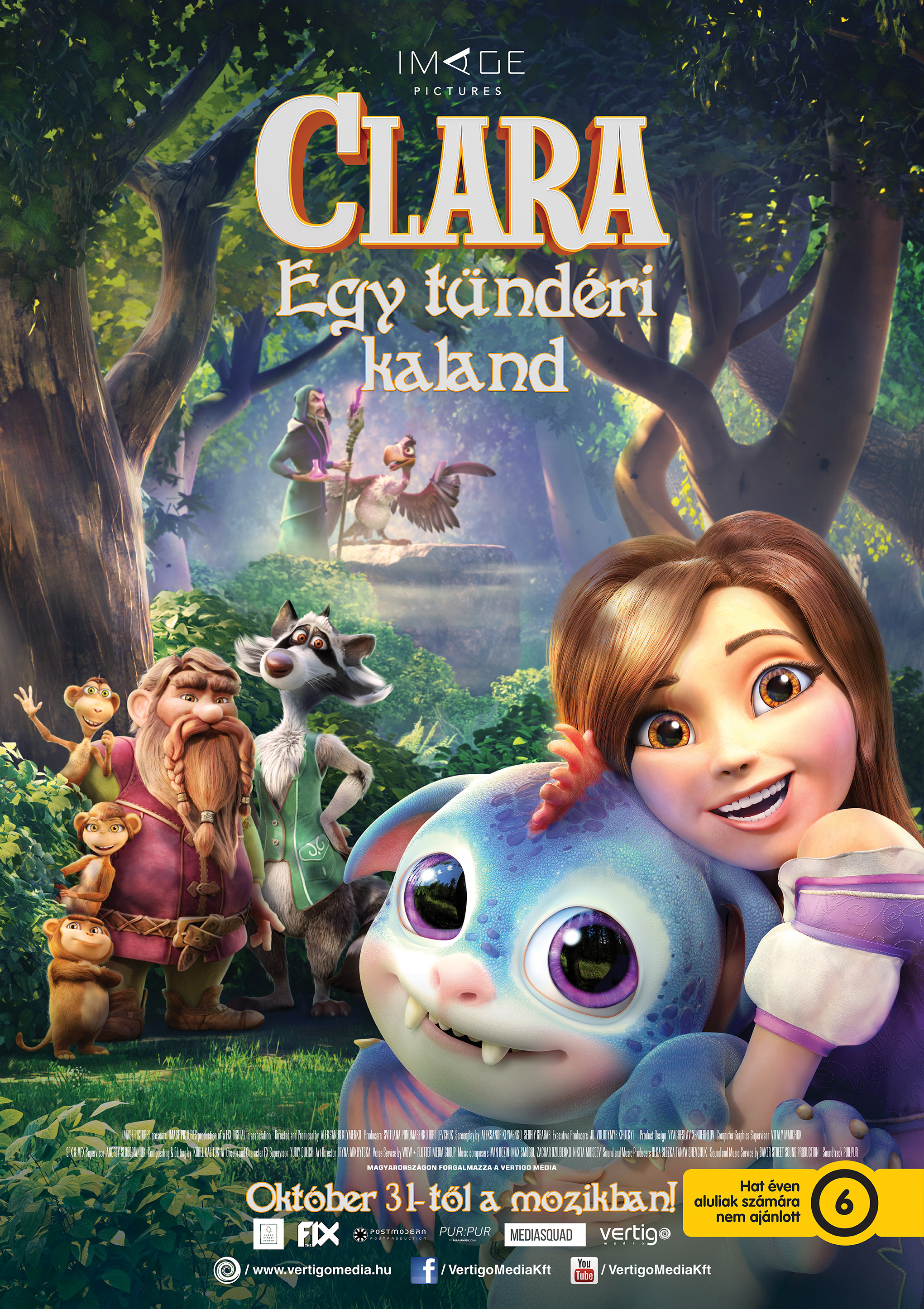 tündértől kérnek útbaigazítást. A tündér azonban csak egy emberlánynak tűnik, akinek van egy különös tekercse, meg három majma. Clara elvesztette az emlékeit, de már kitalálta, hol várnak rá a válaszok. Egy fánál, ahol mindenki választ kaphat a kérdéseire. Együtt indulnak útnak, miközben a gonosz mágus a szolgáit rájuk uszítja, miközben a majmok káoszt okoznak a lány kunyhójában. Leszakadó híd, árulók sem tántoríthatják el őket.
Az orosz filmgyártás egyre több olyan produkciót hoz, amelyek az amerikai blockbuster recepteket követik. A Clara is egy ilyen mese. Több szempontból is.
1: a cselekmény. A cuki állatnak segítség kell, összeáll egy csapat, akik elsőre nem illenek össze. De ahogy beindulnak az események, összebarátkoznak és jók lesznek együtt. Legyőzik a gonoszt, és a végére mindenki megkapja, amit keresett a kaland során. Egy váratlan elem sincsen benne. Legfeljebb annyi, hogy van egy utalás egy nagyobb gonoszra. Őt meg sem ismerjük, semmit róla – csak nem folytatásban gondolkodnak máris?
2: a grafika. Korábban még legalább volt némi törekvés orosz hatásokra. Mondjuk, a hercegnő orosz népviseletben nyomult. Most már amerikai a küllem is. Ennyire modern szabású szoknyába még mesebeli hercegnőt/tündért nem láttam, pedig a keresztlányom időnként kínoz Barbie mesékkel. Klasszikus törpe kinézet a morgós törpéé, az állatok meg úgy festenek, mintha egy Illumination meséből érkeztek volna. Tudjátok: amikor már olyan magas a cuki faktor, hogy az ember valósággal cukormérgezést kap. Édes pofi, hatalmas szemek – egyenesen mehetnek a vászonról a plüssboltba! Mondjuk, ezért nem fogok panaszkodni, az Illumination cukiságait is szeretem. Igaz, ott nem ötlik fel bennem, hogy az aktuális kis kedvenc, itt a bébi sárkány, olyan, mintha keresztezték volna a Netflix The Dragon Prince bébi sárkányát az Így neveld a sárkányodat Fogatlanjával. Ez a sárkány olyan lett. A tájakban pedig hatalmas a fejlődés. Itt a folyó tetszett legjobban – helyenként annyira életszerű volt… Igaz, gyengébb megoldás is akad a mesében. A majmok – azok gagyik.
3: a kicsiknek szánt ostoba szereplők. A majmok. Azok, amelyek rendszeresen az agyamra mennek. Igen, én vagyok az a gonosz, akinek az tetszett volna, ha benne égnek a házban, amit sikeresen felgyújtottak!
4: betétdal. Csak egyszer, de Clara dalra fakad. Még a dal stílusa is olyan, mint egy klasszikus, Disney mese világában. Jobb szinkronnal jobb lett volna, de egyszer meg lehetett hallgatni így is.
5: az üzenet. A barátág és az összetartás fontossága. Az álmokat nem szabad feladni. Mélyebb tartalom nincs benne, messze nem egy Pixar mese szintje, de kisebbeknek is készült.
Gondolkodtam rajta, mekkorának kellene lennem, hogy azt mondjam erre a mesére, hogy tetszett. Az biztos, hogy gyerekeknek készült. Nincs benne olyan szál, ami a felnőtteknek szólna. Viszont, unisex. Vannak elemei, melyek a kislányokat célozzák, mint a tündéres vonal, mások inkább fiúsak. A gyereket simán le lehet ültetni elé, de a szülő jobban teszi, ha nem csatlakozik hozzá.
Azt sajnáltam, hogy a humort a béna majmoknak kellett volna hozni. Nagyon gyerekes.
Vagyis, ez most egy elment. Amerikai mintát követő, korrekt grafikájú, egyszerű és követhető mese, csupa cuki szereplővel – még a gonosz állatok is helyesek.
Clara - 5/3 a legnagyobb előnye, hogy aranyosak a karakterek. Nagyon gyerekmese, kisebbeknek.