Időutazós, világot mentő, csapatmunkás.
A chronikomok át akarják venni a Földet, és egyetlen szervezet áll az útjukban. A SHIELD. Így a terminátor ötletét kölcsönözve nem a jelenben akarnak győzelmet aratni, hanem egy időutazással akarják átírni a történelmet és megalkotni a nekik tetsző jövőt. Fitz és Gemma Enoch segítségével azonban résen van, és ők is építenek egy szerkezetet, mellyel a nyomukban tudnak maradni. A biztonságuk érdekében áldozatot kell hozni: Fitz egy titkos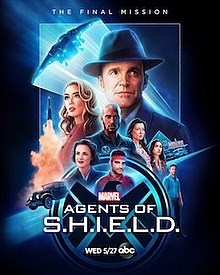 helyen marad, míg Gemma visszamegy a csapattal. Ő sem tudja, hol a férje. A múltban aztán azzal szembesülnek, hogy a Hydra megmentése lesz a feladatuk, hogy később a SHIELD is létrejöhessen. A chronikomok azonban nem adják fel az első vereség után: nagyon hajlandóak átírni a történelmet, hogy az nekik megfeleljen. Ölnek, felemelnek gonosztevőket, megváltoztatják a világ rendjét, és a SHIELD csak remélheti, hogy mindent képesek lesznek helyrehozni.
Az utolsó évad. Már nagyon elengedték, hogy bármilyen kapcsolatban legyenek a mozikkal. Nem véletlen, hogy Thanos és az idősíkok közti játék sem érintette az itt történteket. Hol van az már, amikor itt szerezték meg azt az űrhajót, amivel aztán a moziban feltűnt Fury igazgató… De már azt is elengedték, hogy a nagyokra utalgassanak. Törődnek a maguk dolgával. Ami egyszerre jó is, nem is. Az jó, hogy a saját történetük viszik, és nem kell hozzáerőszakolni valahogyan a mozis világhoz. Ugyanakkor nő a szakadék a kettő között, mintha nem is egy univerzum részei lennének.
Az idei történet 13 részt kapott, és bár ez volt a búcsú, bennem nem egy dolog hagyott kellemetlen érzést. Kezdve azzal, hogy pont a kedvenc szereplőm került parkolópályára, újfent. Már megszokhattam volna, hogy Fitz elszakad a csapattól, és némi idő, amíg tud csatlakozni, de idén minden eddiginél messzebb mentek el. Kb. mint Dylan O'Brien a Teen Wolf utolsó évadában. Az utolsó részben tűnt fel, hogy mentse a napot. Köszönöm, de díjaztam volna, ha előbb színre lép! Gemma egyedül nem működik úgy, mintha ott van mellette Fitz is.
Próbálnám azzal vigasztalni magam, hogy legalább az Agent Carter egyik szimpatikus alakja, Sousa jött pluszban, és így Daisy is kapott egy rendes pasit, aki nem veri át, és nem is hal hősi halált. (Igen, anno azért a szálért is haragszom még.) Csak éppen nagyon nem tudnak vele mit kezdeni azon túl, hogy szép lassan alakul valami közte és Daisy között.
Nem ő az egyetlen, akinek a szerepe erre az évadra teljesen kifulladt. Lovasság, vagyis May. Most komolyan, volt annak bármi értelme, hogy ő lett a csapat érzelmi médiuma? Valamit nagyon akartak adni neki, hogy még legyen képernyőn ideje, mert ha nem kellett volna közben vallatáskor eldöntenie, hogy őszinték-e velük a kihallgatottak, nem is tűnhetett volna fel. De attól még nem volt egy izgalmas ötlet.
Haragszom kicsit azért is, mert nagyon olcsón úszták meg az időutazást. A Bosszúállók film megmutatta, hogy lehet ezt izgalmasan és látványosan. A sorozat megmutatta, hogyan lehet kis pénzből. Eleve nem mennek elég messze, hogy kosztümös és látványos lehessen. Hasonlítanak a korok, a helyszínek meg egyeztek. Mindig, ugyanaz a bár… Vajon miért? Mert így egy díszlettel megúszták az egészet. A Legends of Tomorrow büdzséje is mindig lemérhető abból, melyik korba mennek vissza. Hidegháború, diszkó korszak? Éppen kevesebb pénz van… Itt is ezt látni.
Pedig volt benne humor is, még mindig nagyon szerethető ez a csapat. Csak nem tudom túltenni magam azon, hogy nem volt erős ellenfél, gagyi az időutazás és Fitz sem volt.
Azért hiányozni fognak nekem, de majd startolnak a Marvel sorozatok. Az azért kárpótol.
Agents of SHIELD - 5/3,5 vegyes érzés volt. Hiányzott Fitz, az időutazásból többet is ki lehetett volna hozni.