Félresikerült rablós, menekülős, sunyi öreges.
Pár helybeli fiatal, kiegészülve egy idegen bűnözővel megelégeli, hogy az élet csak rossz lapokat oszt nekik. Terry anyja takarítónő egy környékbeli, nyugdíjas házaspárnál. Ő állítja, a pincében van egy nagy széf, tele pénzzel. A ház is tele értékekkel, a pár nem is kicsit tehetős. Elhatározzák, amikor a házaspár kiruccan, betörnek, és visznek, amit csak lehet. Be is mennek, de a széfet nem tudják kinyitni. Közben Gaz barátnője is telefonál, kellene neki az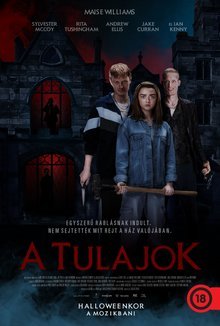 autó. Gaz becsalja Mary-t a házba, és ráveszi, hogy a születendő gyermekük jóléte érdekében hagyja, hogy a Huggins házaspárt is elkapják, és kiszedjék belőlük a széf nyitókódját. Az öregeket elkapják, megkötözik, de nem akarják megadni a kombinációt. A doktor a lelkükre tud beszélni, és szembeszállnak Nathannel, aki megkínozná az öregeket. Kiszabadítják őket, és a doktor segítséget ígér nekik. Ám mire észbe kapnak, kiderül, hogy talán rossz emberben bíztak, mert ez a ház olyan titkot rejt, amiért a két Huggins ölni is hajlandó.
Már a fülszövegnél túl sok áthallást véltem felfedezni egy pár évvel korábban bemutatott horrorral, ami akkoriban egész szép sikereket is ért el. Abban is fiatalok törnek be egy hátrányos helyzetű házába – ő nem annyira öreg, viszont vak volt. Csak aztán kiderül, hogy e vak előszeretettel vadássza le a behatolókat, és a háza is mocskos titkot rejt. Ez volt a Vaksötét 2016-ban, ami tulajdonképpen minden téren veri ezt a filmet.
Azt, gondolom, magyaráznom se kell, mennyire ugyanaz az alap van mindkettőben. Csak éppen a Vaksötét az első, így azé az érdem, míg ez a film csupán egy gyengébb utánérzet. Több mindennel lehetett volna játszani, hogy más legyen, ha már mindkettőben betörnek és a kijutásért keményen szenvednek. Ehhez képest még ahhoz sem vették a fáradtságot, hogy a nagy csavart kicseréljék, mit rejt a ház, illetve itt a széf. Annyira a Vaksötét járt végig az eszembe, hogy még csak meglepődni se tudtam, amikor végül nyílt az ajtó, és megláttuk, mi van odabent.
Mivel horror és thriller határán mozog a film, felmerülhet az is, mennyire ijesztő. Nem az. Nem vérengzős film, amikor valaki megsérül, az lövéstől történik, illetve van egy késelés, de azt se látjuk, csak a végeredményt. Kevés a vér, vagyis inkább az ijesztő elemek dominálnak, nem az undort keltőek. Csak éppen ijeszteni sem sikerül. Az öregeken szerintem az elejétől látni, hogy valami nagyon nem stimmel velük. Mivel idősek és rozogák, amikor ők lendülnek bele, olyan eszközökhöz nyúlnak, mint a méreg és a gyógyszerek, a megtévesztés. Nincs jump scream elem sem, simán attól kellene megijedni, hogy a rozzant öregekről kiderül, hogy gyilkos berögződéseik és rutinjaik vannak. (Mondanom se kell, mennyivel ijesztőbb volt a vak férfi, aki sokkal jobb kondiban volt a fiataloknál, a felszereléséről nem is beszélve.)
Gondot okozott az is, hogy nem sikerült egy olyan szereplőt felmutatni, akinek drukkolt volna az ember. A három fiú annyira vesztesnek és suttyónak tűnik, hogy semmi szimpátiát nem keltettek bennem. Ok, rossz körülmények közé születtek és szegények, de a válaszuk erre a bűnözés lett, és annyira tanulatlan, de más értelemben is buták voltak…
Maisie Williams Mary bőrében, aki kicsit több ennél. Még talán az ő túléléséért lehet leginkább szorítani, de ő is túl sok rossz döntést hozott. Gazzal kezdve – minek volt vele? Az sem mellékes, hogy ezt a színésznőt is sikerült külvárosi szerencsétlennek beállítani, ilyen téren működött a koncepció. Ha őt kevésbé is, mint a srácokat.
Tanulságokat nem nagyon akarok levonni – senkiben nem tudjuk, mi lakik igazán. Közhely, de ebből ennél többre nem futja. Úgysem nevelni, szórakoztatni akarnak.
Egyszer meg lehetett nézni, de nem tudott lekötni. Annak érdemesebb megnézni, aki még nem látta a Vaksötétet, akkor lesz benne meglepetés.
A tulajok - 5/3 talán jobban tetszett volna, ha nem láttam már volna nagyon hasonlót. Még a csavar is…