Hoteles, jövőbeli, családi titkos, gyilkosos.
A 104-es hotelszoba továbbra is különös események központja. Itt megeshet, hogy egy eltűnt, kultikussá lett zenész feltűnik, hogy előadja a dalait egy baráti társaságnak. Az egyik fiatalnak, aki nem rajongó, viszont szöget üt a fejébe, hogy ezek nem is csak dalok, hanem egy gyilkosság története – a végére ki tudja, belőlük lesz-e az újabb áldozat. Ahol a terapeuta egy furcsa kísérlettel segíteni igyekszik pankrátor ügyfelének. Ahol egy férfi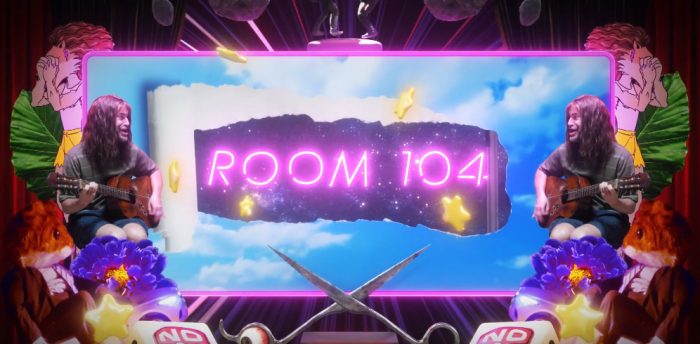 felfedezi, hogy egy buta tévéműsor szereplője, és bármennyire is próbálkozik, nem képes kijutni a díszletből – vagyis a hotelszobából. Ahol egy buli gyilkos játszmába csaphat át. Ahol egy játékvezető legnagyobb rajongójának ad külön műsort, és szembesül vele, hogy másnak mit jelent az ő munkássága, még ha neki is, magának is volt benne keserűség is. Ahol feléledhet a természetfeletti erő, de ami egy űrhajó kabinja is lehet, ahol életről és halálról döntenek a népesség szabályozás keretében.
A keret változatlan: egy helyszínen játszódó antológia sorozat. Minden esemény a hotelszobához köthető, amely a 104-es számot viseli. Azonban egyre több minden, ami itt megtörténhet. Ebben az évadban minden, ami nem átlagos, a normálissá lett.
Bár szerettem volna egy koncepciót felfedezni, hogy mi köti össze ennek az évadnak a részeit, ilyet nem találtam. Az, hogy sok történetben van természetfeletti szál, nem elég, mert más részek más zsánerekből dolgoztak. Horror, sci-fi, de pszichés dráma is akadt, nem lehet ilyen könnyen szűkíteni.
A sorozat egyik erőssége, de egyik nehézsége is, hogy mennyire rövid még mindig egy-egy rész. Nem a 40 perccel, hanem 20-25 perccel kell a készítőknek gazdálkodni, ami alatt mindig új szereplőket és helyzetet kell bemutatniuk, hogy a végén egy csavar és/vagy egy poén is üljön. Talán idén ez volt, amiben kifejezetten jól teljesítettek. Ha akadtak most is különös részek, összességében csupa értelmes, egy-egy zsánerben korrekten mozgó sztorit kaptunk.
Ha rá kellene bökni, melyik rész maradt meg leginkább az emlékeim között, valószínűleg a sorozatba ragadt epizód lenne az. Több mindenben volt már ilyen tematikájú rész, idén a Legends of Tomorrow is kapott egy olyan részt, amiben kultikus sorozatoknak adtak egy pofont, és a Winchester fiók is kalandoztak már a Rejtély RT-vel. Itt viszont sikerült egyszerre szatirikusnak lenni, humorosnak és megmutatni, milyen tematika szerint működtek a hetvenes-nyolcvanas évek ilyen típusú sorozatai. Nagyon felidézték bennem a Rém rendes család epizódokat, miközben ki is forgatták a zsánert.
Mertek kísérletezni, és megint vizuálisan is sokféle volt ez a sorozat. Azt mondjuk nem szerettem, amikor olyan szétcsúszásokat forgattak le, hogy szinte egy drogos trippen éreztem magam. Viszont, ahol rajzfilmes elemekkel dolgoztak, érdekes eredmény jött ki. Persze, nem egy Disney mese minősége, nem is anime volt a minta, de a világba jól illeszkedő rész lett, rajzolva is.
Az egyedisége képes feledtetni, hogy tulajdonképpen nem egy szép sorozat, amiben minimál díszletekkel és helyszínnel dolgoznak. Az ötlet itt eladja magát. Pláne, mivel idén több történet is tetszett, nem csak a furcsaság dominált.
A szereposztásra jellemző, hogy megnyertek ismertebb arcokat is, de igazán nagy sztárok nem tűnnek fel benne, az a nagyobb és sikeresebb antológiáknak szokott összejönni. Itt olyan színészeket ismerhettünk fel, mint Dave Bautista, Melissa Fumero vagy Gary Cole. Az utóbbi kifejezetten jó részt és karakterfejlődést kapott még egy ilyen rövid részen belül is. Szinte sajnálja az ember, hogy a The Good Fight inkább a sorozatbeli feleségére koncentrál.
Az idei évad tehát tetszett, Ha minden igaz, szép búcsú, és nem lesz 5. évada.
Room 104 - 5/4 idén voltak az eddigi legjobb sztorik, miközben továbbra is egyedi a világa és látványa.