Gyilkos nyomába eredő, széteső rendőrös, kisvárosi.
Snow Hollow békés kisváros, ahol télen van nagyobb élet a turisták miatt, akik jönnek élvezni a hegyeket és a síelést. Bűneset sem szokott erre történni, legfeljebb egy-egy részeg rendbontót kell megfékezni. Most azonban valami történik: egy nyaraló párt támadnak meg. Amíg a férfi bent zuhanyozott, a barátnőjét valaki elkapta és kivégezte, szétszaggatta. Hatalmas farkasnyom maradt a gyilkos után, ahogy a testen is fognyomok vannak. A rendőrök egy része nem is akar semmit tenni, kényelmesebb azt hinni, hogy állat tette, vagy ha valóban gyilkos jár közöttük, majd az FBI intézkedik. Amikor azonban újabb szétszaggatott áldozat kerül elő telihold után, terjedni kezd egy vérfarkas története. A seriff fia, aki maga is rendőr – szétesett házassággal és alkohol gondokkal – igyekszik kezelni a helyzetet, nem sok sikerrel.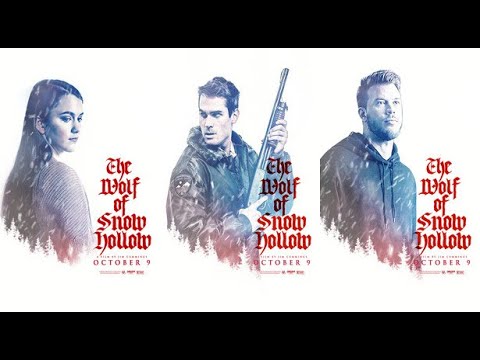 Amikor elgondolkodom rajta, hogy mit nem veszek észre. Történetesen ennek a filmnek egészen jó kritikái vannak. Fesztiválokon mutatták be, és ha nem is lett kultfilm, összességében sokkal több jót, mint rosszat találtam róla. Olyan filmekhez hasonlítják, mint a Fargo vagy a Három óriásplakát Ebbing határában – amely kettőt különben szeretem, a Három óriásplakátnak az Oscart is megszavaztam volna.
De ez a film… számomra siralmas volt, és nem egyszer beszélgettem a laptop monitorjával, hogy kell-e nekünk ez az élmény. Azért végigszenvedtem, de nyomokban sem találom benne, amit a kritikusok jó része meglelt.
A Fargóból talán a fekete humor, részben. Ahogy ott kezelik a halálokat, a szerencsétlen főszereplő és a béna rendőri munka, a havas vidék – csak amíg ezt a Fargo szórakoztatóan hozza, itt inkább idegesített és olcsónak hatott. Gagyi ez a film. A Három óriásplakátból meg semmit nem tudok ide venni. Nem is akarok, mert méltatlannak érzem azt a minőségi drámát ehhez a… nem is tudom, mihez mérni.
Mert nekem még az sem jött át, hogy ez egy paródia, vagy csak ennyire béna lett a horror. A kivitelezés, a történet, a karakterek… egyik siralmasabb, mint a másik. Hogy magam ismételjem, ez gagyi. De írhatnám nagy betűkkel is.
Röhejes, ahogy a rendőrség nyomoz vagy úgy csinál, mintha nyomozna. Nincs itt rendőri munka, csak emberek, akiknek fogalmuk sincs, mit csinálnak. John is sűrűbben néz az üveg fenekére, mint az aktákba. Ahogy dührohamokat is kap…
Ő különben is borzalmas egy karakter. Az elején a semmin húzza fel magát, amikor még nem kellene stresszelnie. Ahogy inni is kezd, minden csak rosszabb lesz körötte. Nem logikusan cselekszik, és rendőr létére olyan akciói vannak, mint az arca elé fogott ruhával betörni a lánya barátjához, akit meg akar verni. Az apjával való kapcsolata is – most mégis mit akar? Amikor az apja dolgozna, ki van akadva, miért nem megy nyugdíjba és hagyja rájuk a munkát. Amikor pihenne, akkor meg túl nagy a rendőrségen a nyomás és miért nem kezeli a helyzetet? Egyszer ezt mondja, másszor azt, és ez egyre feltűnőbb, ahogy megy előre a film.
Az csak egy dolog, hogy a szörnyeteg hogyan néz ki. Van már a hátam mögött annyi gagyi horror, hogy ezt még a legrosszabbak közé sem sorolom, bár tény, hogy se nem ijesztő, se nem hiteles, csak gagyi. Bár, kicsit javít a képen, amikor a végén kiderül, hogy miért néz ki annyira bénán a farkas, ahogy. (Logika mondjuk nincs, pl. a fognyomok miatt.)
Marad a rejtély, miért szerették többen ezt a filmet. Én bánom, hogy láttam.
The Wolf of Snow Hollow – 5/1 még csak azt sem tudtam eldönteni, hogy ez béna thriller/horror, vagy horror paródia.