Egyetemi, titkos társaságos, mágikus, bosszút állós.
Jack Morton most kezdi az egyetemet, de neki egészen más céljai vannak, mint a kortársainak. Nem egy diploma motiválja, és a nagyapja sem azért lenne rá büszke, ha pl. évfolyamelső lenne. Egy titkos társaságba kell bejutnia, amit Jack apja vezet. Edward Coventry a mágiával nőket csábított el, majd hagyott el. Jack anyja is ilyen nő volt,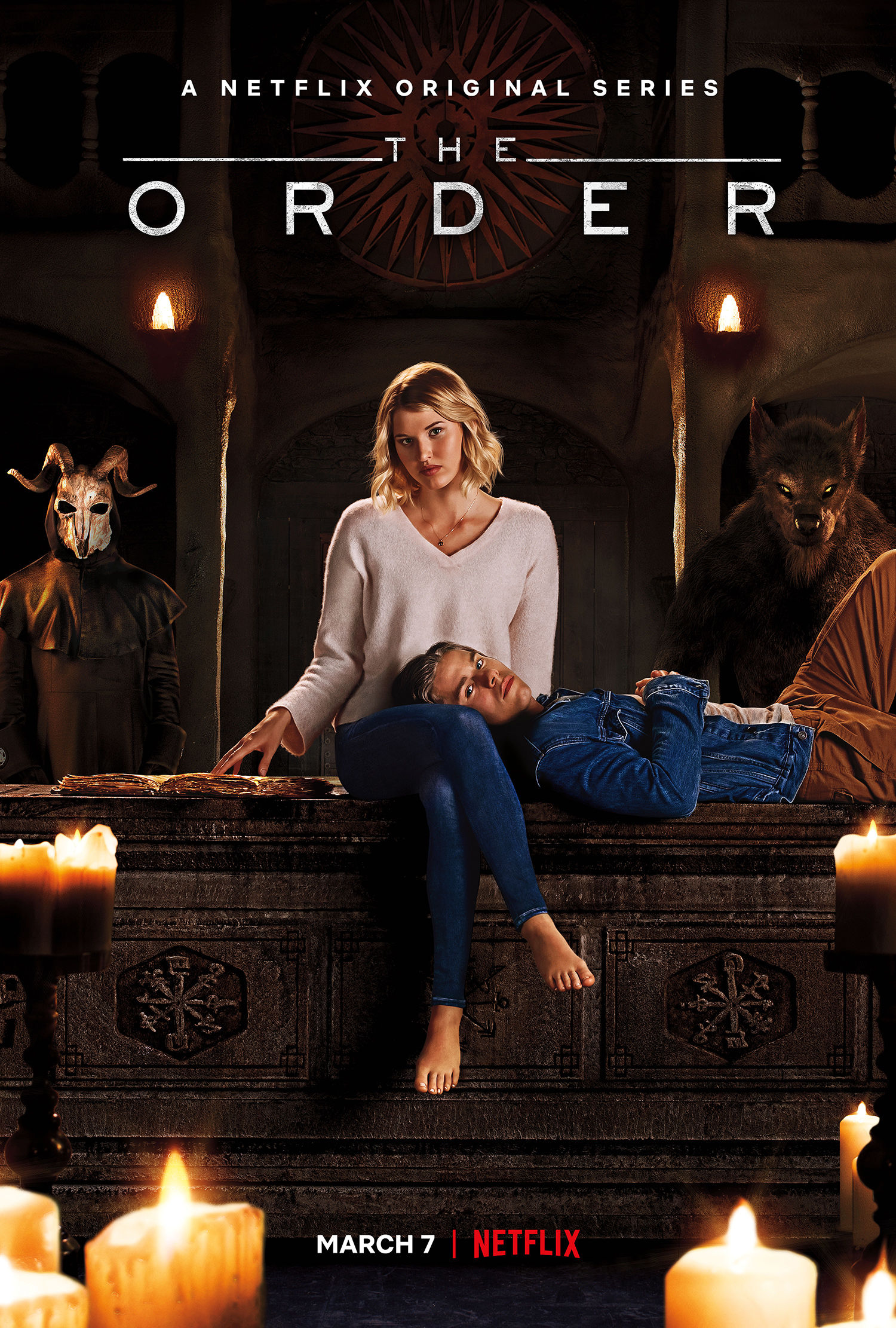 aki a férfi nélkül öngyilkos lett. Az apja arra nevelte az unokáját, hogy ezért fizetnie kell az apjának, aki nem is tud fia létezéséről. Jack jó úton halad a Kék Rózsa Rendben, de egy másik szervezet is felfigyel rá. Szent Kristóf Lovagjai a gonosz mágia ellen küzdenek, vérfarkasok. Jack akaratán kívül keveredik közéjük, és mire észbe kap, már mágikus harcok, vérbosszú és egy szerelem útvesztői között kell megtalálnia a helyét, miközben Edward szövi a maga sötét hálóját, egyre többeket veszélybe sodorva.
Ezzel a sorozattal is alaposan lemaradtam. Meg akartam nézni, de tologattam, és már a 2. évad is elérhető. Pedig az a zsáner, amit szeretek: titkos szervezetes, mágikus, és nem egy csöpögős románc – hát igen, a Vámpírnaplók nagy romantikus drámája nekem nem hiányzik. De itt nem is vámpírok, vérfarkasok és varázslók vannak.
A sorozat alapvetően három témakörben mozog. Az egyik, a mágikus tanulás. Jack kezdő varázsló és abszolút úgy van szervezve a Kék Rózsa, mint bármelyik másik társaság. A gólyákat szűrik, beavatják, és fokozatosan emelkedhetnek egyre feljebb, ahogy a tudásuk nő és feladatokat teljesítenek. Még a Koponyák is eszembe jutott róla, csak itt van mitikus szál is. A másik, a harcok. A két rend harcban áll, hiszen a vérfarkasok arra esküdnek fel, hogy a gonosz mágia útjába állnak. De a Kék Rózsán belül is két irányzat kezd küzdeni egymással. Jack mindkettő harcban kulcsszerepet kap. Lesz itt mágikus tervezés és ármánykodás, de rendes, fizikai harc is. Talán nem a Netflix leglátványosabb sorozata, és nem valami szép, ahogy pl. a vérfarkasok gyilkolnak, de annyira rendben van, hogy nem volt rossz érzés nézni. (A Teen Wolf-ot pl. szerettem, de abban roppant rosszul néztek ki a vérfarkasok. Ez ahhoz képest kilométerekkel jobb, ahogy a harcok is.)
Végül, tini sorozat is. Jack szerelmi szálat is kap, a rend egyik feltörekvő lánya lesz a tanára, és Jack bele is szeret Alyssába. Ezt tudtam volna leginkább nélkülözni, nagyon nem hiányzott nekem, ahogy a sorozatot lassította a kettős története. Jobban ármánykodtak, vagy varázsoltak, amikor nem volt képben az érzelmi életük.
Viszont, az ifjúsági vonal kellett bele, adott hozzá. A Szent Kristóf tagok kb. úgy működnek, mint egy diákszövetség. Együtt laknak, együtt buliznak, együtt harcolnak a gonosz mágia ellen. Fiatal egyetemisták, akik söröznek, tanulnak, próbálnak boldogulni, és nem olyan megszállottak, mint a Rózsa tagjai.
Itt vannak a humoros elemek is. A farkas lovagok szélsőséges karakterek. A vezető, Hamish komoly és megfontolt, becsületes. Rá illik a lovag szó sok értelemben. Lilith heves, indulatos, előbb csap le, mint gondolkodik. A szíve a helyén, de könnyen bajba sodródik a temperamentuma miatt. Randall pedig a csapat szíve, aki közelíti egymáshoz a két oldalt. Jack jó barátjuk lesz, illik közéjük. Ok, nekem szimpatikusabbak ők, mint a mágusok.
Kicsit ifjúsági, kicsit misztikus, és jól bonyolítják a szálakat. Hangulatos sorozat, ami pár rész után be is szippantott – azért 3 részt adni kell neki hozzá. Talán a mitológiája kapott el igen, ahogy folyamatosan többet tudunk meg, nyomozgatnak és nem csak simán harcolnak egymás ellen. Több mágikus eszköz, több képesség...
Az első évadnak olyan függő véget is sikerült összehozni, hogy már nézném is tovább. Harmadik évad úgy tudom nem lesz, de a 2. biztosan sorra kerül nálam.
The Order – 5/4 félig tini szappanopera, de a természetfeletti titkos szervezetek eladták – folyt.köv.