Mitikus ajtót zárva tartó, harcos, egykori csapatot összeállító.
Fiatalok érkeznek a hegyekbe, hogy O mestertől tanuljanak. Mindenkinek vannak sötét pontok a múltjában, és legyőzésre váró gyengeségei. O mester a kiképzés egy szakaszán feladatokat is kezd nekik adni: van itt egy kapu, amit zárva kell tartani. A nyitáshoz egy kard szükséges, amit Lady Shiva kell, hogy őrizzen. A túloldalon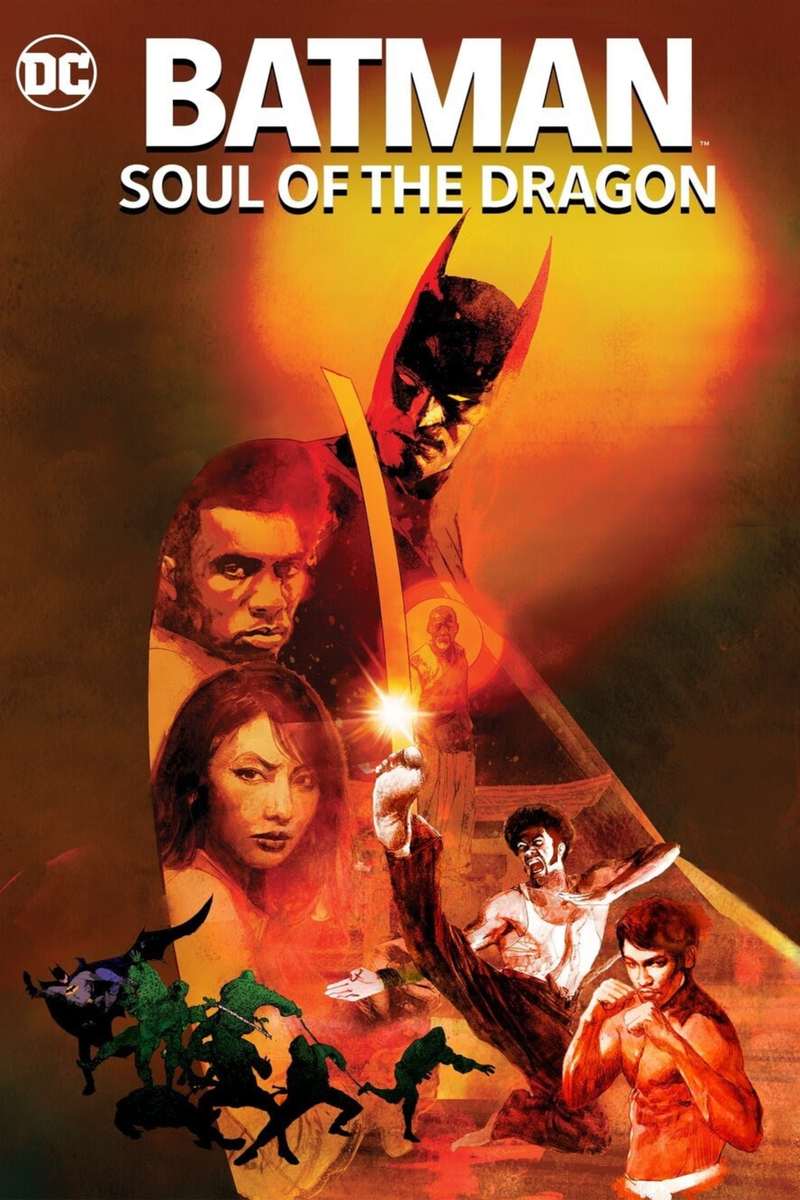 ugyanis egy kígyóisten várja, hogy átjöhessen és elfoglalhassa a világot. Egy áruló katasztrófát okoz, és csak a mester áldozata menti meg a világot. Évekkel később a 4 túlélő a maga életét és küzdelmét vívja, de Richard Dragon újra összeszedi egykori tanulótárait. Egy szekta hisz abban, hogy át kell hozniuk a világba Naga istent, és sorra gyűjtik be a hozzávalókat. Batman, Richard, Shiva és Ben pedig szorosan a nyomukban vannak.
Rendben, tisztában vagyok vele, hogy a Hollywood-i stúdiók nagyon be akarnak törni az ázsiai piacra. Azon már meg sem lepődöm, amikor direkt olyan karaktereket írnak a sztoriba, amit oda lehet adni egy ázsiai sztárnak. A Marvel volt, hogy alternatív verziót forgatott, amit Kínában játszottak, eltérően a filmet a világ egyéb részeitől. De ez a Batman animáció, akkor is… nem is tudom. Furcsa, idegen?
Ahogy elkezdődött, fogtam a fejem és arra jutottam, nem Batman jut róla eszembe, hanem a James Bond. Igaz, nem a modern Daniel Craiggel, hanem még a Sean Connery és Roger Moore vonal. Majd felidézte bennem a Leszámolás Kis Tokióban című akciófilmet és lett egy kis Bakelit érzetem is a végére. Vagyis, a diszkó, a keleti hatások és James Bond kombó volt ez nekem, amiben Batman karakterét olyan felesleges volt beletenni…
Ok, még az is probléma, hogy a hegyi szerzetesrend inkább illik a Marvel világba – ahol Strange tanult varázsolni, vagy éppen azok a szerzetesek, ahonnan Iron Fist érkezett. Egyszerűen nem fér a fejembe, hogy került ez így a DC univerzumba.
Grafikában is hozza azt a régies hangulatot, amit a film többi fele is. A karakterek, a járműveik és a ruháik is olyanok, hogy szinte vártam, mikor ereszkedik le a diszkógömb és kezdik rázni egy ABBA dalra. Nem szép ez az animáció, ahogy a szereplők és a külcsín sem. A harcban volt dinamika, de nem elsősorban a verekedések miatt nézek ilyesmit. A plakát nagyon megtévesztő, az alapján egy sokkal komolyabb, reálisabb látványvilágot várnék, ez meg csak ilyen… diszkó retró.
A zenében is ezek a dallamok köszönnek vissza, és egyszerűen rosszul voltam tőle, ahogy vidám dallamokra verték egymást. Itt sem Batman hangulat volt, sokkal inkább Scooby-Doo. Csak amit a Rejtély Rt. meséiben jóízűen elnézek, egy DC Batman animációban erősen nem tudok hova tenni.
Abba már nagyon bele se akarok menni, hogy a történettel milyen gondjaim vannak. Ok, egyet azért kiemelek. Ben évekkel korábban rátalált a szektavezérre, aki most a nagy ellenfelük lesz és nyitni akarja a kaput. Azt megértem, hogy akkor nem ölte meg – ártatlan gyerek volt. De miért nem vitte magával, keresett neki egy normális otthont vagy tartotta volna maga mellett? Most komolyan képes volt a szektában hagyni, akik aztán szépen ki is nevelték belőle az istenkomplexus, pszichopata vezérüket?
Pedig van ebben pénz, a szinkronhangokon látni. De direkt ilyen a koncepció és ismétlem magam: engem elidegenít. Miért kellett ebbe Batman karakter? Simán, random karakterekkel jobban lenyeltem volna, de Gotham igazságosztójával így ez gagyi animáció lett.
Batman: Soul of Dragon – 5/2 az egésznek retró jellege van, kis keleti ízesítéssel. Kb. olyan, mintha diszkófilm lenne.
Batman: Soul of the Dragon | Official Trailer 2021 - YouTube