Rejtélyes, túlélős, vadászos, dinós.
A srácok kénytelenek szembenézni azzal, hogy magukra maradtak. Az utolsó hajó is elment, a szigeten ragadtak. Az egyetlen reményük, hogy megtalálják a jeladót és be tudják kapcsolni, amivel jelzik a mentőcsapatoknak, hogy itt vannak és jöjjenek értük. A jeladó azonban a fő utcán lett elhelyezve, amelyiknek a közelében a T-rex fészket épített. Gyászolnak is: Darius magát okolja Ben elvesztéséért. Brooklynn továbbra sem adja fel a tervét, hogy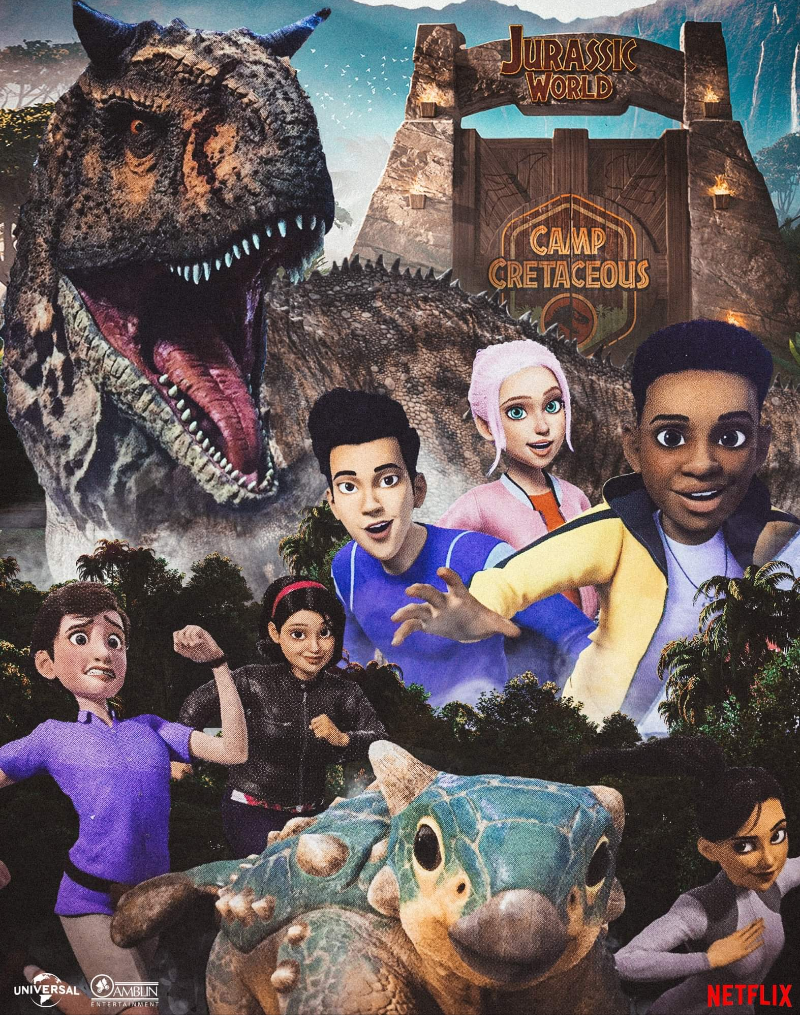 kiderítse, milyen titkot rejt a sziget. Olyan helyekre is bejutnak, amelyeknek a létezéséről még Kenji sem tudott. Nem sejthetik, hogy véletlenül mit hoznak majd működésbe. Ahogy azt sem, hogy a szigetre érkező felnőttek sem pont azért jöttek, amit állítanak. A gyerekeknek meg kell védeni a szigetet, szerencsére nem várt segítséget is kapnak hozzá.
A történet ott folytatódik, ahol az előző évad abbamaradt. Kell is hozzá annak az ismerete: a gyerekek múltja, a csapat szétszakadása, Brooklynn nyomozása mind az első évadban van megágyazva. Ez az alap, a franchise további részeinek ismerete nem szükséges. Itt már nincs meg az a párhuzamosság, ami az első évadban: a Jurassic World műsoridején túlvagyunk, így nem lesznek olyan elemek, amelyekre ráismerhetünk a filmből.
Mennyire érdekes a saját jogú kaland? Szerencsére az évad nem hosszú, és ezt értelmesen képesek voltak kitölteni. Az olyan kisebb, egy-egy résznyi történet, mint a jeladó megtalálása és beüzemelése, hangulatkeltésre elég volt, és szépen megágyazott a felnőttek körüli felhajtásnak. Brooklynn nyomozása szimplább, de a következményei miatt ez is fontossá válik. Ha most nem is rágta le az ember a körmét miatta, mozgásba hozza a harmadik évad alapeseményeit. Érdeklődve várom is, mit olvasztanak ki véletlenül.
A kedvencem azonban nem innen kerül ki, hanem az egyik töltelék rész volt az. Miután láttuk, hogyan rendezkedett be a csapat, és hogyan találta meg őket Tiff és Mitch a vadászukkal, a sorozat elmeséli azt is, mi történt közben Bennel. Hiszen már az első évad végén is láttuk, hogy tévesen hitték halottnak, mi láttuk mozdulni a kezét.
A félénk, baktériumoktól is rettegő srác kész Tarzan lett az egyedül töltött idő alatt. Annak megvolt a saját íve, ahogy összeszedte magát, túlélő lett, és megtanult harcolni is. Önagában egy jó kaland volt, és ezzel Ben lett a mese egyetlen fejlődő karaktere. Ő sokat változott, és előnyére. Az, hogy pedig a legjobbkor tér vissza és újra a csapat tagja lesz, meg jól megkomponált mesei fordulat, amit várt is az ember nézés közben.
A többiek maradtak azok, akiknek eddig is megismertük őket. A srácok egy-egy típust képviselnek, és legfeljebb a csapat egysége vált szilárdabbá. Ha van is, aki ilyen-olyan munka alól kihúzná magát (Kenji), megtanulták elfogadni és ösztökélni egymást. De ez is csak a korábban látottak érthető következménye, már az első évadban, a közös túlélésért folytatott harc csapattá tette őket.
Minden részben van annyi kaland és esemény, hogy mozgalmas és érdekes legyen. Elsősorban gyerekeknek készült, akadnak bőven mesés fordulatok is – Ben feltámadása, Hap pálfordulása a gyerekek védelmében -, de felnőtt szemmel is simán végig lehet nézni és szeretni is.
Nem utolsó sorban ki kell emelni, most is, mennyire jól néz ki ez a sorozat. A tájak, a dinoszauruszok, az akciók. Nem egy olcsó animáció, de látszik is rajta.
Továbbra is kiváló sebtapasz, amíg a következő film is nézhetővé válik.
Jurassic World: Krétakori tábor – 5/4 nagyon látványos, jól használja az alapfilmeket, kisebbeket is bevezeti a Jurassic Parkba.
Jurassic World: Krétakori tábor, 2. évad | Hivatalos előzetes | Netflix - YouTube