Gonosz erős, ünnepi, ijesztő, túlélésért küzdő.
A család különleges hálaadásra készül. Még vendégeket is hívnak, hagyományőrző színészeket, akik megszemélyesítik a korabeli telepeseket. Mire észbe kapnak, már az életük a tét, hiszen a színészek halálosan komolyan veszik a szerepüket. (Pilgrim) Kinevezés lesz a cégben, és ketten is vetélkednek érte a vállalatban. A
főnök így meghívja őket egy karácsonyi vacsorára, ahol tesztelni kezdi, ki mire hajlandó a vágyott előléptetésért. (A Nasty Piece of Work) Valentine énekes és dalszerző, akivel az exe nagyon elbánt. A szakítás után ellopta a dalait, és a lány hasonmásával, poposított verzióban sztárt gyártott. Valentine nélkül azonban nem tud új dalokat adni Trezzure-nek, ezért csapdát állít az exének. Még többet akar, vagy gyilkos lesz ez a Valentin-nap. (My Valentine) Esme és a kisfia, Luna új kisvárosba költöznek. A nő dolgozni kezd egy étteremben, és valamire nagyon odafigyel: minden teliholdkor otthon kell lennie a gyerekkel, akit még iskolába se enged járni. (Blood Moon)
A horror antológiák nagyon divatosak lettek, és az egyik kedvencem köztük a Blumhouse sorozata, az Into the Dark. Igaz, a második évad nem tudott zökkenőmentesen lemenni. A COVID miatt csúsztak részek, és most sérült az alap koncepció.
Eredetileg minden hónapban egy film megy le, az adott hónapban levő ünnephez kapcsolódva. A vírus miatt azonban nem tudtak forgatni, így az utolsó pár rész tolódott és más hónaphoz kellett igazítani. Így történhetett meg, hogy idén lett 2 Valentin-nap rész is, és a záró rész sem éppen havi ünnephez kötött. A Blood Moon ugyanis a teliholdhoz lett kötve, ami minden hónapban van, nem csak az évben egyszer.
De még ezzel együtt is ez egy olyan sorozat, amit érdemes a horror kedvelőknek megnézni. Tulajdonképpen minden rész egy külön film, új színészekkel és történettel. Vagyis, 12 Blumhouse-horrort kapunk egy évadban. Ahogy az elsőben is, ebben is nagy a változatosság. Kreatív és klasszikus horror részek is mentek le, több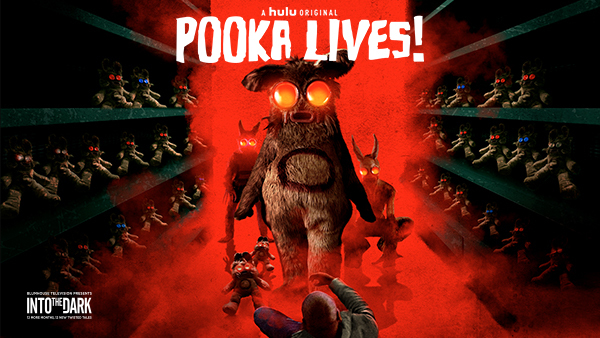 alzsáner képviseltette magát. Testmegszálló idegen lények, különféle szörnyek, farkasember, emberi gonoszok és még sorolhatnám. Szerettem is, hogy soha nem lehetett előre tudni, melyik hónapban milyen történet és rémség érkezik.
Egy olyan történet van, amelyhez nem árt egy korábbi rész ismerete. Pooka alakját nem engedték el, és kapott most is egy sztorit ez a különös játékfigura. Ha valaki nem ismeri az előzményt, akkor sincs gond, saját történet ez, csak a figura közös.
A kivitelezés nagyon korrekt. Nem CGI effektekkel van tele, inkább a történetekkel akarják magukat eladni, nem a látványvilággal. Abban Stephen King módszerét idézik, hogy megismertetik a környezetet, sejtetik, hogy a felszín alatt valami nagyon nem stimmel és aztán elszabadul a pokol. Mindezt úgy, hogy nem literszám folyik a vér, és nem a szörnyek kinézete adja el a sztorikat. A korhatárra is figyeltek, mert ahol lehetne hentelés és durva részek, ott sem mutatnak ilyesmit. Pl. a farkasemberes rész vagy a szörny kutya. Embereket tépnek szét, brutálisan ölnek, de mi legfeljebb sikolyokat hallunk, látvány nincs mellette.
Ebből az évadból ki kell emelni, hogy odafigyeltek a zenei hátterekre is. Főleg az évad első felében nagyon komoly intrók vannak, és nem egy dallamtapadásom lett.
Továbbra is nagyon gondos a casting. A legtöbb részben van legalább egy olyan színész, akivel el lehet adni a részt és írtak is olyan karaktereket, hogy lehessen alakítani.
Remélem, lesz 3. évada is, szívesen nézném tovább is. (A gyengébb részekkel együtt is.)
Into the Dark – 5/4 a Blumhouse javát mutató antológia. Sok zsáner, jó színészek és önálló filmként is ok.
Into the Dark S02E01 Trailer | 'Uncanny Annie' | Rotten Tomatoes TV - YouTube