Cserkész csapatot alapító, versenyre készülő, gyerekes.
Christmas Flint nem egy átlagos kislány. A termete apró, a szája annál nagyobb. Ügyvéd édesapja egyedül neveli a felesége halála óta, dadaként időnként az asszisztense ugrik be. A lány nem népszerű, éppen ellenkezőleg: gúnynevet aggattak rá, és rendszeresen szekálják a nagyobbak. Christmas elvan a barátjával, míg be nem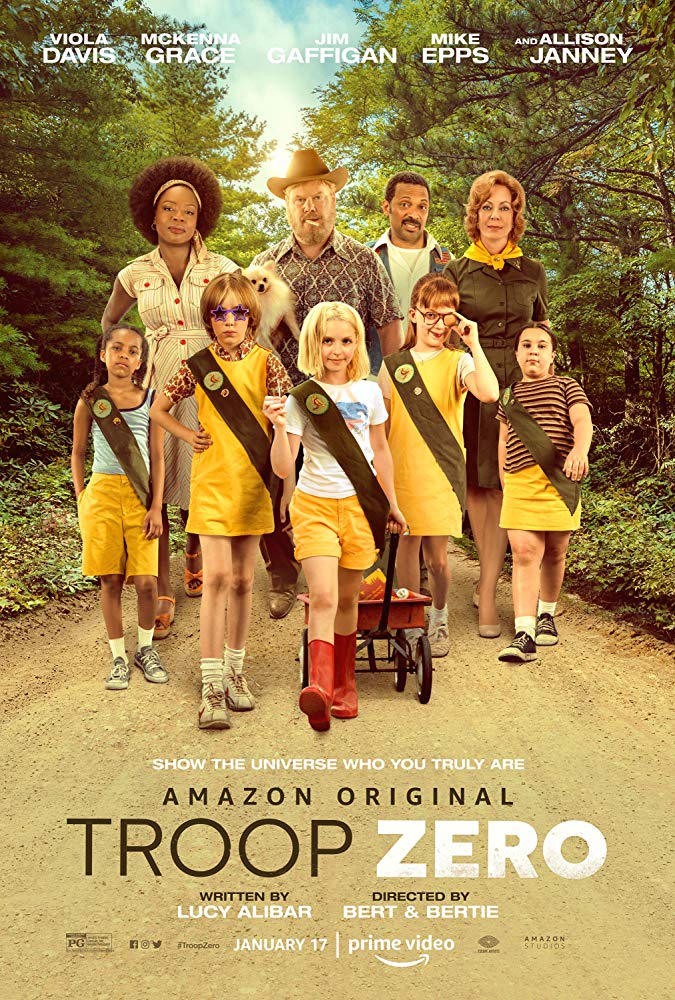 jelentik, hogy az idei cserkész csapatok versenyének nyertese felkerül a lemezre, melyet kiküldenek a világűrbe, és ha van kint élet, ezt hallani fogják. A lány fel akar kerülni rá, így csapatot kezd szervezni. Az apja kiadja az asszisztensének, hogy legyen a cserkészlányok vezetője. A kitaszítottakból szerveződő csapatot még a vezetőség is gáncsolja próbálja, de ők nem adják fel. Sorra szerzik a jelvényeket és készülnek a tehetségkutató versenyre.
A versenyzős filmeket alapból kedvelem, ahogy 'a csapat épül és egyre jobban működik együtt' történetek is le tudnak kötni. Ezt a filmet próbálták tartalmasabbra is készíteni, és többet beletenni, mint a cuki gyerekek valamit csinálnak együtt alapállás. Biztosan jobban is tetszett volna, ha nem lenne ilyen szaggató fejfájásom – írni se nagyon tudok tőle. De mindegy, egyéni probléma, szerencsére feltaláltak már elég sokféle tablettát rá…
Vissza a filmre. Az tetszett benne, hogy nem tisztán komédia. Nagyon sok gyereknek olyan hátrányos helyzete van, ami miatt kitaszított lesz belőle. Van, akit tolvajnak, mást balhésnak tartanak. De még fogyatékkal élő is kerül be a csapatba. Ha meg nincs is direkt stigmája, akkor is kívülálló, aki eddig magányos farkas volt.
Annak van egy kis íve, ahogy a sok különálló gyerek elkezd csapattá válni. A közös szenvedés meghozza a gyümölcsét, és ők tudnak drukkolni egymásnak, vagy a közös feladatokon összedolgozni. Egy ponton túl pedig sokkal többet látnak már egymásból, mint a címkéiket. A végén a szolidaritásukat és a megértésüket is prezentálják a versenyen. Az már más kérdés, hogy ez mennyire szalonképes megoldás ott. Emberileg ok, de nézni nagyon nem volt kellemes vagy elképzelni.
A próbák kissé összecsapottak, de annyira változatosak, hogy az még valamennyire össze tudta tartani a történetet. Ahhoz, hogy mehessenek a versenyre, mindenkinek meg kell szereznie legalább egy cserkész érmet, és megindul a hajsza. Mókásabb, hagyományosabb feladványok is akadnak. A süti árulás nagyon egyszerű, de pl. Joseph ötletét a fodrászattal mosolygósnak találtam.
De ezen túl ott vannak a gyerekek egyéni konfliktusai, valamint a szülőké is. Miss Rayleen vetélkedik a szövetség vezetőjével, Christmas apja próbál megélni valahogy, de reménytelen eset ügyvédként. (A díját szinte soha nem tudja beszedni.) Miss Massey látszólag tökéletes boldogsága mögött is érezni, hogy valami nagyon nem stimmel.
Maga a verseny nagyon vérszegényre sikerült, és itt is látszott, hogy ez közelebb áll a drámához, mint a komédiához. Pedig bírtam a Nullás Cserkész Csapatot, de ennyire kicsik, ahogy David Bowie-t próbálnak énekelni? Az igyekezet 5, de a végeredmény közel fájdalmas lett. Viszont lesz egy nagy tanulság, és mindenki megtalálja a helyét.
Sok szállal próbálnak bűvészkedni, melyeknek egy része aztán nem vezet sehova. Néha csapongó a film, ami szintén nem tetszett benne.
Mckenna Grace hozza a cuki faktort, Viola Davis a színészi erőt.
Egyszer megnézem fejfájás nélkül is, akkor talán ennyire szétesőnek se fogom érezni.
Zéró csapat – 5/3,5 van üzenete, néhol meghatóbb, máshol komikusabb. Nem igazán állt össze, de elment.