Világvégés, menedéket kutató, repülős.
A brüsszeli repülőtérről gépek tucatja indul. Egy NATO egyenruhás katona tör előre és vált menetjegyet. Ahogy azonban telik az idő, már mindegy melyik gépre, csak indulás előtt álljon, fegyverrel jut fel. Kényszeríti a személyzetet a felszállásra és kiadja a parancsot, irány nyugatra! Az éjszakába kell lenniük, mielőtt felkelne a Nap. A kapitánynak mondja el, hogy a NATO-ban hallotta a hírt: a Nap halálossá vált, akit napsugár ér, belehal. Először nem akarnak hinni neki, és az egyik utas sikeresen a fegyverét is megszerzi. Leszállnának az első megfelelő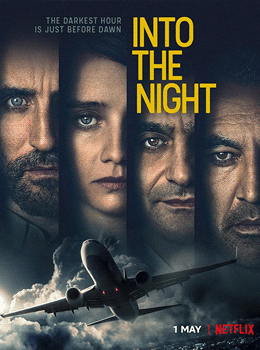 reptéren, de döbbenetes, amit a gépből látnak: káosz, lezuhant gépek, élő emberek sehol. Csak nem igazat mondott, és a Nap kiírtja az emberiséget? Miközben egyre fogy az üzemanyag és az utasok titkai is gondokat okoznak, a néhány túlélőnek el kell döntenie, hogyan és merre tovább. Van menedék bármerre?
Egy igazán multikulturális történetet kaptunk, minden téren. Ez a sorozat az első belga sorozat a Netflixen. (Nem véletlenül Brüsszel a reptér, ahonnan a gép elindul.) A sorozatbéli személyek is soknemzetiségűek: belga, török, orosz és lengyel is akad többek között. A sztori ráadásul egy regény alapján készült, egy lengyel szerző (Jacek Dukaj) sci-fije volt az alap. Bár hozzáteszem, tudtommal Dukaj verziója már jóval később játszódik. A sorozatban éppen csak megkezdődik a katasztrófa, míg Dukaj már azt írta meg, mi lett utána.
A keret jó lehetőséget adott ahhoz, hogy egyszerre használhassanak látványelemeket és mégis visszaszorítsák a helyszínek számát. A gép kevés helyisége a mozgástér, ha leszállnak tankolni, akkor is csak pár percük van a reptéren, mert a Nap előtt kell maradniuk. Ugyanakkor a repülőgéppel történtek még kicsiben is nagyon nézetik magukat. Ki kell ereszteni a féket, vagy betörik egy ablak…
A hangulatot fokozza, hogy végig éjszaka van a cselekményben, minden megvilágítás mesterséges és este valahogy még ijesztőbb az a szituáció, amit túl kell valahogy élniük.
Kicsit a Lost módszerét vitték azzal tovább, ahogy a túlélők múltjába majd beleleshetünk, ahogy megy előre a történet. Az adott rész elején van egy-egy flashback jelenet, amikor látszik, ki mit csinált korábban és valami nagyon jellegzetes kerül napfényre a személyiségéből. Lesznek nagyobb fordulatok, de kevésbé meglepő ötletek is. (Rik esete: a férfin kívül kinek nem esett le, hogy a netes barátnője vajon miért kért annyira pénzt tőle repülőjegyre, és fagyott le, amikor a férfi bejelentette, hogy inkább ő repülne a nőhöz?) Ezek éppen csak színezik a különben sem hosszú részeket, de adnak hozzá, tetszett így.
Még az is, hogy a szereplők között nagyon kevés az, akit egyértelműen jónak vagy rossznak lehetne minősíteni. Ebben a szituációban különben is izgalmas kérdés az, hogy mennyire számít az, ha valaki pl. tolvaj volt korábban? A világ összeomlik – mennyire akarják megőrizni a korábbi törvényeket?
Ismert színészt nem tettek bele, itt nem is kellett. A legtöbb karakter esetében kifejezetten jól sikerült a casting, meg is lettek a magam kedvencei. (Már megnéztem, ők a második évadban is vissza fognak térni.)
Hamar foglaljuk össze: érdekes a történet, végig kellően feszültséget tart az üzemanyagért, a gép egyben tartásáért a küzdelem, amit a szereplők titkai tesznek még színesebbé. Pszichésen jól össze lett rakva, ki milyen. Korrekten néz is ki, a legtöbb színész is jól játszott.
Vagyis: a 2. évadot is hamar megnézem, a könyvet is be kellene szereznem.
Into the Night – 5/4 érdekes a helyzet, tele van a sztori feszültséggel és titkokkal, a karakterek is lekötöttek.