Kezdek megint belefáradni a Resident Alien (s02e13) évadba, pedig még pár rész van vissza. Ez most megint egy átlagos rész volt – a történet ment előre kicsit, de az a humor, amit szerettem benne, nincs. Újfent Harry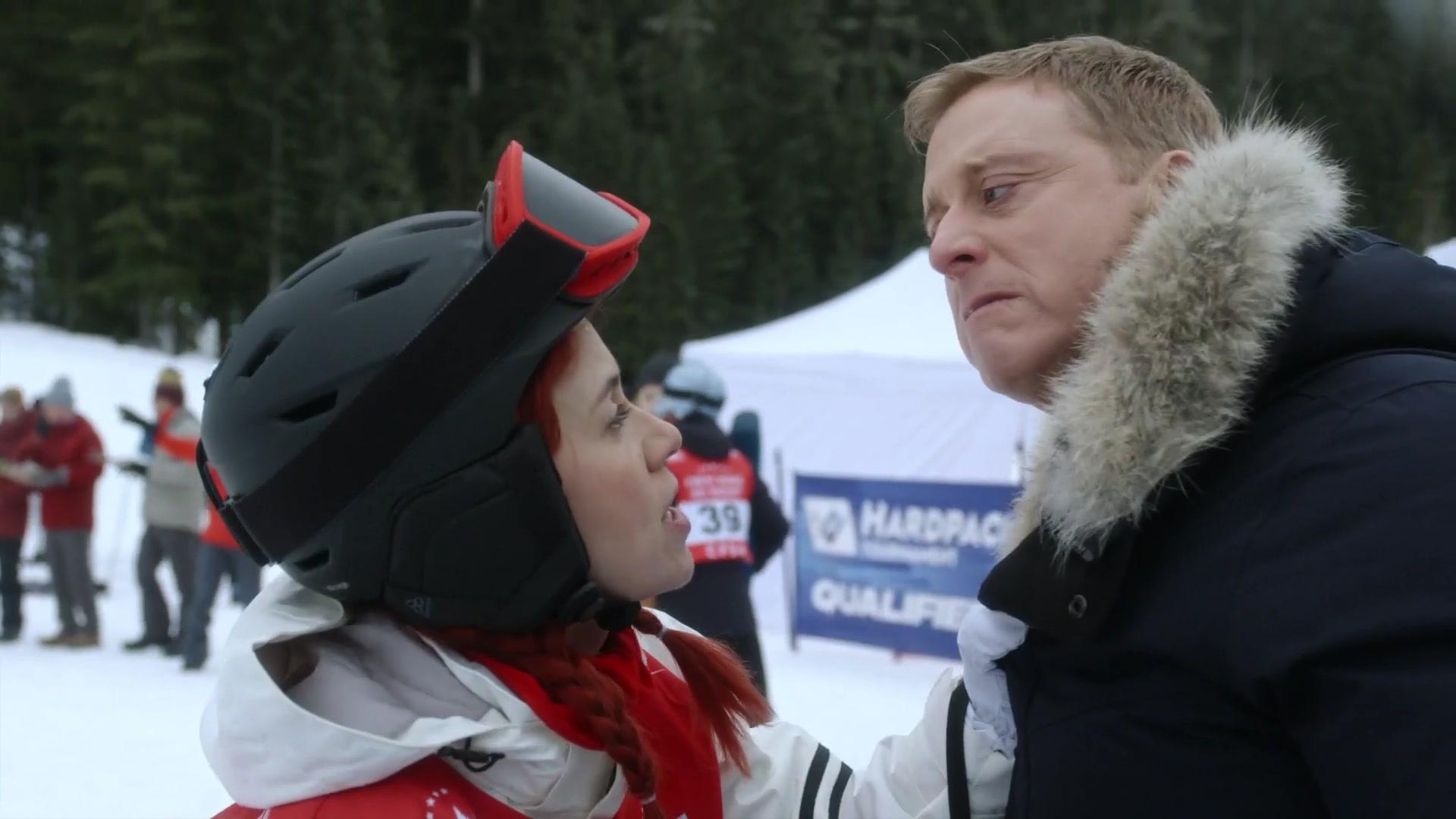 lelkileg fejlődik téma volt.
Újfent azzal küzd a szerencsétlen, hogy egyre emberibb. De nem akarja, így most a gyereknevelést akarja űrlény módra intézni, hogy a rész során ráébredjen, mégsem úgy kellene. Persze a baby nem tűnik fel, csak a körötte levők szenvedései miatt jár Harry agya. D'Arcy próbál visszatérni a versenysporthoz, de a lába nehezen bírja. Kitől zsarolni ki gyógyszert? Harryből, aki ad is neki, mert éppen nem akar törődni az emberekkel, és mit érdekli, hogy ezzel a nő árt magának? Asta pedig az anyja nyomára bukkan, aki annak idején elhagyta. Így Harry megnézhette, mennyire szenved attól a nő, hogy úgy bánik vele az anyja, ahogy Harry népe teszi a kölykökkel.
Hol maradt a humor? Mindenki lelkizett. A seriff és a helyettese. Harry és a két nő. Talán csak a polgármester – üdülő építés volt más, de az meg olyan érdektelen…
A pozitív az volt, hogy kiderült, melyik lények ügyködnek még a Földön. Nekik jobb a kinézetük is, mint Harry űrlény alakja. A szürkék pedig veszélyesek, majd kiderül, miért és hogyan.
Továbbra is szürreális élmény a The Good Fight (s06e02). Nem tudom hova tenni, mire akarnak kilyukadni a tüntetésekkel a háttérben, valamint Diane kizökkentő kísérletezéseivel. Már nem ment bele a vállalatvezetési játszmába, nincs ügy, amit tárgyalna. De beszél a férjével, drogterápiát próbál ki és lebeg. Egyelőre nagyon nem tudom hova tenni – az egész nőt.
A külcsínben is megvan ez a furcsaság. Néha olyan, mint korábban a sorozat. Tárgyalások, megbeszélések, játszmák, drága ruhák és ügyvédi sikk. Viszont, néha elcsúszik az egész és olyan, mintha átcsúszna egy álomjelenetbe. Még egy hibát is találtam: a madarak megint nekirepülnek Diana mögött az ablaknak, és hagynak maguk után véres foltokat. A kamera vált a nő beszélgetőtársára, és amikor újra Diana van a fókuszban, a vérnek már nyoma sincs. Ennyire gyors az ablakmosó?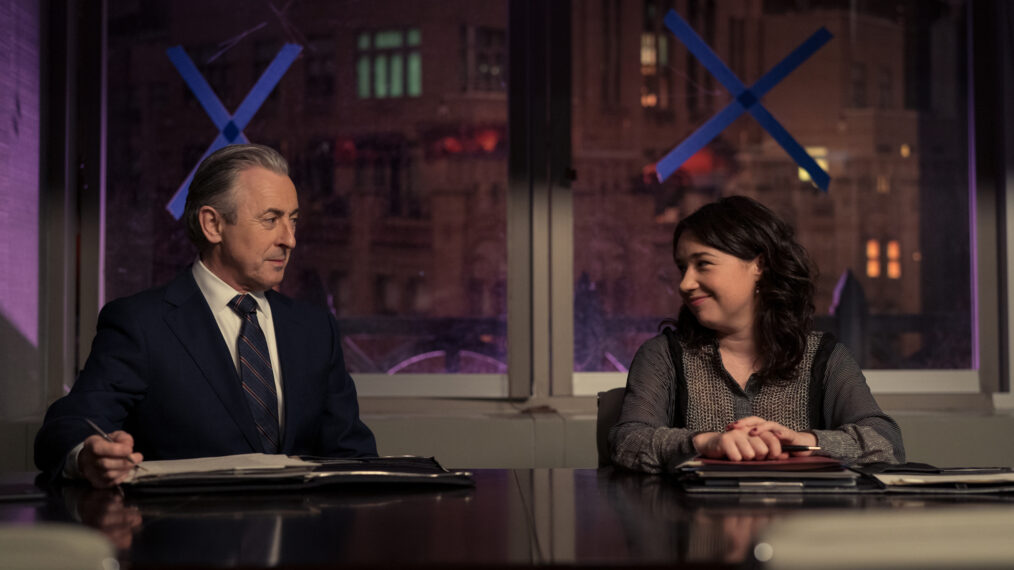 Ri'Chard hozza a vállalati játszmát, és kicsit méregetik egymást az irodában. Még semmi komoly. Marissa pedig megkapta erősítésnek az apját, és apa – lánya egymásra kacsintásokkal dobták fel a tárgyalást. Eli különben kapott saját ügyet is, hogy állandó szereplő lehessen. Még nem döntöttem el, ez mennyire lesz jó vagy sem.
Az biztos, hogy nem esett jól, ahogy Alicia és Peter emlegetve lett. Tudom, a nagy gázsi igény miatt a színészek nem lesznek, de ez még így olyan snassz. 'Persze, érdekel, mi van vele, de a kapcsolatot nem tartjuk, az nem lett volna egészséges.' Nem mintha Alicia és Diana pajtásokként élnének az emlékeimben, de nem volt fájdalmas az elválásuk, hogy ilyen körítés kellene.
Most már azért várnám, hogy kiderüljön az évad központi témája.
Mennyire legyen kedvem írni a Targaryen család legutóbbi húzásairól? Az biztos, hogy a House of the Dragon (s01e05) jó kis GoT hagyományokhoz nyúlt vissza. Vagyis, ha Westeros az otthonod, kerüld el jó messzire az esküvőket!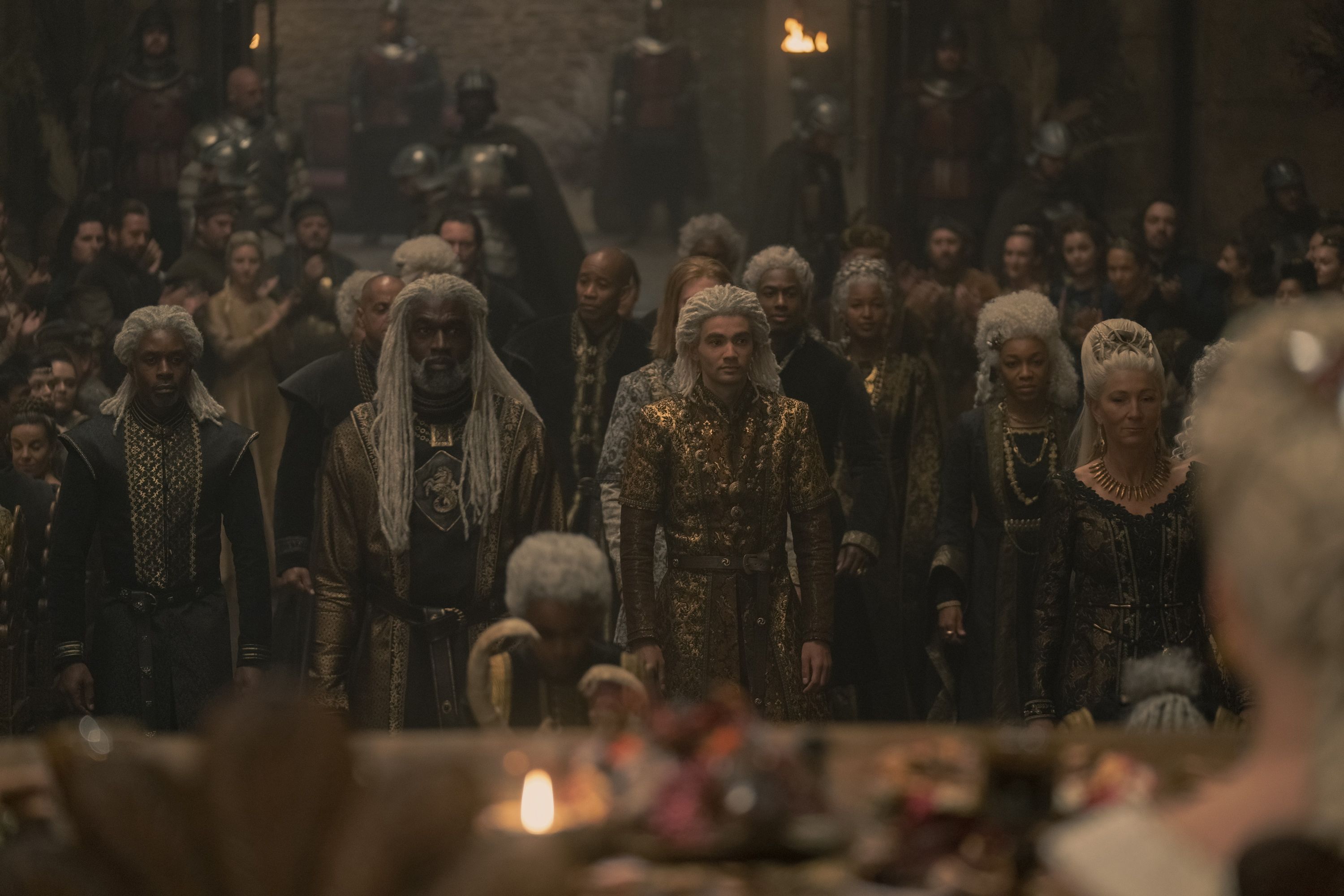 Ezzel elárultam, hogy elérkeztünk arra a pontra, ahol Rhaenyra férjhez megy. Az unokatestvére a kiszemelt vőlegény, és a lánynak még alkut is sikerül kötnie vele. A Velaryon-fiú a férfiakhoz vonzódik, és könnyen megegyeznek abban, hogy összehoznak egy örököst és mindenki tarthat szeretőt. Csak éppen a trónért való ármány mindig pörög: Daemon is lép egyet, hogy közelebb legyen a trónhoz és az unokahúgához, meg Alicent is kezdi felfogni, hogy nem jó barátnőnek, jó anyának kell lennie és ez bizony hatalmi harcokkal jár.
Kis lépések, kis cselszövések, és bár az elején is akadt egy durva lépés - Daemon özvegyülése kapcsán -, a végére hagyták a tetőpontot. Az esküvői ünnepséget, ahol Alicent harci színekbe öltözött és ahol vér is folyt, jó szokásokhoz híven.
Vagyis, felrakták a játékosokat a táblára. A zöldek már színre léptek, és Rhaenyra - Daemon is készen áll a vörösek kezdőlépéseire. Tényleg az érdekel már csak, hogy meddig húzzák még, amíg kitör a polgárháború és a tini szereplők helyére beteszik a felnőtteket. Előzetesen nem is gondoltam volna, hogy az 5. részre nem Emma D'Arcy és Olivia Cooke lesznek színen.
Kis részleteiben szép ez a sorozat is, meg lehet nézni milyen összképet kapott az esküvői lakoma is, vagy mennyire ki voltak dolgozva a jelképek a Targaryen hajón. Csak éppen... most már ott van a LotR-sorozat, amely ilyen téren is jobb a szememben. Pedig ebben is akad jó színészi játék, megvan a hangulata - lehet, hogy mégsem kellett volna újraolvasni a könyvet? Így túlzottan tudom, hogy minek kell jönnie és melyik tett hova fog vezetni. Vérfürdőhöz, ezzel gondolom, nem árulok el sokat.
A helyzet az, hogy most a The Patient (s01e05) sem ösztönöz nagy írásra. A szokott recept szerint haladtak tovább az események.
Vagyis, jött egy újabb mellékszereplő, megismertük Sam volt feleségét. Annyira rettenetes az a nő, hogy azt csodálom, ő élve megúszta a férjét. Tudjátok, vannak azok a macskás öreglányok, akiknek a cicáik jelentenek mindent. Ő ez a kategória, csak cicák helyett indiai árvákkal levelezik és támogatja őket. De el tudom képzelni, hogy ott verik át, ahol csak akarják...
Megint csöpögtettek kicsit Alan múltjából, de már eléggé látszik, hogy a felesége halálán túl a fia mély vallásossága, amit emésztenie kell. Illetve, a kettő össze is függ. Egyre érdektelenebb az a vonal.
Viszont, a végére megint hozták a nagy lépést. Sam nem tudott parancsolni magának, és Alan végignézhette, mit kellene kikezelnie. Reménytelen menet? Könnyen lehet.
Most is szobába zártan létezünk, és a színészeket érdemes nézni. Van azért dráma, de egyre kevésbé látom, merre tartunk. Lassan már nem tudom, mit lehet ebből még kihozni.
Kis lépések, haladtunk megint kicsit - de tényleg nem tudom, hova és meddig lehet ezt nyújtani.