Lövöldözős, igazság osztós, családi tragédiás.
Paul Kersey másokon segítő, jó ember. Sebész, aki minden nap mások életéért küzd. Szerető férj és apa, aki most készül elfogadni, hogy a lánya kirepül és egyetemre megy. Születésnapi ünnepségét is azért kényszerül lemondani, hogy a kórházban dolgozzon. Így felesége és lánya otthon van, amikor páran betörnek hozzájuk. A helyzet eldurvul, Paul már azzal szembesül, hogy a lányát és nejét hozzák be életmentő műtétre. Lucy belehal a sérüléseibe, Jordan kómába esik. Paul igazságot szeretne, de a rendőrség nem akad az elkövetők nyomára. Fegyvert szerez, lőni tanul, és miután belesétál egy rablásba, esténként maga kezd igazságot osztani. A családja támadóira is ráakad: de már maga akar bosszút állni.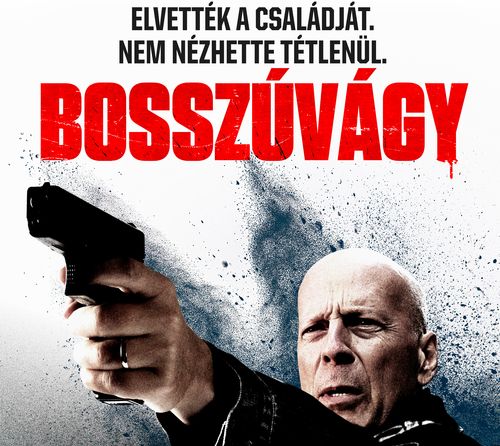 Többszörös feldolgozás ez a film. Egyrészt, eredetileg regényként jelent meg a Bosszúvágy. Trilógia, aminek az első részét a Könyvmolyképző megjelentette. (Kíváncsi leszek, a folytatásai is jönnek-e majd.) Filmként is feldolgozták már, sőt, annyira sikeres volt, hogy több részt is forgattak hozzá.
Most pedig itt van a Bruce Willis főszereplésével készült film. És azt máris látom, hogy ebből nem lesz folytatás. Több okból sem: eléggé megváltoztatták a történetet, és nagyon le is zárták, minden szálon. Másrészt, nem robbantott kasszát, hogy sorozattá nője ki magát.
A változások. A regény egészen máshova tette a hangsúlyokat. Ez a Paul sokkal szimpatikusabb ember, aki az öntörvénykezést is sokkal törvényszerűbben és céltudatosabban űzi. Orvos, művelt ember, aki igazságot akar. A regényben random történik a beavatkozás, a filmen Paul a családját tönkretevő banda nyomára ered először véletlenül, majd egyre céltudatosabban.
A legnagyobb különbség viszont az egésznek a hangulata. A regényben nincs remény és megváltás. Ott is meghal a neje, a lánya pedig olyan károsodást szenved el, amiből az első rész alapján nincs visszatérés. Mert a filmben a lány fizikai sérüléstől szenved, a regényben viszont pszichikailag károsodik komolyan. Más a végkimenetel. És az is egy plusz teher, hogy a filmben lesz igazság. A regényben nem. Valahogy az eredetiektől távol van az a happy end, amit ennek a filmnek a végére tettek.
Ha ezt, plusz a Bronson filmek brutalitását veszem alapul, akkor ez a változat nagyon vérszegény lett. Az eredeti hangulata, reménytelensége nincs benne. Ahogy akcióban is csak light, sima lövöldözés van benne. Egyedül a végén kapott el a hangulat, amikor a házban megy a hajsza és akció. De azt is nagyon könnyen elintézik. Ha belegondolok, anno, a Bronson változattól rémálmaim voltak. Ezt fel se vettem.
Nem véletlenül próbálták Bruce Willis nevével eladni, ő lehet a vonzó pont a filmben. A nosztalgia meg is érintett, amikor a csuklyával a fején elindult a városban. A Sebezhetetlen ugrott be azonnal. Meg is állapítottam, hogy abba az univerzumba kellene visszatérnie, főleg, hogy jó irányba kezdték bővíteni. De visszatérve Bruce e filmbeli alakításához: úgy éreztem, mintha egy akciópapa filmet látnék. (Tudjátok, amikor a kiöregedett sztár Liam Neeson nyomdokaiba igyekszik lépni.)
Egyszer meg lehetett nézni, de bármelyik eredeti (film vagy könyv) ismeretében csalódás.
Bosszúvágy - 5/3,5 a dráma még lekötött, az akciós részek annyira nem. Az üzenete is furcsa. BW öregszik.