Családos, város mentős, családi horroros.
Sarah cseppet ki van akadva: be akar kerülni az egyetem kreatív írás szakára, de ahhoz jó esszét kellene írnia, ami nem akar sikerülni. Így nem díjazza túlzottan, hogy az anyja pont most vállal túlórákat, és neki kell az öccsére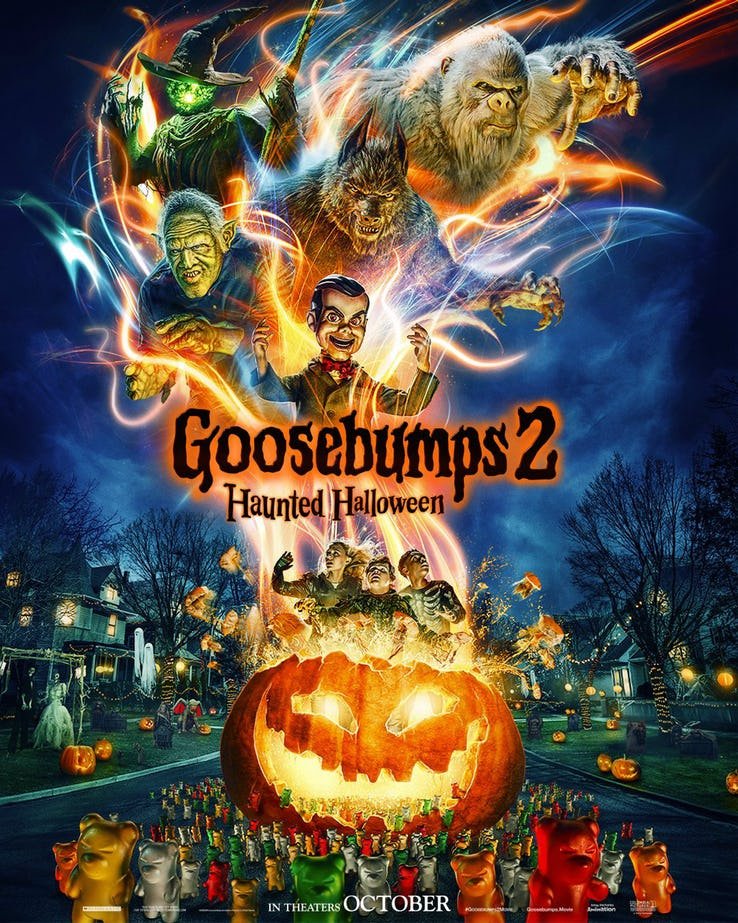 vigyáznia. Az sem segít, hogy rájön arra, a barátja csalja. De mindez eltörpül amellett, amikor az öccse egy lomtalanításról hazahoz egy hasbeszélő bábut pont Halloween előtt. A figura életre kel, és a maga módján segíteni próbál nekik, ami közelebb áll a horrorhoz, mint az igazi segítséghez. A srácok meg akarnak szabadulni a figurától. Slappy ezt zokon veszi, és a Halloween rémségeinek életre keltésével bosszúhadjáratba kezd. A fiataloknak rá kell jönniük, ez az egész hogyan kötődik Stine egy könyvéhez, és mire jó pontosan Stine kézirata – vagy Slappy mindent tönkretesz.
Pár éve meglepetés sikert aratott a Libabőr című Jack Black film, melyben életre keltek R. L. Stine Libabőr regényei. Jópofa családi vígjáték volt – mivel siker lett, és Stine termékeny szerző, nem maradhatott el a folytatás. Kérdés, ennek mennyire örülünk.
Bevallom, pontosan látom, mivel és hogyan béna a film, de én jókat tudtam vigyorogni rajta. Azt hiszem, kellően fáradtan ez pont olyan kikapcsolódás, ami nekem fekszik. Könnyed, nem kell hozzá agyalnom, és több zsánert bekever. Minimálisan horror és csak gyerekszinten, de kalandos is, és használja a Stine regények szerkezetét és figuráit, amely könyveket kiskamaszként én is olvastam. Bosszant is, hogy nincs meg a teljes sorozat regényből…
A film cselekménye igazából kiszámítható, pláne, ha Stine regényismeretetek is akad. Megismerjük a szereplőket, a mindennapi gondjaikat, majd megelevenedik egy horror zsáner. Mire leküzdik, megoldják az egyéb problémáikat is. Természetesen a végére érkezik még egy slussz poén, ahogy Jason sem fog soha meghalni, a Stine kötetek/filmek végére is marad valami visszatérő rémség.
De minden kiszámíthatósága ellenére pörgeti az eseményeket és a poénokat, így le tudott kötni. Mivel behozzák Tesla alakját is, volt még valami, ami engem érdekelt. Hiába, nagyon várom azt a részben Tesla filmet, ami csak nem akar megérkezni… Hol vagy, The Currant War? Na, mindegy, maradjunk a Libabőrnél most.
A poénokat elsősorban gyerekekre szabták, de egyen-egyen olyan jó kis fekete humor érződik, hogy nekem is sikerült vigyorognom rajta. Azt különösen élveztem, amikor voltak más filmes utalások. Stephen King és Az megvolt? Nálam talán az vitte a pálmát, de akadt benne még más is.
Látványra is korrekt a film. Ahhoz képest, hogy 2. rész, aminek annyival bénább a története, hogy az eredeti stáb nem is jött vissza, a CGI nem lett elspórolva. Egy-egy szörny kifejezetten jól néz ki. Slappy is életszerű, tetszett a banyák külleme is.
A karakterek viszont nagyon soványak. Tökéletesen rájuk húzhatóak a zsánerek. A kövér, de okos srác. Az önbizalomhiányban szenvedő lány, aki a történtek hatására ki tudja hozni magából, ami mindig is benne volt. A túlterhelt, de jó anya.
Azt már említettem, hogy az első rész szereplői nem jöttek vissza. Egy Jack Black cameo belefért, de ennyi. Ennek ellenére azért egyszer simán elnéztem.
Libabőr 2. - 5/3 újabb bőr lenyúzás… Van egy-egy jó poénja, de minden téren gyengébb az első résznél.