Vadnyugatos, bankrablós, életért küzdős, sokszínű.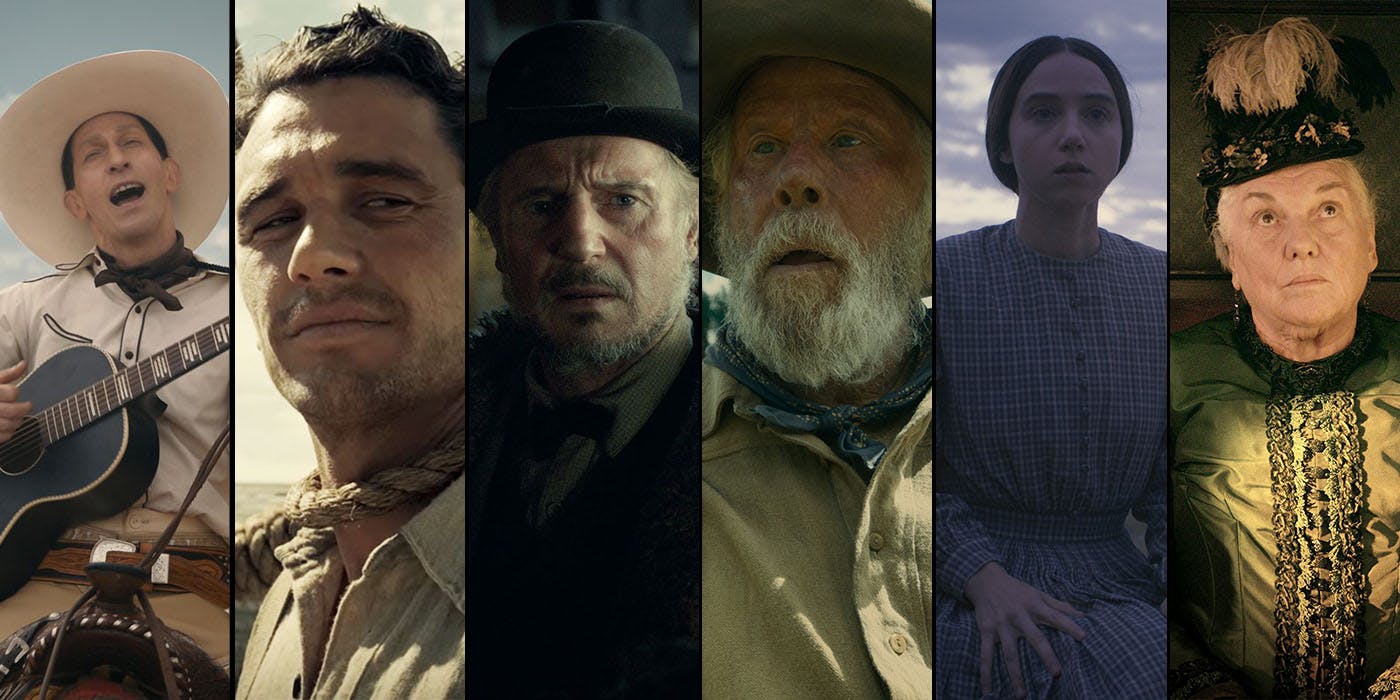 A művész egyetlen dolgot tud: szavalni. Se keze, se lábai, de az irodalmi tudása széles. Gondozójával vándorolnak, és a fellépéseken beszedett pénzből élnek. Ám a bevételek fogyni kezdenek, és az impresszárió elgondolkodik, miből éljen meg. (Meal Ticket) Egy idős aranyásó, érintetlen, idilli völgybe érkezik. Keményen dolgozik, hogy az aranyra találjon. Nem is sejti, hogy nincs egyedül. (All Gold Canyon) Buster Scruggs nem néz ki veszélyesnek: vígan dalolászik, csicsás fehér ruhát hord, vézna. Ám ha valaki nem megfelelően viselkedik, kiderül, milyen gyors a pisztollyal. Egy városba érkezve folyamatosak a kihívások, amiket Buster ki is áll. De akkor érkezik egy harmonikázó idegen, aki őt keresi. (The ballad of Buster Scruggs)
A nyakunkon az Oscar, így talán nem meglepő, hogy belelendültem azoknak a filmeknek a nézésébe, amelyek érintettek valamiképpen. (Vagy korábban azok voltak, lásd tegnap Lady Bird.) A mai film is idei esélyes, három jelölése van. A számomra legmeglepőbb a legjobb betétdalé, de mellette a kosztüm és a forgatókönyv is esélyes még.
A legjobb adaptált forgatókönyvre szerintem esélye is van, nekem legalábbis tetszett, ahogy a kis történeteket felépítették, és kaptunk egy vadnyugati körképet a film végére. Ami 6 kisebb történetből áll – nincs köztük összefüggés, csak a sötét humor és a helyszín, ami a vadnyugat. A Coen testvérek alapvetően saját rövid történeteiket filmesítették meg, de mellette helyet kapott például Jack London egy kevéssé ismert története is.
A 6 történet, az utolsót leszámítva tetszett nekem. Még úgy is, hogy volt benne olyan, aminél leesett az állam és nem bírtam magamhoz térni, úgy megcsapott. A Meal Ticket, az valami brutális ilyen szempontból. Egyrészt, nagyon vadnyugati. Másrészt, nagyon sok mindent bele is tudok látni. A kulturális leépülését az emberiségnek: minek nekünk Shakespeare és magas irodalom, ha vannak ostoba madarak is, amin lehet vigyorogni. Vagy a részvét kérdése, hogy bánunk a nálunk gyengébbekkel. Itt konkrétan a művész a címbeli ételjegy, és nagyon nehezen emészthető, ami az ő sorsa lesz. A Coen testvérpár ráadásul remek érzéssel nem is mutatja meg, csak ráutal. És így, hogy én képzeltem el, sokkal megrázóbb, mintha mutatták volna a férfi végzetét.
Az egészet áthagyja egy jó fajta fekete humor, ami a részek nagyjában könnyed és vicces. Még akkor is, ha a főhősnek annyi lesz a történet végén, kikacsint ránk a film, és szórakoztat. Két kivétellel: a már emlegetett művészes, és a The Gal Who Got Rattled. Érezni ezekben is a fekete humort, csak itt nincs feloldás, ezek a szívbe tépnek.
Jól is néz ki a film. Nagyon hiteles, sokszínű és valóban széles tablót nyújt. Látunk indiánokat, a prérit átszelő szekérkaravánt, aranyásót, bankot, kisvárost, kocsiutat, ami csak szem-szájnak ingere.
A casting is erős. Liam Neeson itt újra játszik, nem akciópapa! De James Franco vagy Zoe Kazan is nagyon szépen teljesít. Jó karakterek vannak, akik a maguk 15-20 percében is emlékezetes tudnak lenni. Más film 2 óra alatt nem tud így jellemet építeni…
Nekem nagyon tetszett, drukkolok is neki majd a gálán.
The ballad of Buster Scruggs - 5/4,5 hangulatos, miközben humoros, nagyon az emberbe is tép. Látványos, jó színészekkel.