Középiskolás, választási harcos, botrányos, gazdagok életét bemutató.
Payton Hobart kisgyerekkora óta tudja, mi akar lenni: politikus, az Egyesült Államok elnöke. Rég kész a terve, hogyan érje mindezt el. Diákelnök, felvétel a Harvard Egyetemre, házasság a középiskolai szerelmével, akinek szintén tökéletes a pedigréje. Milliárdos családja és hű követői készek bármire a kedvéért. Ám hamar megjelenik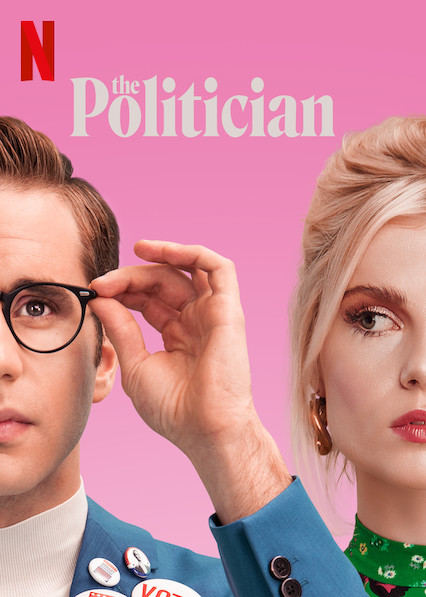 az első akadály: az iskolai választásokon komoly ellenfél lép fel ellene. Astrid népszerű és halott barátja helyét veszi át, és módszeresen teszi tönkre Payton esélyeit. Ő pedig kész a visszavágásra. Beszervez alelnöknek egy rákban haldokló lányt, a sajnálat szavazatokért megjátssza a barátnőjével a szakítást, kiiktatja a mostohatestvéreit az apja pénzéért folytatott küzdelemben, színjátszó körbe megy. De mindig jöhet egy váratlan fordulat…
Ryan Murphy neve ismerős lesz a sorozatnézőknek. Többek között neki köszönhetjük a Glee évadokat, az AHS horror és krimi szériáinak feje, a Feud készítője, de még sorolhatnám hosszan. Nemrég aláírt a Netflix szolgáltatóhoz, és már le is szállította nekik az első sorozatát. Ez lett a The Politician.
Milyen ez a sorozat? Aki ismeri a rendező munkásságát, nem fog meglepődni. Tulajdonképpen megvan benne minden, amit a többi munkájába is beletett. Harsány, egyedi – néha nem is tudtam eldönteni, hogy zseniális vagy botrányos, amit nézek.
Könnyen lehet nézni középiskolai komédiának, amiben diákok versengenek az elnökségért. Vannak benne szerelmi kavarások, mocskos húzások a szavazatokért, tanórák és diákok mindennapjai a családjukkal megtűzve: mivel ez egy elit iskola, ide a nagyon gazdagok járnak. Az is elég elképesztő, ők hogyan élnek. Egy kifacsart Gossip Girl is eszembe juthatna róla, de a fentebb emlegetett Glee is. Sarkítja, felnagyítja és eltúlozza a kamaszok mindennapjait és gondjait, szórakoztatóan. Ha már Glee – gondolom, senkit nem lep meg, hogy ebben is lesz színházi produkció és dalolás…
De lehet nézni politikai szatíraként is. Ugyan középiskolai környezetbe helyezték, de a kampányok minden rákfenéjét megmutatják. A szereplők abszolút nem kamaszokként viselkednek, nagyon komoly pl. Payton baráti köre, akik már 17-18 évesen úgy néznek ki, mint a vérprofi segítők egy-egy kampányban. Ami a politikában játszma, rossz és színjáték, itt megmutatják. A környezet vesz el az éléből, de ha hajlandóak vagyunk belegondolni abba, mit mutatnak meg nekünk így, bele lehet borzadni.
Murphy védjegye, hogy szexuálisan színes a karakterei palettája. Ez pipa itt is, bele se tudok menni, mennyiféle irányultságot láttam ebben a 8 részben. Tolerancia a végsőkig. De ezen túl is emlékezetes karaktereket talált ki, ezekre a szereplőkre emlékezni fogunk később is.
Murphy hozott magával színészeket is, amit nagyra tudtam értékelni. Jessica Lange karaktere abszolút rá van írva, ahogy Dylan McDermott is visszaidézhette, milyen volt AHS pszichopatát játszani. De a Netflix különben is erős szereplőválogatásban. Így kerülhet ide Gwyneth Paltrow, Bette Midler, Zoey Deutch vagy Lucy Boynton többek között.
Sokszínű, látványos sorozat lett ez, amit simán lehet nagyon utálni vagy nagyon szeretni. Nekem bejött, bízom is benne, hogy látjuk még Payton újabb kampányát is.
The Politician - 5/4,5 látványos, színes, szinte harsány. De erős szatíra is, jó szereposztással és mondandóval.