Vámpíros, mindennapokkal küzdő, összetartó.
Adam és Eve nagyon régóta vannak együtt, akkor is, ha éppen más földrészeken élnek. Eddig háromszor esküdtek össze, és még most is nagyon szoros közöttük a kapocs. Adam azonban válságba jutott, azon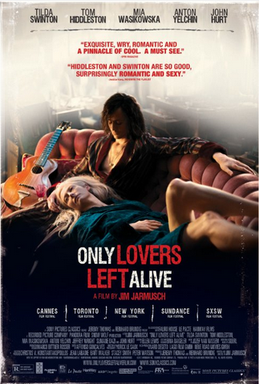 gondolkodik, hogy ideje lenne meghalnia. A zenéjét újra kiadatta, hangszereket gyűjt, de védi a magánéletét és magányát. Csak akkor jár ki, amikor a kórházba megy, ahol a vér adagját gyűjti be. Eve megérzi a hangulatát, és hozzá utazik. Igyekszik rávenni, hogy nyisson a világ felé, élvezze az életét, és ne csak azt lássa meg, amit az emberek elrontanak magukban és a világban. A nyugalmuk az asszony húga kavarja fel, akinek a felelőtlen tettei miatt útra kell kelniük. Ami a modern korban sem egyszerű, ha az ember vámpír, vérre van szüksége és nem bírja a napfényt.
Nem egy szórakoztató film. Nem is teljesen művészfilm. Valahol a kettő között helyezkedik el, így nem volt könnyű befogadni. Elnéztem, lekötött, de elég sűrűn az a jelző ugrott be róla, hogy furcsa. Különös.
Ha csak a cselekményt nézem, az két vámpír sztorija, akik másképpen állnak az örökléthez. A nő élvezi, kapcsolatokat épít és barátkozik. Igen, őt is behatárolja, hogy a természete miatt nem mehet a napra, és a betegségek miatt nehezebb tiszta vérhez jutni, de megőrizte az élet szeretetét. A férfi ellenben hamleti alkat, akinek félig üres a pohár. Ha nem is depressziós, de borús. Őt bántja, hogy mi történik a világgal és az emberiséggel. Látja a lehetőségeket, melyeket hagynak a semmibe veszni. Együtt azonban kitartanak, nem véletlenül az a cím, ami. Kellenek egymásnak, és azért is tudnak még viszonylag ép ésszel életben lenni, mert ott vannak egymásnak.
Ha mélyebbre megyünk, és elfelejtjük, hogy ez vámpíros film, simán az emberi természetről is nézhetjük. Az elmagányosodás világjelenség, és az embereket ugyanúgy érinti, mint a filmben a vámpírokat. Az öngyilkosság sem ritka jelenség. Ahogy az sem, hogy a világunk lassan egy szemétdomb, ami minket is megmérgez. Hála nekünk. Ez a film ezekről mesél, és a megoldásról. Az egymásba kapaszkodásról.
Lehet szerelmes filmnek nézni, és nem kell vámpírokkal foglalkozni benne. Nem lényeges, hogy azok. Ezzel csak nagyobb súlyt kapnak a megállapításaik és az egymásba kapaszkodás, mert nem egyetlen élet alatt csinálják, hanem évszázadokon át.
Csak ez az egész úgy van megjelenítve, hogy nem esett jól nézni. Be vagyunk zárva egyetlen térbe, amikor kimerészkednek is, éjszaka van. Hiszen vámpírok. Se színek, se benyomások. Adam depressziója szinte táplálkozhatna a film látványvilágából is. Azt különösen sajnálom, hogy amikor átmennek Tangerbe, ott sem kapunk legalább egy más hangulatot. Nem látszik annak a városnak a keleti egzotikuma, noha mozognak benne egy jelenetsorban.
Amit még érdekesnek találtam, Kit Marlowe alakja. Máig irodalomtörténeti kérdés, ki volt William Shakespeare igazából, mert nagyon elképzelhetetlennek tűnik, hogy egy műveletlen vidéki színész képes lehetett ezt az irodalmi hagyatékot létrehozni. Az egyik elmélet, hogy a név mögött Christopher Marlowe áll – a film is ezt támogatja. Mondjuk, a vámpírrá válás nem része az irodalmi elméletnek, de annyi baj legyen. Tudtam mosolyogni az olyan kis epizódokon, mint a darts, amire az ismert Shakespeare portré volt kitéve.
(Azon is jót mosolyogtam, amikor Marlowe karaktere azon mereng, hogy kár, hogy nem ismerte Adamet, amikor a Hamletet írta. Jó minta lett volna hozzá. Hiddleston játszik Shakespeare darabokban is, a Hollow Crown-ban pl. V. Henrik bőrébe bújt.)
A szereposztás is megosztó. Tilda Swinton jó színésznő, de ehhez szerintem öreg.
Tetszett is, nem is. Különös is, érdekes is, komor is. Még emésztem kicsit.
Only lovers left alive - 5/3 furcsa film. Különös a hangulata és a cselekménye is, de a színészei eladják. Kérdőjeles.