Apát mentő, mágikus kalandos, tündéres.
A Fowl-család különleges hírnévnek örvend, nem csak a családi vagyon nagysága miatt. Titokzatosak, különcök és zseniálisak. A legifjabb Fowl, II. Artemis is ilyen. Még csak 12 éves, de az iskolában már nincs mit tanulnia. Zseni, aki hobbiból kecskét klónoz vagy kiakasztja az iskolai pszichológust. Élete középpontjában az apja áll,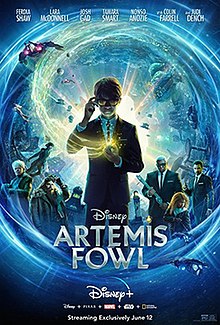 akivel van egy közös hobbijuk: az ír mitológia és a tündérek. A műkereskedő idősebb Artemis rengeteg tudást ad át a fiának. Egy üzleti útról azonban az apa nem tér haza, és Artemis zsaroló üzenetet kap. Az apja szavaiból rájön, hol keresse a megoldást – és megtudja, a családi biznisz igazából a tündérek létének titokban tartása. Ám ahhoz, hogy apját megmentse, a tündérekkel kell felvennie a kapcsolatot és segítséget szereznie. Van is egy terve…
Eoin Colfer sikertörténete régen vár meg a megfilmesítésre. Több stúdiónál, rendezőnél voltak már a jogok. Végül a Disney lett az, akik a csatornájukra el is készítették a filmet. Ha megnézem, hol volt korábban, nem tud nem fájni azért a szívem, hogy végül nem Kenneth Branagh álmodta moziképernyőre. A rendező/színész munkásságát látva biztos vagyok benne, hogy egy színvonalasabb és az eredetit jobban idéző alkotás lett volna az övé.
Mert a Disney kibelezte Colfer regényét. Megtartotta az alapokat, és sokkal kommerszebb történetet gyúrt belőle. Az olyan apróságoktól kezdve, hogy a Fowl férfiak valóban bűnözők voltak, akik anyagi haszonért bűnöztek, most az emberek és tündérek közti béke fenntartásáért dolgozó, rendes emberek. Eredetileg antihősök voltak, most csak hősök. De a cselekménybe is erősen belenyúltak – nem szedem ki tételesen a különbségeket, de lehetne. (Arról már nem is beszélve, hogy csak a filmen félárva Artemis, a könyvekben nagyon is él az anyja, még kistestvére is születik!) Az alap maradt, de más a történet. A célok, az ellenség, a végkifejlett, még a karakterek is.
Annyi ötletet vettek el belőle, és ezt nem tudom elnézni!
Van humora, de azt is gyerekes szintre vitték le. Felnőtt fejjel nem is tudtam nevetni rajta, noha a regényen tudtam. Minél inkább belegondolok, annál inkább irritál, mi lett abból a sztoriból, amit szerettem. Most komolyan azon kellene nevetnem, hogy van egy törpe benne, aki tolvajkodik, és az a nagy bánata, hogy a mérete miatt a törpék nem veszik be maguk közé?
Disney, így nem szívesen írom le, hogy az egeres cég jellemezte igényes látványvilág sem valósult meg. Ezen nagyon látni, hogy nem moziba készült, hanem a csatornára. Lényegesen gyengébb a látvány, és sok szinten. Bután néznek ki a tündérek, a ruhájuk borzalmas… a szárnyaikat még nem is említettem. A trükkök is tévések. Ok, láttam messze rosszabbul kinéző fantasy filmet is, a kentaur pl. egész elviselhető küllemet kapott, de egy Disney filmtől ennél sokkal többet várok.
A casting sem éppen fogamra való. Colin Farrell, mint idősebb Artemis, az egyetlen, akiről pozitívan tudok nyilatkozni. Ő a jó fej apa, akiről elhiszi az ember, hogy a fia vissza akarja kapni. Sok szerepe mondjuk nincs. A másik nagy név Judi Dench, és fogalmam sincs, miért vállalta be ezt a szerepet. A Macskákban is borzalmas küllemet kapott, de annak legalább van státusza, benne lenni a Macskákban. De ez…
A gyerekek se jobbak. Ferdia Shaw cuki és ennyi. Lara McDonnell hasonlóan jellegtelen. Nála pedig abba is bele lehet kötni, hogy gyerekszínész játssza Pindurit. Megint valami, ami nem stimmel a regényhez képest.
Mondanivaló nincs, a látvány kevés, a történet nagyon gyerekesre és egyszerűre átírt.
Minél jobban belegondolok, annál inkább arra lyukadok ki, hogy mindenki inkább olvassa Colfer-regényét. Ha sokan olvassuk, talán a záró részek is megjelenhetnek magyarul.
Artemis Fowl - 5/2 butított cselekmény, a látványvilág is kevés, de a színészek sem tudják eladni.