Kísértetes, vidéki házas, bűnökkel szembenéző.
Dani menekülni akar a múltja elől, és tudja is a módját. A lány tanárnő volt, és most dadát keresnek egy vidéki házba két gyerek mellé. Megárvultak, magányosak és Dani hinni akar abban, hogy képes lehet segíteni nekik. Sikerül is meggyőznie a nagybátyjukat, hogy őt vegye fel. A gyerekek aranyosak, a kúria – a Bly Manor – látványos és előkelő épület. Dani azonban hamar szembesül azzal, hogy valami nem stimmel a házban. A korábbi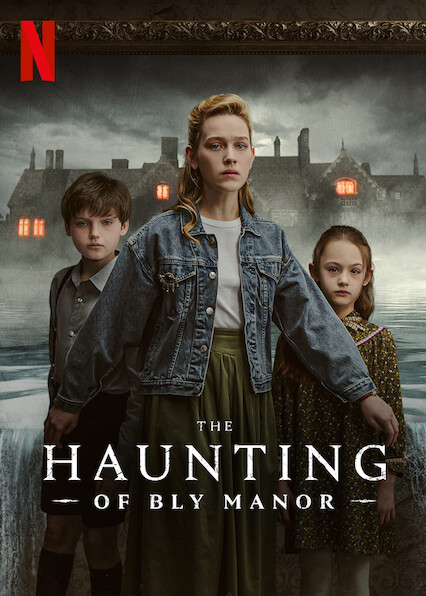 dada tragikus öngyilkossága után egykori kedvese, a gazdáját meglopó Peter Quint visszajár, és ijesztegeti őket. A gyerekek kiosonnak az éjjel, sáros lábnyomok maradnak utánuk. Miközben Dani kénytelen szembenézni a saját múltjának szellemével rá kell döbbennie arra is, hogy ennek a háznak is megvannak a maga szellemei, akik itt ragadtak és kullancsként ragadnak az élőkre. A gyerekek veszélyben vannak, és ő kész megmenteni őket.
A Netflix érdekesen és tulajdonképpen ötletesen gondolta tovább, hogyan lehet a Hill House történetét tovább folytatni. Az a sztori zárt volt, és jó érzékkel nem erőszakoltak bele újabb rokonokat, akiket újra megkísért a ház. Helyette antológia készült.
Vagyis, egy másik kísértetház történetét ismerhetjük meg, ez a Bly Manor. A színészek közül nagyon sokan tértek vissza, így növelve a kapcsolatot a két sorozat között. Csak változtak az arányok: pl. Carla Gugino, aki a Hill House egyik fő karaktere volt, itt mellékszerepet kapott. Míg pl. Victoria Pedretti, aki ott elég hamar elköszönt, itt megkapta a főszerepet. Jó ötlet, hogy vannak új színészek, vannak visszatérők – így a káposzta is megmaradt, a kecske is jóllakott és korrekt antológia érzetem lett. Pláne, hogy más jellemeket játszhattak most, mint az előző évadban. Az AHS egyik gondja szerintem, hogy ezzel nem játszanak eléggé. Ha valaki bevált gonosz alaknak, ott könnyen benne ragad abba a szerepkörbe.
Még egy közös pont van azon túl, hogy vannak közös szereplők és kísértetház. Az alapok. A Hill House is regény előzménnyel rendelkezik, ha azt nagyon át is dolgozták. Ezt el lehet mondani a Bly Manor történetéről is. Másik gótikus horror klasszikus az alap: A csavar fordul egyet Henry James tollából, bár a szerző más munkáiból is vettek ötleteket. Most is igaz, hogy annyit változtattak a cselekményen, hogy ott vannak az alapok, de nem szembetűnő. Láttam filmen is azt a James történetet, olvastam is, mégsem esett le, hogy mit látok most. Ezt is tudtam értékelni, ahogy a színészeknél: a régi is megvolt, újat is kaptam.
A történet megint több idősíkban van elmesélve. Van egy keret, a jelenben, amikor elmondják a Bly Manor történetét, aminek Dani van a középpontjába. Az ő történetéből pedig leágaznak az egy évvel korábban történtek, majd még régebbre megyünk vissza, hogy megértsük, kik kísértenek és miért a házban.
Az egészben van valami ijesztően sötét, de lírai is. Egyet tudtam érteni a keret egyik főszereplőjével, aki azt mondja, ez nem is annyira kísértet história, mint szerelmi történet. Igazából mindkettő. Minden történetben ott volt a szerelem, a bűn és az ár, amit fizetni kell érte. Meg persze a természetfeletti elem.
Ennek az évadnak is nagyon odafigyeltek a látványvilágára. A háznak is megvan a maga hangulata, és szépen rásegítettek ilyen-olyan trükkel, hogy minden elem a helyén legyen benne. Nem vitték túlzásba, de látványos és saját atmoszférája lett.
Nem kapott rossz kritikákat, de azért a Hill House elismertebb sorozat lett.
Még nem láttam hírt, hogy készülne egy újabb The Haunting évad, de én örülnék neki. Okos adaptáció lett ez is, hangulatosan és szórakoztatóan, intelligens szellemes horror.
The Haunting of Bly Manor – 5/4,5 látványos, okosan felépített műsor. Miközben a zsáner elemeit hozza, meg is tud lepni.
The Haunting of Bly Manor | Official Trailer | Netflix - YouTube