Bankrablós, csapatos, lebukó.
Chayo egykor bűnöző volt, és egy bankrablásnál majdnem otthagyta a fogát. A társát és egyben jó barátját hátra is kellett hagynia. Mára helyes útra tért: ékszerboltot vezet, megnősült és van egy kamasz lánya, akiért rajong. Ám a bolt rosszul megy és nem képes megmondani a családjának, hogy mindenről le kellene mondaniuk, amit eddig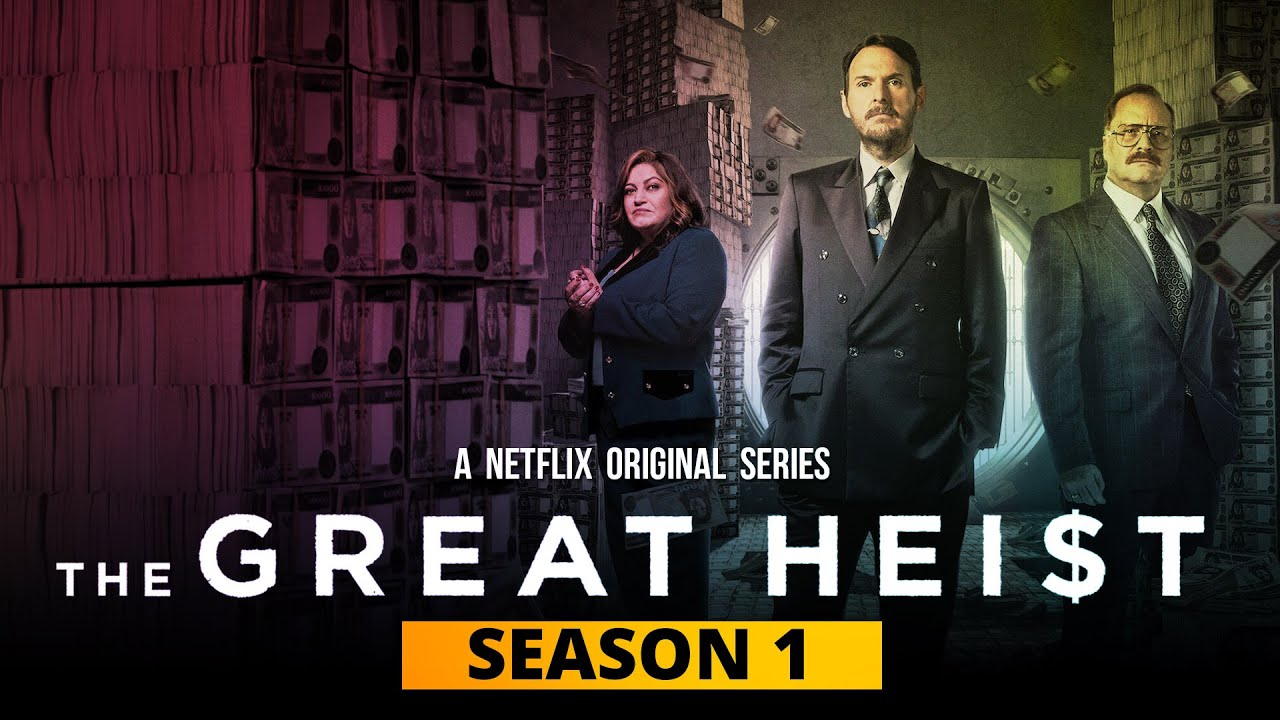 megkaptak. Így visszatérne a gyökereihez: megkeresi az egykori társait, újakat és megtervezik, hogyan rabolják ki a Nemzeti Bankot. A siker önmagában azonban nem elég. El kell kerülniük, hogy a hatóság szemet vessen rájuk, miközben az állam nagyon kézre akarja keríteni őket. Nekik is vannak trükkjeik, és a belső viszályok is a lebukáshoz sodorják őket.
Eddig sem volt Kolumbia azon a listán, amelyen az olyan országok szerepelnek, ahova egyszer szívesen eljutnék, de az ilyen sorozatok után még annyira sem érdekel, mint különben. Ha belegondolok, mit is tudok Kolumbiáról? Netflixem van, nagy sorozatnéző vagyok, így láttam a Narcos eddigi évadait. Amiből nem éppen egy olyan Kolumbiát ismertem meg, amit látni akarnék. A The Great Heist is csak olyasmit mond el az országról, amitől nem érzem turistacsalogatónak.
Egyrészt, látjuk a határtalan korrupciót. Itt simán belefér az, hogy lefizetik a katonai vezetőket, akik simán asszisztálnak a bank kirablásához, amit nekik kellene megvédeniük. Itt előfordulhat az is, hogy sokkal egyszerűbb drogot szállítani, mint terményeket. A nagy szegénység. a bűnözés. Nem tetszenek a városaik, a helyi kultúra, az egésznek a miliője.
E sorozatnak az adna valami pluszt, hogy igaz történet az alapja, és Kolumbia legnagyobb bankrablását meséli el, ami sokáig világszinten is első volt. (Azt hiszem, itt zsákmányolták a legtöbb készpénzt, de meg nem esküdnék rá.) Ugyan fontos kihangsúlyozni, hogy csak igaz történet alapján, nem dokumentumfilm pontosságot kell várni, de így is életszagú lett.
Hiszen ez nem egy olyan izgalmas, adrenalin- és ötletmenet, mint a szintén rablós Money Heist. Itt bizony az egyszerűség a kulcs, és nincs ebben a rablásban semmi nagyszabású. Fúrnak, pakolnak, elmennek – inkább az a fontos, hogy a megfelelő emberek legyenek lefizetve és megvásárolva. Ahogy már említettem, itt mindenki eladó…
Realisztikussá teszi, mennyire lehangoló az egész sorozat látványvilága. Még amikor luxusban élőket, vagy gazdagokat látunk, akkor is van az egészben valami mocskos és szegényes. Nem volt jó nézni.
Ehhez hozzájön, hogy a sorozat nem ad nekünk szerethető karaktereket. Kivel kellene itt azonosulni? Mindenki annyira korrupt és a saját pecsenyéjét sütögeti, legyen az a törvény bármelyik oldalán, hogy különösebben nem érdekelt, ki nyeri a játszmákat. Bár, két ember volt benne, akik jobban kiakasztottak a többieknél: Chayo felesége és a lánya. Elkényeztetett, önző libák, akiket kitartottak. Az elvárt luxus, a lány részéről a követelőzés – meg sem próbálták felfogni, hogy a férfi ezért mit tett értük, és simán leléptek a végén. Tulajdonképpen ők voltak a férfi tetteinek a motivációja, lubickoltak a javakban, és semmilyen felelősséget nem vállaltak. Ok, nem ők raboltak, nem is kérték ezt a férfitól, de mi lett volna, ha nem teszi meg? A felesége egy fokkal racionálisabb volt, mint az elkényeztetett lányuk, de még róla sem feltételezném, hogy kitartott volna egy tönkrement férj mellett. Sajnálom is, hogy nem derült ki, mi lett velük – ők érdemelték volna meg leginkább, hogy nyomorogjanak, és a lány a sok nyafogás után dolgozzon is meg valamiért, na csak sírjon ezért vagy azért. Hát igen, látszik is, hogy őt viseltem a legnehezebben. Az elkényeztetett, buta kis gazdag libát.
Nem egy boldog sorozat, nem is különösebben szórakoztató és humorosnak sem mondanám. A megtörtént eset miatt volta miatt némileg érdekes, de csak egyszer nézős.
The Great Heist – 5/3 a valóság mindig szürkébb, mint a kitaláció. Érdekes, ami igaz benne, de az kevés is.
The Great Heist | Official Trailer | El robo del siglo - YouTube