Álkapcsolatba érzelmek vegyülő, sikerkönyves, megcsalós.
András és Kata ugyanarra a díjátadóra hivatalosak. Mindketten megjelentették az első regényüket, de teljesen más a fogadtatás. András egy komor, mélyszegénységről és bűnről szóló történetet, míg Kata egy életigenlő, pozitív gondolatokkal teli önsegítő kötetet adott ki. András könyvét legfeljebb maga veszi és raktározza otthon, míg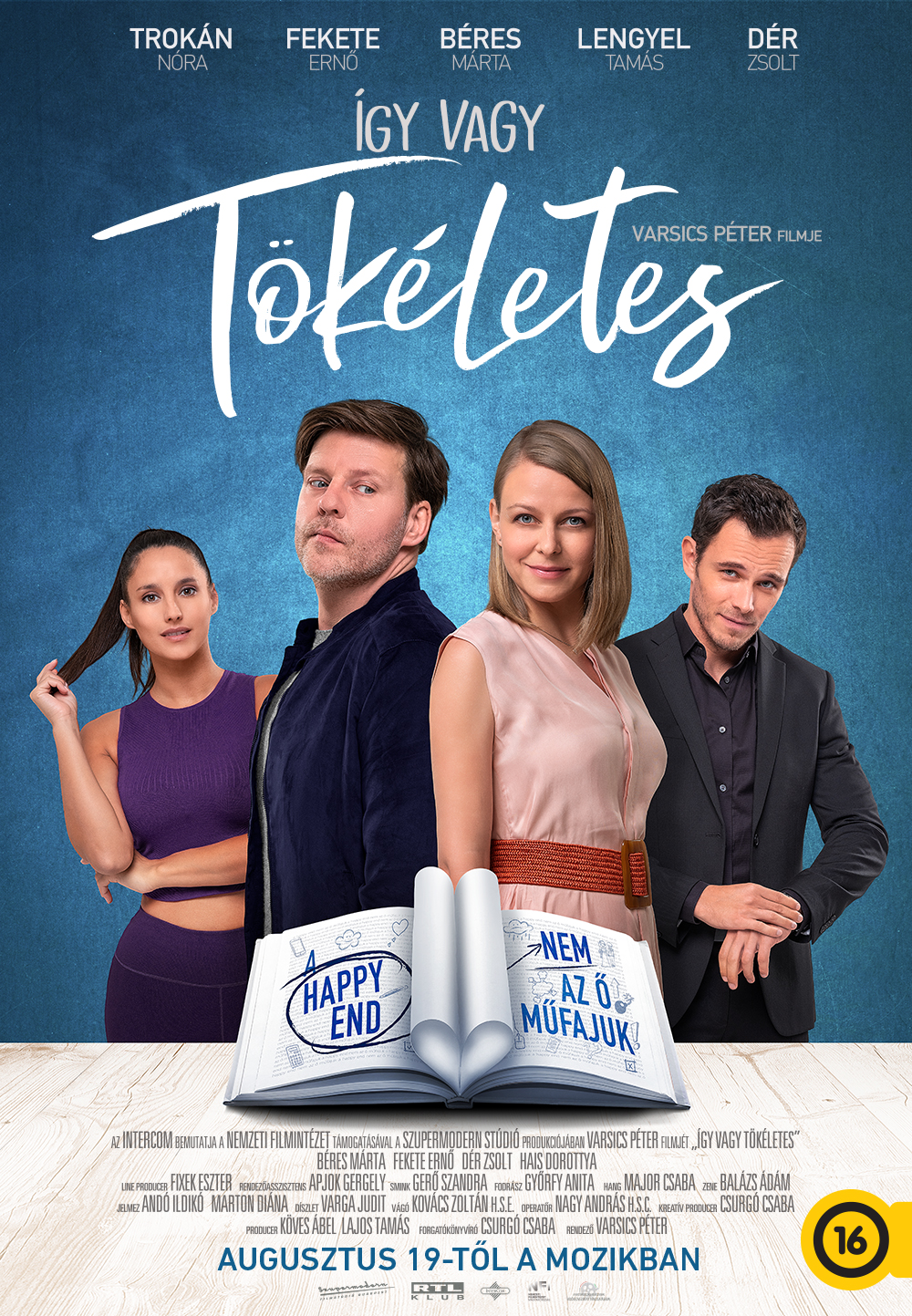 Kata sikerszerző lett, akiért tömegek rajonganak. A férfi haragszik is a nőre, mert szerinte csak szemét, amit ír és nem igazság, hogy az ő munkáját senki nem értékeli. A beszélgetés közben, némi alkohollal a szervezetükben szóba kerül, hogy ugyanaz a kritikus mindkettőjüket nagyon lehúzta. Elmennek a lakásához, garázdálkodnak és életet mentenek, születik egy közös fotó is, amit a nő meg is oszt. A kép hatására fogyni kezd András könyve, és egy barátja fel is veti, be kellene cserkésznie a nőt, még kell pár kép, és menni fog a regénye. Mivel Kata éppen rájött, hogy a barátja a legjobb barátnőjével csalja, vevő is a férfi közeledésére, nem is sejtve, hogy Andrásnak milyen hátsó szándékai vannak.
Ez egy olyan cím, amitől elsőre kedvem lenne sikítva menekülni. Mivel a filmbéli könyvnek is ez a címe, erősen sejtem is, ha valóban létezne, én nem venném kézbe. Igaz, én annyira nem vagyok ellenséges, mint András, bár engem nem is gyötör a szakmai féltékenység. De azzal mélyen egyet tudok érteni, hogy köze nincs már az irodalomhoz, hogy miből lesz bestseller vagy sem.
Mivel az irodalom érdekel, a könyvkiadás is, a film kapcsán tudnék merengeni arról, hogy mi a szép- és a ponyva közti különbség. Bántotta is a fülem, amikor András a történetben szépíróként, komoly íróként utal magára. Hát, amit a történeteiből kaptunk, nekem inkább társadalmilag kiszorult nyomorultak szerelmi történetének tűnik, messze nem komoly irodalomnak.
Az már egy jó dolog, hogy ilyesmiken agyalok a film kapcsán, mutatja, hogy szól is valamiről, nem csak egy szimpla románc. Kifejezetten érdekesnek tartottam, amit a látszatokról és a reklámozási technikákról megmutat. Tényleg annyira sekélyesek az emberek, hogy az eladási listák elejére lehet kerülni azzal, hogy valaki celeb lesz, vagy egyhez közel kerül? Buta kérdés, tudom. Nem is válaszolom meg.
Romantikus filmként sem az a darab, ami a csapból is folyik. Értelmesen alakítja a szereplői között a viszonyt, és elhitette velem, hogy András és Kata tényleg egymásba szeretnek. Nem egy vonzalmon alapuló szerelem volt ez, az elején kifejezetten rühellték is egymást. De látni, mit látnak meg egymásban, hogyan lesznek jobban attól, hogy a másik az életükben van.
Persze, jönnek közben a vígjáték elemek is. Nem is alpári a humor, amit mindig tudok értékelni. Igaz, nem is egy végignevetős film, de számomra többet is ér attól, hogy komolyabb témákat is felhoz és tárgyal. Plusz, amilyen elmebeteg a humorérzékem, én komfortosabban érzem magam egy fekete komédiában, mint egy romantikusban.
A szereposztás a filmet nézve jobb, mint a plakátot. Nagyon nem sikerült az a fotó Béres Mártáról, aki sokkal helyesebb nő, mint amit a poszter visszaad. Fekete Ernő meg pazarul hozza a rossz írót, aki be akar futni. Bírtam az arcjátékát. Trokán Nóra és Lengyel Tamás csak biodíszlet, viszont Hegedűs D. Géza rövid jelenete is dobott a filmen.
Több helyszín, változatos cselekmény és ahogy használ kliséket, miközben be is mutat nekik. Kellemes meglepetés volt, pedig azt hittem, rémes filmet fogok látni. Nem így lett.
Így vagy tökéletes – 5/4 meglepő, de működött. Nem egy kliséhalom, talán csak egy kicsit, és komoran jópofa lett.