Kisvárosi, nyomozós, traumákat feldolgozó, eltűnt személyes.
Mare Sheehan Philadelphia környéki, kisvárosi rendőr. A nő megszállott a munkájában, a családi konfliktusok elől is ide menekül. A fia korábban öngyilkos lett, előtte a pszichés betegsége nehezítette meg a családja életét. Mare így az édesanyjával közösen neveli a kamasz lányát és a kisunokáját, akinek a halott Kevin drogos barátnője az anyja. Az asszony nehezen viseli, hogy a nő vissza akarja kapni a kisfiút, miközben Mare volt férje éppen a nő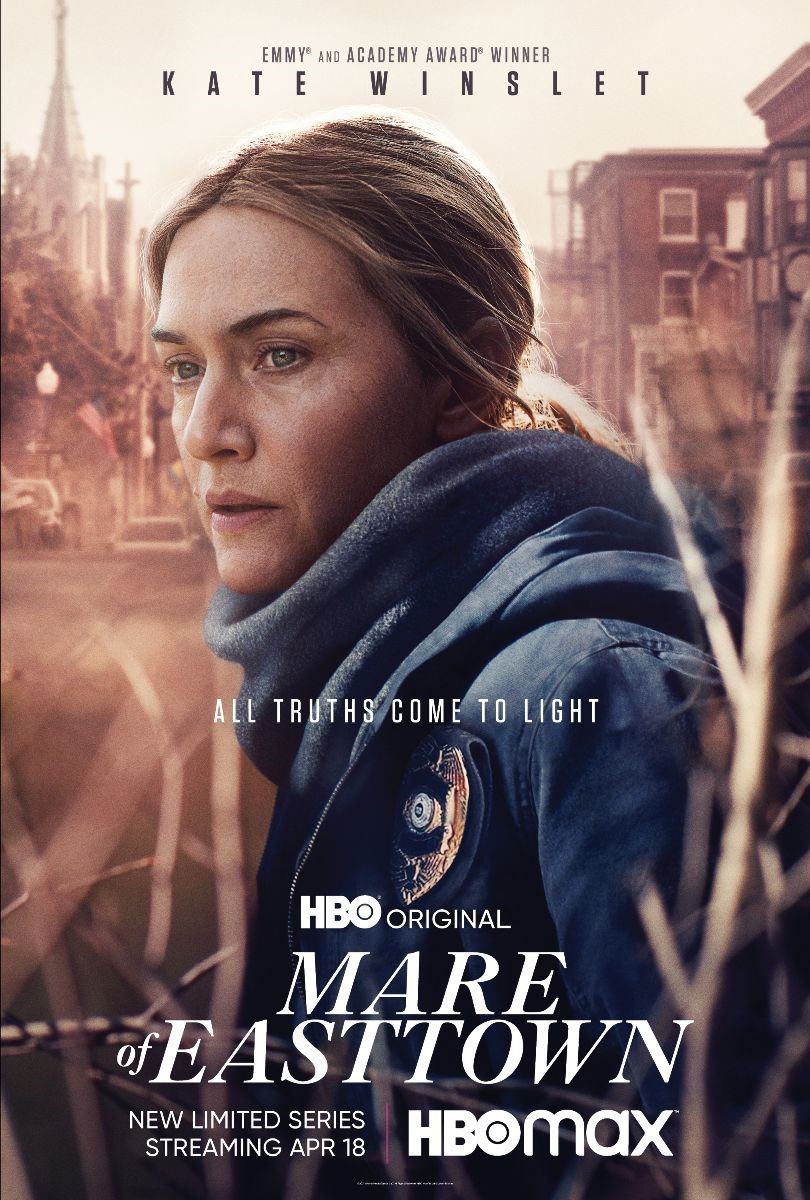 szomszédságába költözött az új párjával, akit el is jegyez. Az indulatok korbácsolja egy helyi asszony is, akinek drogfüggő, prostituált lánya hónapokkal ezelőtt eltűnt. Nincs haladás az ügyben és a nő a sajtót, a közhangulatot a rendőrök ellen igyekszik hangolni. Újabb lány tűnik el, majd kerül elő holtan, amit újabb eltűnés követ. A sorozatgyilkos utáni hajszára egy városi rendőrt küldenek ki segíteni a nyomozásban, és Zabel még az után is hajlandó együtt dolgozni a nővel, hogy Mare viselkedésével eléri, hogy felfügesszék.
Eltalált lett ez a sorozat. Nem csak a nézőkhöz talált utat, de a kritikusok is szerették. 16 kategóriában Emmy-díjra is jelölték, ebből 4-et meg is nyertek. (Elég erős ellenfél vitte a több díjat: egy kategóriában volt szinte mindenben a Vezércsellel. The Queen's Gambit – nálam is az a jobb, különben. Lehet, hogy Anya-Taylor Joynak is inkább odaadtam volna a szobrot, mint Winsletnek.)
Az egyik vonzereje, hogy ügyesen ötvözi a zsánereket. Egyrészt, ez egy jó krimi. Van eltűnt lány, van gyilkosság és mindenféle titok a háttérben. Családon belüli erőszak éppen annyira akad benne, mint emberrablás és szexuális kizsákmányolás. Sötét, nyomasztó és el van mesélve, hogy jönnek rá a dolgokra. Vannak kifejezetten erős ötleteik: pl. könnyen lehet, hogy egy ügyként kezelik az összes eltűnést és gyilkosságot, miközben igazából nem is ez a helyzet. Jó volt ez a csavaros kifejtés, de azért az utolsó részre nagyon elszálltak vele. Amikor már a csavar csavarjának a csavarját igyekeznek hitelesen eladni, azon csak a fejemet tudom fogni. Túl lett bonyolítva, hogy ki a gyilkos és miért tette.
Másrészt, ez egy nagyon komoly személyes és családi dráma is. Mare nem csak nyomozó, nő, anya és nagymama is. A magánéletében is, ami baj beüthet, most sor kerül rá. A férfiak, a gyerekek és az unoka, a sok veszteség. Mare tud számító és gonosz is lenni, nem mindig kezeli megfelelően a helyzetet. Az pl. kifejezetten drámai, amikor a pszichés beteg fia tör be a barátnőjével a szülei házába, és a rendőrnő nem tud mit csinálni, csak döbbenten és sebzetten figyeli, hova fajulnak az események. Megvannak a maga bajai, és ettől izgalmas a figura. A skandináv krimik receptje itt is működött: kell egy megszállott nyomozó, aki szenvedélyes és mindenre rájön, de a magánélete katasztrófa. Abban látszik, hogy ez amerikai hősnő és nem skandináv, hogy neki jut egyfajta happy end, egy svéd sorozatban kétlem, hogy ennyire pozitív lenne a befejezés hangja.
A látvány visszaadja a film hangulatát, kellően sötét és nyomasztó. Megvan a kisváros, a sok helyszín, a jellegzetes karakterek és a kinézetük.
Az Emmy-díjai közül nem véletlen, hogy a színészek kaptak 3-at is. Kate Winslet nagyot játszik, és sok oldalát meg tudja mutatni a nyomozónőnek. A családanyát, a rendőrt, a nőt – fent és lent, élethelyzettől függően. Egy szereplő volt, aki miatt azért felhúztam a szemöldököm: Evan Peters Zabel bőrében. Nem is a színésszel van gondom, az írókkal. Hogy nekem mennyire nem passzolt a történetbe, amikor megcsókolta Mare-t és elhívta randevúra is. Még Mare lányával is jobban el tudtam képzelni, mint a nővel. Pláne, hogy ott volt másik ágon Mare részére Guy Pearce író szerepben. Peters díja is megérdemelt, kíváncsian várom is, milyen lesz majd a Monster-ben, ami teljesen más figura, mint itt Zabel volt.
Súlya volt a történéseknek és működött is az a sorozat. Szórakoztatónak nem nevezném, ahhoz túl sok és súlyos dolog történik benne, de lekötött és jó volt megnézni.
Mare of Easttown – 5/4,5 korrekt krimi, csavarokkal – azért a végére sok is jutott. Erős szereposztás és jó alakítások, egy nagyon nyomott hangulatú történetben.