Tény, hogy elfogult vagyok. Ha meg kell neveznem a kedvenc rendezőm, rávágom, hogy Christopher Nolan. A kedvenc képregényfilmem Nolan Batman-trilógiája. A Memento az egyik legeredetibb film, amit ismerek. A tökéletes trükk filmnek is tökéletes. Az Eredet egyedi, a Dunkirk több jelenete beleégett az agyamba, és imádom, hogy úgy tud háborús film lenni, hogy nincs is benne a tényleges háború, a németeket nem is látjuk. A Tenet elérte, hogy ne gúnyosan mosolyogjak Robert Pattinson neve hallatán. Lehetne folytatni a sort, a lényeg azonban egyértelmű. Az Oppenheimer olyan pozitív előítélettel indult részemről, hogy nem is tudom, milyennek kellett volna lennie, hogy nekem ne tetszen.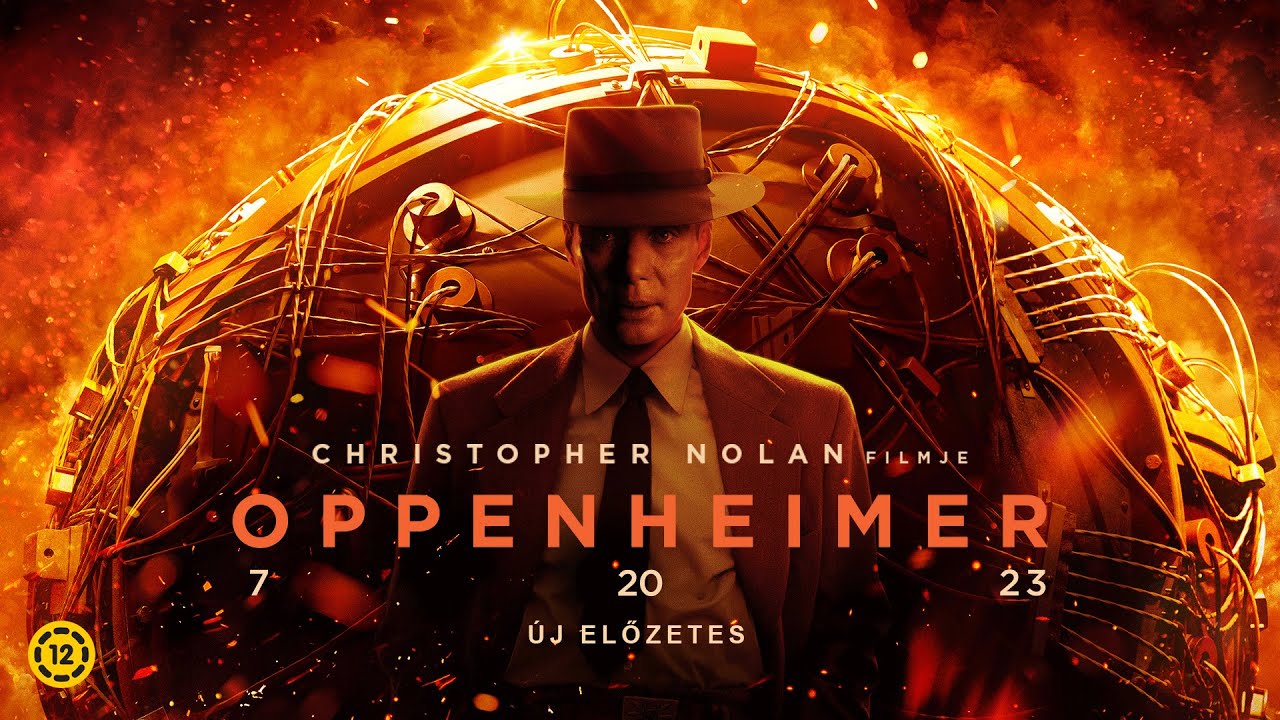 De nem volt rá szüksége. Mivel tudnám érzékeltetni, mennyire jó lett ez a film? 3 óra hosszú, de már a moziból kifelé jövet azon gondolkodtam, hogy be kell rá ülnöm még egyszer. Úgy figyelni a jeleneteket, összerakni a kirakóst, hogy már tudom, mire kell figyelnem. Közel telt házzal ment, és amikor a kísérleti robbantásnál tartottunk, néma csendben néztük a vásznat. A pattogatott kukoricát nem szeretem, én chipsevő vagyok. Egy zacskóval ültem be, amit átlag 15-20 perc alatt végzek ki. Nos, ezt közel 2 órán át ettem, annyira a filmet néztem.
Egy filmet néztem, de most olyan érzésem van, mintha legalább hármat kaptam volna egy áráért. Ott volt, amiért mentem, amit vártam. Az a munkafolyamat, a zsenik összmunkája, ami egy tudományos áttöréshez vezetett. Ahogy összerakták az atombombát, versenyben a németekkel. Imádom az olyasmit, amiben valamit létrehoznak. Nem vagyok válogatós: szabók, festők, írók, feltalálók, tulajdonképpen mindegy. Az emberi intellektus szüljön valami eredetit és újat, én szívesen megnézem. Pedig itt nem kerestek menekülőutakat, ez kőkemény fizika és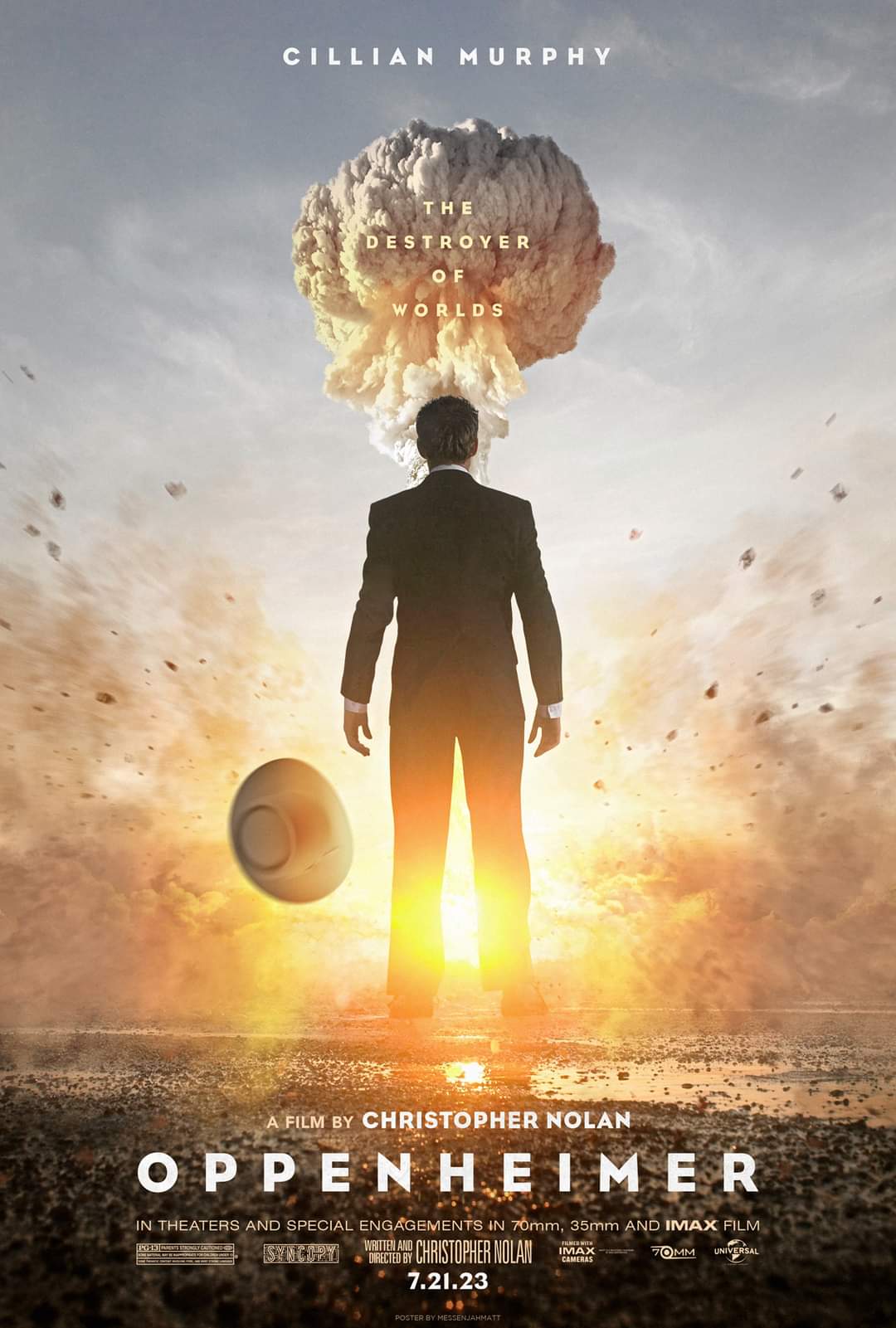 matematika. És izgalmasan lefilmezték, úgy, hogy mindenki tudta, mi lesz a vége. Hiszen nem volt kérdés, hogy az amerikaiak készítették az első atombombát, és le is dobták. Azt elérni, hogy mégis izgulj, sikerül-e a próbarobbantás, amikor tudod, mi lesz – attól is annyira jó ez a film.
Ezen felül kaptam egy életrajzi filmet is. Milyen lehet egy zseni fejében, a szemével látni? Nolanék ezt is hozták. Az egyedi látásmódjától kezdve a megosztó személyiségén át a magánéleti viharokig itt volt minden. Nem hőst, nem egy jó embert alkottak, hanem egy elképzelhető zsenit a maga dolgaival. A viszonyai, a politikailag nem elfogadható nézetei, összeáll minden és megragadtak egy igencsak nem egyszerű egyéniséget.
Harmadszor, kaptam egy történelmi filmet is. Csak éppen nem azt a korszakot mutatta be nagyon velősen, amit vártam. A világháborúra készültem, ehhez képest a McCarthy-éra és a hidegháború kezdetei költöztek a vászonra nagyon átélhetően. A paranoia, a meghurcolások, az a mérgező légkör és a sok igazságtalanság.
Ami pedig új volt, amit egyáltalán nem vártam, hogy kaptam egy bosszúfilmet is. Ha már kedvenc filmek, rajongok az Amadeusért. Anélkül, hogy lelőném, ki tör majd Oppenheimer hírnevére, hát olyan háttérmunka volt itt, amit Salieri is megirigyelhetett volna.
Nolan nagyot szokott alkotni az időkerettel, és most sem egy sima lineáris vagy visszanézős filmet kapunk. Egymásra építkeznek az idősíkok, és nehezemre is esne megmondani, hogy melyik a film jelen ideje. Sokkal inkább párhuzamosok és merőlegesek összessége, ahol logikai úton kapcsolódnak össze az elemek, hogy a végére Nolan ledobja az atomot, ha nem is szó szerint.
Mert a végére odapakoltak még valamit, amitől aztán súlya lesz a filmnek. Végig építik, hogy fegyvert készítenek, és szembe kell nézniük azzal, mit adtak a világnak. Többször felmerül morálisan, szabad-e ilyen tömegpusztító fegyvert létrehozni. Ott van az a mai fejjel naiv hit, ha létrehozol egy ilyen eszközt, azzal örök béke születik, mert ki kezdene háborúba, ha mindenki vége lehet az eredmény? Aztán hőseink rádöbbennek, Oppenheimer is, hogy az emberi elme, a hatalom és a politika nem így működik. Le fogják dobni, ami van. És ott, a végén, Nolan megmutatja az atombomba teremtőjének rémálmát, az emberiség rémálmát. És azzal a képpel távozunk, hogy milyen a game over.
Annyi szinten lehetne nézni, mi van ebben a filmben. Emberi dráma, tárgyalótermi krimi, történelem, figyelmeztetés a jelennek. Mert szerintem senkinek nem esik megtalálni az áthallást pusztító fegyverek, háborúk és a politika természetét illetően.
Roppantul szerettem a film szimbólumrendszerét. A cselekményben, a vizuális megjelenésben. Az egyik, ami folyton visszatér és látjuk, a lehulló vízcseppek és a fodrozódó hullámok a víztükröt megtörve. Még szépnek is mondanám, egy nyugodt kép. Amíg Nolan meg nem mutatja a végén, hogy Oppenheimer már milyen terjedő köröket lát a Föld nevű tó felszínén fodrozódni… A történetben pedig Prométheusz mítoszát fogalmazzák át a XX. századra. Ez különben nem Nolan zsenije, az adoptált kötet alapötlete, de a film tökéletesen megvalósította.
Talán mondanom se kell, hogy mennyire jól néz ki a film. Megidézték a korszakot, a helyszíneket és szinte olyan, mintha egy időablakban visszanéznénk. Amivel meg többet tud, azok a belső kivetülések. Pl. amikor már ledobták a bombákat, mindenki ünnepel, és mi Oppenheimer fejéből látjuk, hogy nem ünnepelni kellene, hanem zokogni. Ahogy megtörik a környezet körötte, ahogy olyan, mintha egy tetemen gázolna át. De nem kell ennyire drámai pontot választani – ott van az is, amikor a meghallgatáson a viszonyáról faggatják, és hirtelen nem egy kiöltözött tudóst látunk az asztal másik felén, hanem egy meztelen férfit, aki pőrén áll a vádlók előtt. Az ilyesmik, ami miatt azonnal lett volna kedvem újranézni. Pl. a taps – először egy későbbi részben halljuk, Oppenheimer idézi fel magában. És szinte a film végéig kell várni, hogy azt is lássuk, mikor ünnepeltek így és mi a jelentősége abban a bizonyos, későbbi ponton.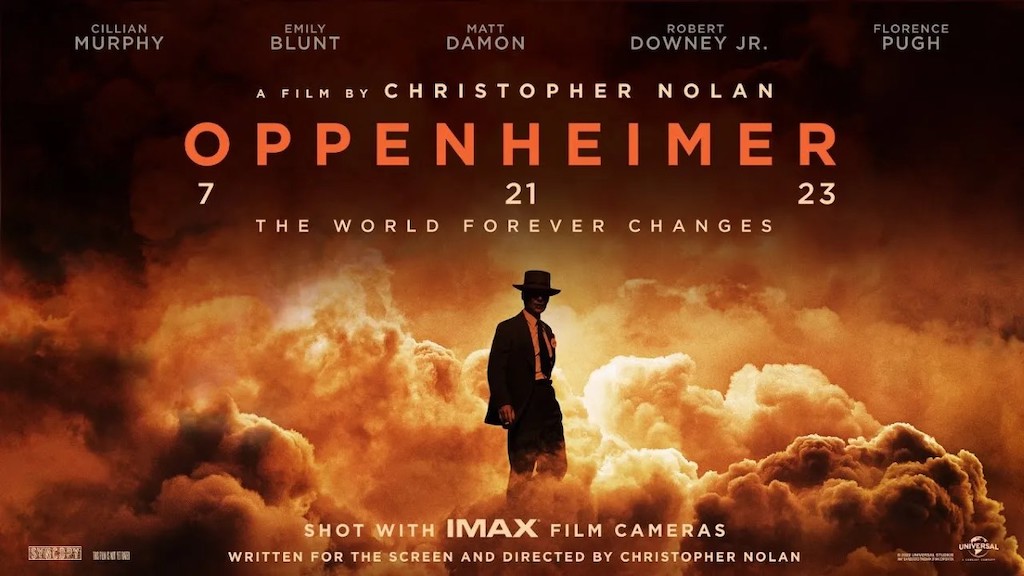 Nolan-film, vagyis a szereposztásról is írhatnék egy rajongói levelet. A rendezőnek megvannak a maga bevált színészei, és most is nem egy szereplőt találunk, akivel szívesen dolgozik együtt. Oppenheimer Cillian Murphy lett, aki több Nolan-filmben feltűnt már. Volt Madárijesztő, betörtek már az álmába is, és PTSD elszenvedésén is túl van már. Most viszont övé a főszerep, vitathatatlanul. Sokat fogyott a szerep kedvéért, és amit a filmbe beletett… De nem ő az egyetlen. Robert Downey Jr. Vasemberrel nagyon popcorn lett, hát most megmutatta, hogy ott menő, de ne felejtsük el, hogy ő azért komoly színész is. Elkalandoztam, Nolan visszahívott színészei. Kenneth Branagh pl., aki hasonlóan szimpatikus és lelkiismeretes atyai figurát kapott, mint a Dunkirk történetében. A listás sztárok tömkelege, még kis mellékszerepekben is olyan nevek vannak, mint Casey Affleck vagy Rami Malek. Hát igen, lehetne számolgatni azt is, hány Oscar-díjas nagyágyú tűnt fel itt. Malek különben slusszpoén is. Érdemes figyelni, hol bukkan fel a 3 óra alatt. Általában ő az, akiben megbotlanak, aki ott van a háttérben és nem foglalkoznak vele. Emlékszem is, merengtem rajta, hogy miért egy Oscar-díjas kapta azt a szerepet. Hát, a végére kiderül. Nem véletlenül ő az, aki ott van látszólag jelentéktelenül, lesz még szerepe. Matt Damon tábornoka, Josh Hartnett gyakorló fizikusa, Emily Blunt meghallgatásos nagyjelenete, Alden Ehrenreich gúnymosolya, amikor visszamondja a saját szavait a végén Downey Jr. karakterének. Tudnám sorolgatni, kitől mi tetszett benne.
Még egy, aztán befejeztem a rajongói opuszt. A zene. A Tenet után újra a svéd Göransson kapott lehetőséget. Ebben a munkájában is megvan az a nyugtalanság, az a szinte zavaró energia, amit a Tenetben megmutatott. Az a fenyegető él, zaklatottság, ami ott van a Trinity vezető motívumában? Nem az a zene, amire el tudnék vagy akarnék aludni. Nem az a szép zene, amit Zimmer írt volna. De ehhez a filmhez nem is a Batman indulói kellettek. Témái vannak, és akad egy-egy egészen fülbemászó is. Több most a hegedű is, annak mindig tudok örülni. Göransson maga is azt mondta, hogy szép romantikus témákat kevert horror hangzással. Igen, hallani.
Majd elfelejtettem, még valami. Az egysorosok. Ebben a filmben vannak humoros beszólások, lehet rajta nevetni is. Messze van egy komédiától, de zseniális, ahogy a feszültséget fel tudják oldani egy-egy jól elhelyezett mondattal és helyzettel.
Szóval igen, ez a film csalt vissza a moziba a Covid óta először, és erre megérte beülnöm. Ez kerek, pont úgy, ahogy van.