Én simán szeretem a meséket. Akár a gyerekeknek készülteket is elnézem, de az anime és a felnőtteknek szánt sorozatok is jöhetnek.
Ez utóbbi kettő közé tenném be a kék szemű szamuráj történetét. Tudtommal nincsen manga alapja, és most rá is néztem, tényleg nincs. De érzem benne azokat a történeteket is, különben meg egy teljesen kerek bosszúmese jó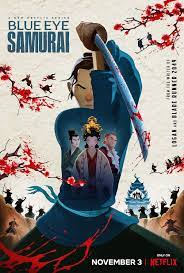 kitérőkkel.
Történelmi alapokra van építve: Japán elzárkózik a világ elől, bár 4 angol maradt a szigeten és sötét üzelmekkel vagyonokat keresnek. A kevés félvér gyerek szörnyetegnek van elkönyvelve, üldözik és kínozzák őket. Mizut már gyerekként megbélyegezi a kék szeme, és bosszút fogad a 4 férfi ellen, akik egyike az apja. Felnőve, harcművészként a nyomukba ered.
De a sorozat több annál, hogy Mizu levadássza az angolokat és végez velük. Megvan ez a vonal is, és roppant látványos akciójeleneteket nézhetünk végig. Pl. a kettes számú angol egy vidéki kastélyban bujkál, ami halálcsapdává lett alakítva. Mizu megrohamozza és brutális küzdelmekkel halad szintről szintre, egyre feljebb. Ugyanakkor téma, hogy miért vannak itt ezek az angolok, a rendszer korrupciója. A sógun és a nagyurak játszmái. Történelmi háttere van, és kapunk olyan mellékszereplőket, akik egész más színben is szinten mutatják be a világot. A kedvencem különben Akemi hercegnő volt köztük, aki nőként próbál boldogulni egy nagyon férfi irányította világban. A kezdetben a szerelme után szökő naiv lányka komoly játékossá érik, egy ponton már jobban is érdekeltek az ő dolgai, mint Mizu bosszúja.
De sok-sok mellékszereplőt ki lehetne emelni. A kemény bordély tulajdonos, Madame Kaji, aki szintén nagy túlélő. Ringo, a nyomorék szakács, aki a legjobb akar lenni valamiben a világon, és hű kiskutyaként szegődik Mizu nyomában. Aki elvhű, naiv, elvei vannak. A Kardok Atyja, aki vak és öreg emberként is a szakmája mestere, és több emberséget, éleslátást tanúsít, mint a nagy többség a történetben.
Ha már szereplők, angolul brutális a szinkronhangok névsora. Ha csak egyet akarok kiemelni, akkor az évad fő ellensége, Fowler a fegyverkereskedő Kenneth Branagh hangján szólal meg. Különben belehallgattam szinkronnal is, az is teljesen rendben volt. Talán csak azt rónám fel neki, hogy a hang nagyon hamar elárulja Mizu egy titkát – a nemét.
Mert a történetnek van feminista közelítése is. Ábrázol egy olyan társadalmat, ahol rangtól függetlenül pocsék volt nőnek születni. De látunk erős asszonyokat, lányokat, akik érvényesülnek a korban. Illetve, törekednek erre. Hogyan? Van itt, aki férfiként él. Van, aki a testén keresztül. Van, aki kombinálja az eszét a szépségével és egyre ügyesebben helyezkedik. És persze, itt lesznek az áldozatok is. Nagyon is meg van fogalmazva, hogy milyen olcsó egy nő élete a korban.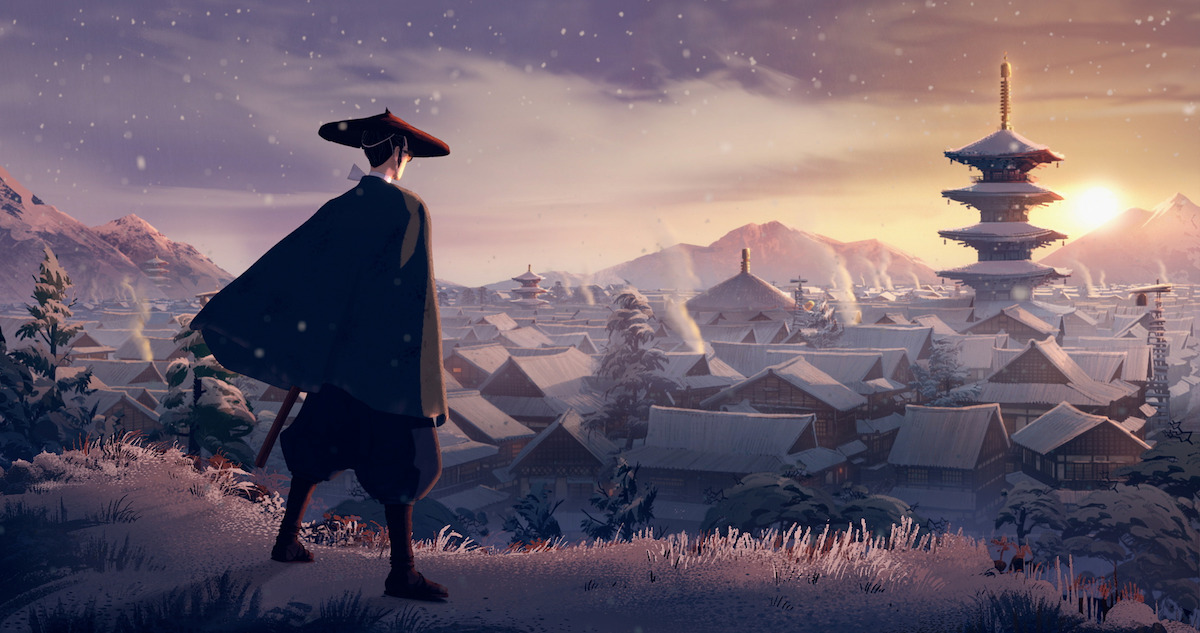 Végül, roppant jól néz ki ez a sorozat. Nem csak a harcok. A városok, a szereplők megjelenítése, a színezés. Jó volt nézni.
Mégsem, hogy egy negatív dolgot is írjak. Nyitott a vége, és az irány, amit a végére belőnek, nem tetszett. Abban nem látok perspektívát, hogy Mizu Londonba menjen. Ott aztán kétlem, hogy bármit is tud kezdeni magával. És hiányozna az is, hogy mi történik a sógun köreiben.
De még nem láttam második évados berendelésről hírt, így egyelőre nem spekulálok azon, hogyan tovább. Jelen pillanatban van egy látványos, izgalmas sorozat, amit simán jó volt megnézni.