Életért küzdős, bérgyilkosos, titkos szervezetes.
John megszegte a legfőbb szabályt, gyilkolt egy olyan hotelben, ahol az áldozata védettséget élvezett. A következmény nem maradhat el: kitaszítják, és hatalmas vérdíjat tűznek ki a fejére. Egy órája van, és mindenki az ő fejét akarja. John menekülni kényszerül, és régi szívességet behajtani, hogy életben maradhasson. Egy ponton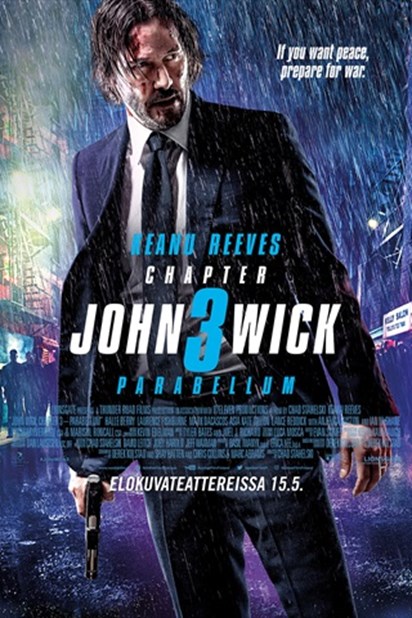 úgy tűnik, erre egy esélye van: ha feltámasztja hamvaiból a Rémkirályt. Közben a Felső Kör is kiküldi az emberét, hogy rendezze le a szabályszegőket. Az Ítélethozó elkezdi gyilkolni Wick korábbi szövetségeseit, és feldühít pár embert, akiket nem tanácsos. Így hamarosan új szövetségek köttetnek, és háború indul. Mindenki megtanulja, hogy királyt ölni nem egyszerű feladat.
Igazából három dolog van, ami hamar az eszembe jutott a film nézése közben. Az elsőhöz be se kellett ülnöm a nézőtérre, már a címből jött a gondolat. Si vis pacem, para bellum! A Julius Caesar nevéhez kötött mondás magyarul annyi lenne, mint Ha békét akarsz, készülj a háborúra. Parabellum – innen jön a pisztoly neve. De a latin megfelelő is illik a filmre. Készülj a háborúra.
A második kezdő gondolatom ennek lenne a folytatása. Azt hittem, most megnézem egy trilógia nagy fináléját. Pedig a cím már súghatott volna, most csak készülünk a nagy háborúra. Nem akarok erről többet mondani, de simán el tudom képzelni, hogy 2 év múlva megyünk a John Wick 4. Háborúra. Jót is mosolygok magamon, hogy azt képzeltem, levágják az aranytojást tojó tyúkot.
Végül, Keanu Reeves. Mennyivel jobb őt így és itt látni, nem az olyan filmekben, mint az esküvős menet, amiről nem egészen egy hónapja meséltem kicsit. Hiába, nekem Keanu jobban működik akcióhősnek, mint romantikus figurának. A kedvenceim tőle, tippelhettek. Itt a zárójelbe a Top3 listám, de fehéreztem. (1. Mátrix – Neo; 2. Féktelenül – Jack Traven és 3. John Wick) Ahogy írtam, mind akció. Nem akarom bántani, de nem egy nagy eszköztárral dolgozó színész. Ezek a harcos jófiúk állnak jól neki, nem a nyálas szépfiúk.
De akkor ugorjunk John legújabb kalandjára!
3 pontban össze tudom foglalni, miért érdemes megnézni.
1: az akciók. Mindennel mennek egymásnak, roppant látványosan. Újabban a kézi harc nekem jobban bejön, mint a fegyverropogás, így nekem a verekedések – néha estrém helyeken, ahogy Bourne óta kötelező – a kedvenceim. De akinek kell a parabellum, megkapja.
2: menő szövegek és intézményrendszer. Roppant mód mozgatja az agyam az a szervezeti háló, amit ebben a filmben használnak. A hotelek, az ítélethozók, maga a Kör. Ha tényleg lesz sorozat belőle, tuti nézni fogom. Jól használják itt is, miközben menő párbeszédek és jelenet vannak. Van története a filmnek, nem kicsit ennek a háttérnek köszönhetően.
3: a stáblista. Tud egyáltalán választani valaki, ki a kedvenc és miért? Menő lett Halle Berry karaktere, a Billions furalánya is nagyon szerepben van, de Ian 'Odin' McShane is. De ez csak csepp a tengerben, feltűnik Marc Dacascos, Anjelica Huston is.
A Rémkirály visszatért, és jó, hogy visszatért. Mivel az Into the Badlands idén kifutott, innen pótlom az akcióigényem.
John Wick 3. - 5/4 látványos, Keanu Reeves karakterben, izgalmas a világa és sok benne a remek színész.