Vámpíros, mindennapi nehézségekkel szembenéző, titkos személyiséges.
Guillermo életét felforgatja egy DNS-teszt eredménye. Azzal szembesül, hogy a felmenői egyike Van Helsing, a vámpírvadász. Ezzel együtt saját magában is megleli a készségeket, amelyek kiváló vámpírölővé teszik. Gyötrődik is, reális-e még az álma, hogy belőle vámpír váljon. A képességeire azonban szükség van, hiszen gazdáit folyamatosan meg akarják ölni a rájuk törő vámpírok, ám ebből ők semmit nem vesznek észre. Túlzottan lefoglalja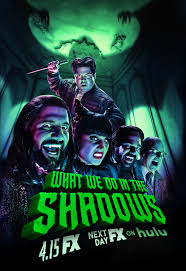 őket, hogy elmenjenek a szomszéd Super Bowl partijára, amiről tévedésből azt hiszik, egy bagoly tiszteletére ad estélyt. Hogy segítsenek a lelküknek továbblépni, beteljesítve az utolsó földi vágyuk. Még Collin is megízlelheti a nagyobb hatalmat, amikor főnökké léptetik elő, és az energia-elszívás új szintjére lép. Közben Guillermo egyre inkább megkérdőjelezi, hogy valaha sor kerül-e a szertartásra, mellyel belőle is vámpír lehetne. Lehet, hogy ideje továbblépni?
Az első évad után hasonló minőségben folytatódott a sorozat. Minden szereplő visszatért, és olyan sztárfeltűnések is vannak benne, amiért önmagában érdemes lenne megnézni. Nem kell hozzá a film ismerete, de azért az első évadé nem árt. (Egy-egy rész rövid, az évad is csak pár részből áll, így gyorsan meg lehet nézni az egészet.)
Továbbra is remekül egyensúlyoz a film paródia és komédia határmezsgyéjén. Fogta a vámpíros kliséket, csavar egyet rajtuk, és nevetségessé teszi őket, miközben használja is őket. Erre nincs jobb példa maguknál a karaktereknél. Gyilkos vámpírok, akiknek nem okoz gondot az emberek halálra szívása, még csak bűntudatuk sincs miatta. Azonban önmagukban és a modern életben életképtelenek. Pl. ebben az évadban láttunk olyat, hogy a befolyásolással megszerzik az áldozatot, éhezni nem fognak, de már nem tudnak tiszta ruhát venni, mert a mosás nem megy. Vagy, azért engedik el félholtan az áldozatuk, mert ha halálra szívnák, nem tudnának mit kezdeni a hullával és még vérfoltosabb lenne a padló.
Ahhoz képest, hogy elvileg mindegyiküknek komoly múltja van, Nandor pl. hírhedt hadvezér volt, meglehetősen ostobák. Nem csak azért, mert a kor idegen nekik és nem is akarnak megtanulni modern dolgokat. Az már szinte szánalmas, ahogy a telefon kifog rajtuk, vagy ahogy 100 évnyi amerikai élet után is bántó akcentussal beszélnek, miközben az anyanyelvüket már van, aki nem is beszéli. De mellette naiv személyek is, akiket nagyon könnyű átverni. Egyik csapdából sétálnak be a másikba, nem is értem, hogyan maradtak életben eddig.
Guillermo meg egy nagy balek. Rühelltem nézni, ahogy még mindig hisz nekik és reménykedik. Esze ágában sincs a mesterének vámpírt csinálni belőle. Ez mindenkinek nyilvánvaló, csak neki nem. Jellemző. Mindig várom is, hogy fellázad, ellenük fordul. De ő is olyan szánalmas, ha valamibe belekezd a maga érdekében, pl. lázad, utána visszakozik. Legyek gonosz, ha ilyen balek, meg is érdemli, hogy kihasználják?
Jól áll a filmnek a stílusa. Mintha dokumentum reality lenne, de nem annyira kézi kamerás a felvétel, hogy rosszul legyek tőle. Sötét hangulata van az egésznek, miközben nem a klasszikus vámpíros vérfürdőket és sötét terveket kapjuk. Itt is megvan a paródia jelleg.
Ugyanakkor egyre inkább érzem azt is, hogy egyszerre nézném is a sorozatot, meg félbe is hagynám. Taszítanak a karakterek, kivétel nélkül mindenki. Sokkal hosszabban tudom ecsetelni, mi velük a bajom és mivel mennek az agyamra, mint amit kedvelek bennük. Az egésznek a stílusa is, a paródia elemek nem szoktak nekem tetszeni. De ez még annyira komédia, hogy meg tudom nézni, ha ez-az zavar is.
A harmadik évad már be van rendelve, meg is fogom nézni, mert a vége különben megint érdekesre sikerült. Vajon képesek lesznek fejlődésre ezek a fafejek?
What we do in the Shadows - 5/4 a történet egyszerre taszít is, de szórakoztat is. Jó értelemben őrjítő, paródiának is korrekt.