Politikai, hatalomra kerülős, manipuláló.
Dick Cheney nem volt kiemelkedő semmiben. Közepes sportoló, közepes tanuló. Egy tehetsége volt: a legértelmetlenebb dolgokat is úgy tudta elmondani, hogy azt természetesnek és magának értetődőnek vette a hallgatósága. Plusz, szerencsésen választott párt magának. Lynne okos volt és nagyratörő, de tisztában volt vele,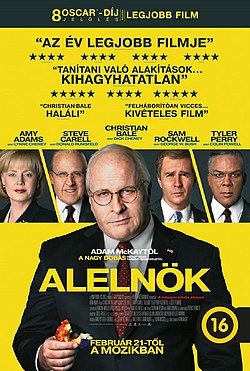 hogy nőként nem érvényesülhet a politikában. Dick volt, akinek helyette is teljesítenie kellett. A lány juttatta be a Yale-re. Ő kapta össze akar is, amikor az ivászat miatt már az elsőévben kitették. Cheney elkezdte a politikai elitbe bedolgozni magát, és a csillaga egyre emelkedett. Már a magánszektorban volt, amikor az ifjabb Bush felkérte alelnöknek. Cheney pedig meglátta a lehetőséget: az alelnök pozíciója csak névleges, de egy ilyen elnök mögött ő lehet az igazi hatalom, az azzal járó reflektorfény nélkül. Megragadta a lehetőséget, a többi pedig már történelem.
Jó sokáig halogattam, hogy megnézzem ezt a filmet. Mindig furcsának találom, ha egy olyan témát dolgoznak fel, amelyben ma is élő emberek szerepelnek, és mondjuk nem is régiek az események. Bírtam a Rocketmant, de hogy lehet arra reagálni, amikor Egerton és Elton, az igazi egymás mellett állnak és énekelnek? Vagy, ott volt A királynő. Amelyben lady Di halála utáni eseményeket mutatták be. A két pápa. Sorolhatnám. Nekem furcsa élmény ezeket nézni, és mindig érdekel is, a még élő emberek mit szólnak ahhoz, hogy ez készült róluk.
Az Alelnök ráadásul egy nagyon szókimondó, őszinte film. Nem egyszer felkaptam a fejem, milyen pofonokat osztogatnak. Nem csak a politikusoknak, de az átlag amerikainak is, akinek pl. a filmet is szánták. Mert az, hogy Bush milyen idióta itt… már az is elképesztő. Beleégett az agyamba, ahogy itt befűzik, hogy tulajdonképpen a teljes hatalmat átengedi az alelnöknek, és még csak fel se tűnik neki. Ahogy Cheney karaktere ott röhög magában… A másik, amikor az utolsó jelentben az átlag amerikaiakat mutatják. Egyetlen kis jelenet, és benne van, hogy a társadalom milyen nemtörődöm. Amíg megvan a kenyér és cirkusz, minden mehet ugyanígy. És megválasztják a sajtospofit – bár, lehet, hogy más nasit mondtak, nem esküdnék meg – elnöknek. Ezért.
Annyi mindent mozgatott be az agyamba ez a film. Doctorow, amikor a Radikálisokban megfesti a civilizációnk süllyedő hajóját, amelyet tolvajok és gazember vezetők vezettek a pusztulásba. A Seal Team, amiben éppen azt a témát rágják át, hogy az egyszerű katonák sima parancsteljesítők futják ugyanazokat a köröket, és nincs változás, mert a vezetőség ugyanaz az elvakult, önérdekű elit. Nem is értem, miért nem lángol még ez a világ. Itt konkrétan a képünkbe vágják: egyre több robotolás, egyre kevesebbért, de amíg megvan a magunk kenyere és cirkusza, minden így is fog menni tovább.
Ez egy okos, szemfelnyitó film, és vissza is kell terelnem magam hozzá, mert képes arra, hogy messzebb vezessen önmagánál. Átértékel politikát, hatalmi motivációkat. Amit itt az ISIS-ről megmutattak… égnek állt a hajam is.
Mindezt olyan filmes nyelvezettel bemutatva, hogy azért már önmagában megérte megnézni. Ahogy a horgászat motívuma végigmegy a történeten. Amikor kapunk egy kamuvéget, a mi lett volna, ha… jegyében. Ahogy az idősíkokat egymásra helyezik. Ahogy magyarázzák, ami történt. A Shakespeare-betét, amikor kihangsúlyozzák, hogy nem tudhatjuk, mit beszélhettek ott egymással, de íme, pár verzió. Egészen zseniális és elemi hatású a végeredmény.
Christian Bale nagy kedvencem, és megint elveszett a szerepben. Nem véletlenül volt az Oscar-jelölés. Persze, fizikailag is rengeteget változott, de nála soha nem merül ki ennyiben a játék. Levette az igazi Cheney mimikáját, gesztusait.
Nem szórakoztató film elsősorban, de valahol az is. Az biztos, érdemes megnézni. Értékes.
Alelnök - 5/5 egyedi filmnyelvű, komoly tartalommal, remek alakításokkal – de a tanulság durva.