Nácikra vadászó, Negyedik Birodalmat építő, összeesküvés-elméletes.
Jonah 18 éves kamasz, kivételes képességekkel. Az összes nagy egyetem felvette: MIT, Yale, Harvard. Azonban mindenkinek azt hazudta, hogy sehova nem sikerült a felvételije. A holocaust túlélő nagyanyjával csak ketten vannak, és nincs pénzük egyetemre. Az élete gyökerestül felfordul, amikor a nagymamáját meggyilkolják, és Jonah rádöbben, titokban min dolgozott. Egy titkos szervezettel olyan náci bűnösöket likvidált, akiknek sikerült a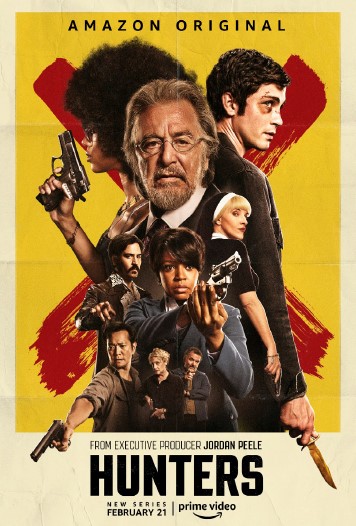 törvény elől elbújni. Egy ilyen bűnös végzett végül vele. Jonah bosszút akar, majd kiszállna, de rá kell jönnie, hogy már nincs visszaút. Egy nagy náci összeesküvés lépett működésbe, hogy megszülethessen a Negyedik Birodalom. Ugyan egy FBI ügynöknő az ügyön van, de ő egyelőre inkább bennük látja az ellenséget. Miközben a vadászokkal tart, a saját nagyszülei történetét is megismerheti, és aki tönkretette az életük: a Farkast, a náci sebészt.
Az első benyomások fontosak. A sorozatoknak a kis felvezetés, amíg kiírják a szereplőket. Milyen zene megy, milyen képeket vágnak be alá? A Hunters egy sakktáblát kapott, amin a nácik és a vadászok figuraként jelennek meg és mozognak a táblán. Ez már megadta azt az alaphangulatot, ami a sorozat mellé szegezett.
Valóban megvan a sakk jelleg, ahogy a nácik és a vadászok egymás ellen dolgoznak. Mindketten nyomoznak a másik fél után, miközben a saját terveik is működésbe lépnek. Ez inkább a Negyedik Birodalomra igaz, de ők a védettebbek, a vadászoknak a magánéletüket is óvni kell és a törvény rájuk is lesújtana. A nagy képhez, mire készülnek a nácik, minden résszel közelebb kerülünk kicsit. Így megvan az átívelés, miközben minden részben van egy-egy bűnös, akit elkapnak, vagy egy rejtély, amit megoldanak. Mert nem csak fel kell fedezni a rejtőzőket, de aztán szóra is bírni őket vagy éppen a hátrahagyott kódot feltörni.
Mindez kiegészül azzal, ahogy folyamatosan megismerjük a vadászok csapattagjainak személyes történeteit. Kicsit a Lost módszere ez, amikor egy-egy részben más-más szereplő egyéni pokoljárásának lehetünk tanúi. Ezzel is jó rejtélyt tartanak fenn. Pl. a Murray – Mindy házaspár sokat emlegeti Aaront, de az évad felén túl vagyunk, amire megtudjuk, ki volt ő és mi történt vele, amiért a házaspár beállt a vadászok közé. Nem holocaust történet mind, ettől is változatosabb a történet.
Több is tud lenni a sorozat annál, hogy simán zsidók és nácik küzdenek egymással. A rasszizmus tárgyát kiterjeszti, és azt is beemeli, hogy a más bőrszínűek, vagy éppen a leszbikusok milyen társadalmi hátrányokat kell, hogy elszenvedjenek.
Így egyszerre izgalmas attól, hogy harcolnak egymással, merényleteket akadályoznak meg vagy csapdába csalnak embereket – ugyanakkor sok egyéni dráma is kibontakozik, amelyekből mindig az látszik, hogy az ember mennyire gyilkos lény. A másságot megtorolja. Van egy nagyon erős vita a sorozatban, amikor arra világítanak rá, hogy az átlag Amerika mennyire rasszista. Ezzel a kiterjesztéssel nagyon mai is az üzenet – még mindig nem tanult az emberiség, és ugyanazok a különbségek szítanak gyűlöletet még mindig.
A végére azért kezdett elszállni a sorozat. Messzire elmennek azzal, milyen náci vezetők maradtak életben és rejtőzködnek. Az már túlzás. Sokkal izgalmasabbak az olyan katonák, akik gyalog létükre meglepően intelligensek, mint Travis – Austin Ted Bundyról mintázta.
Már csak azért is figyelemre méltó, mert Al Pacino sorozatszerepet vállalt. Jó a karaktere.
A 2. évad már be van rendelve, érdekel is, mit tudnak még kihozni a sorozatból.
Hunters – 5/4 hamar rákaptam, részben Al Pacino miatt, részben a sakkos felvezetés miatt. Csak a vége.
Hunters: Season 1 Official Trailer (2020) Al Pacino - YouTube