Szuperhősös, családi, értékeket átörökítő és megkérdőjelező.
Sheldon Sampson vezeti a világ megmentésére létrejött szuperhős osztagot hosszú évek óta. Védelmezi a kezdeteknél létrehozott Kódexet, mely a tagoktól tökéletességet vár el. Többek között a szupergonoszokat sem ölhetik meg. Ez lassan a szervezet pusztulásához vezet: a világ változott, az egyre erősebb gonoszok gond nélkül törnek az életükre. Egyre több fiatal hal bele a küzdelmekbe, és egyre többen kérdőjelezik meg, hogy miért nem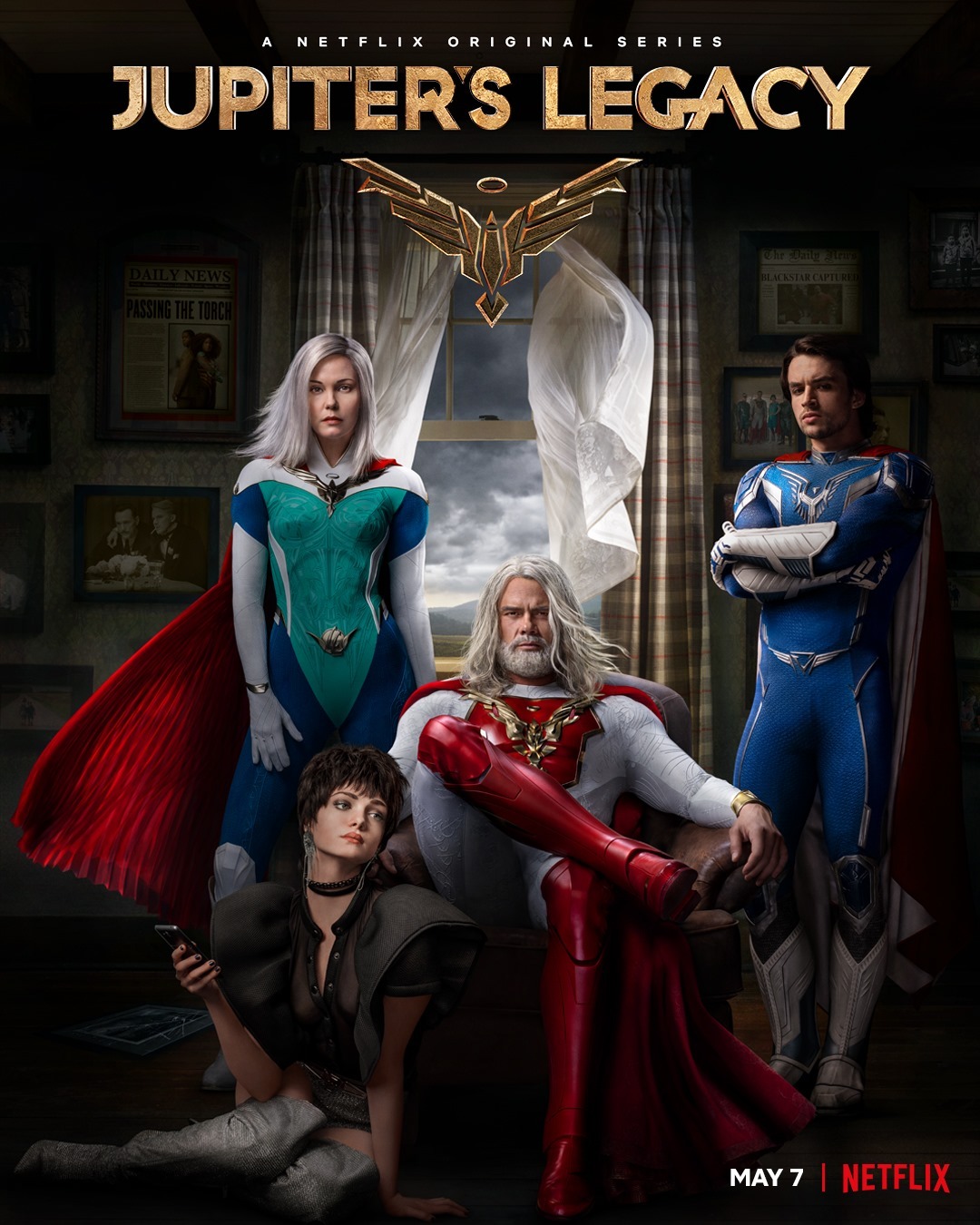 üthetnek halálosan vissza, ha ezzel életben maradhatnának és többeket megmenthetnének. Maga Sheldon fia, Brandon is ezzel a dilemmával küzd, miközben mindent megtesz, hogy Álomképként apja nyomdokaiba léphessen. Chloe, a testvére már feladta ezt az életet, és drogos, kikapós modellként próbál talpon maradni, míg meg nem ismeri apja egykori legjobb barátjának, majd legnagyobb ellenfelének a fiát.
Ezt az évadot sem húzták túl, a Netflix 8 epizódnyi esélyt adott a sorozatnak, hogy bizonyítson. Még nem láttam, hogy lenne újabb évadra berendelése – minden esetre nagyot kellene villantani, hogy jó sorozattá váljanak.
Kezdjük talán a történettel. Az egész első évad egy dupla felvezetés, aminek csak az utolsó részére jutunk el oda, hogy elkezdődjenek a dolgok és kezdjenek formálódni a határvonalak. Ahhoz képest, hogy ez egy szuperhős sorozat, nagyon kevés benne a tényleges szuperhős elem és akció is. Természetesen azt nem tudhatja, amit az animált Invincible, de a The Boys szintjétől és fényévekre le van maradva. Ha már szuperképességű emberekkel van tele a sorozat, akik harcolnak a rosszakkal, nem kellett volna ebből is valami minőséget prezentálni? De ezen túl is, hirtelen átcsapások vannak és durva ugrálások. Hutch és Chloe a semmiből lesznek szeretők, ahogy új szereplők is, mintha elveszett családtagok lennének, ugranak elő minden korábbi említés nélkül. George árulása – azt is folyton emlegetik, de igazából fogalmunk sincs róla 8 rész után, mi is történt.
Az szerintem megosztó, hogy egyébként mi van a sorozatban. A Superman egyik részében láttam már ugyanezt a dilemmát. Miért tilos ölni a hősöknek? Azt nagyon aláhúzzák, hogy hiányzik a csoportból a mindennapokhoz való alkalmazkodás. Nem csak a rosszabb gonoszok, de a történelem kapcsán is felmerül, tartható-e a Kódex. (Miért nem léptek fel a nácik ellen? Inkább legyél hősi halott, minthogy önvédelemből ölj?) A Kódex fekete-fehérre degradálja a világot, pedig az életben sok az árnyalat.
Jó darabig elvoltam ezzel a kérdéskörrel és a sok beszéddel, mert mindkét oldalt igyekeznek megmutatni és elmagyarázni az érveiket. Elmerengtem velük, de sok volt, igazi megoldás nélkül. Az meg olyan snassz tanulságként, hogy senki nem lehet tökéletes.
Túlzóan sok a múltbeli jelenet is, amikor az eredeti csapat összeáll és megszerzik a képességeiket. Nem igazán ad válaszokat, és az is csak több kérdést szül. Mintha ég legalább 2 fejezet kimaradt volna, hogy onnan hogyan jutunk el a jelenbe. A történet maga meg nem annyira érdekes, hogy ennyi játékteret adjanak neki.
Még abba is bele tudok kötni, hogy néznek ki a hősök. Egyikük egyenruhája borzalmasabb, mint a másiké. Lady Liberty szerelése talán a legborzalmasabb, de széles a skála. Nem néznek ki jól a képességek sem, a lézerszem az egyik legirritálóbb. A harcok, már amennyit kapunk, szintén nem néznek ki elég jól. Látványsorozatnak is kellene lennie, de nem az.
Casting. Hát… az alapgárdát öregnek találom. Azért az gáz, amikor pl. Josh Duhamel hitelesebb ősz szakállal és hajjal, mint a múltbeli jelenetekben fiatalembernek.
Azt hittem, ez lesz a pótlék, amíg The Boys évadra várunk, de az inkább az Invincible lesz. Ezt egyszer megnéztem, gyorsan el is felejtem. Pláne a kosztümöket – rémesek!
Jupiter's Legacy – 5/3 nem az igazi. Az erkölcsi dilemma elszórakoztatott kissé, de látvány/akció is kellett volna.