Szerettem is ezt a filmet, meg azért egyes elemei bántották a szemem. Azért határozottan a pozitív oldalra dől a mérleg, csak amennyire maximalista a főszereplő, annyira nem vagyok megelégedve a látottakkal.
A történet igaz események alapján készült, de be kell vallanom, eddig nem hallottam Diana Nyad nevét. Az úszást, mint sportot különben szeretem, de nem a nyílt vízi formát, hanem az uszodait. Nos, Nyad nyílt vízű úszó volt, kivételes eredményekkel. Ez a történet meg azt az úszását eleveníti fel, ami leginkább kiugrik az átlagból.
Még elképzelni is nehéz, hogy valakinek az jusson eszébe, hogy Kubából átússzon az Államokba. A film egy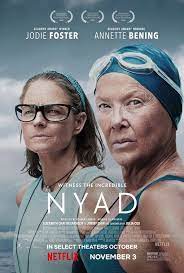 ponton feszegeti is, hogy ez miért szinte lehetetlen vállalkozás. Nekem különben a hegymászók jutottak róla eszembe – a teljesítményüket az inspirálja, hogy megmutassák, ez is lehetséges. Hogy az ember meg tudja tenni ezt is. Igazából nem nyernek vele semmit, kényelmesebb és biztonságos utak is léteznek (pl. hajó, ha már ennél a történetnél maradunk), de ez az emberi kitartás, teljesítőképesség eposza, így itt Nyad úszik, nem hajózik.
Az alaptörténet lassan, de alaposan fel van építve. Miért kezd el megint úszni, hogyan készül fel a teljesítésre, milyen emberek és miért állnak mellé. Még azt is sikerült érdekesebbé tenniük, hogy Diana a vízben van és tempózik. Ráadásul nem olcsó húzásokkal: nem fog cápákat kicselezni, vagy átúszni a viharon. Nem mesét akartak készíteni, hanem egy valósabb gyökerű igaz történetet elmesélő filmet. Így Diana el is bukik, jut mélypontra és a személyisége sötét oldalát is láthatjuk.
De, akkor a cselekményben az, ami miatt mégsem lettem rajongó. A filmben visszatérő elemként jelennek meg Diana emlékei az úszó múltról. Véletlenszerűen jönnek az apjával kapcsolatos emlékei, a fiatal versenyzőé, aki már a világbajnoki rekordra hajtott nyílt vízen Kuba és az USA átúszásával elsőként a világon, és az ifjúsági úszó világa az edzőjével kapcsolatos emlékekkel. Ami pedig átmegy egy nemi erőszak és kiskorúak kihasználása történetbe. Egyszerűen nem értettem, az miért és így került be a filmbe. Lábjegyzetként. Súlyos téma, itt meg van is, nem is, és olyan fura különben a film történetében. Nem illik bele. Értem, ezzel lesz #metoo vonala, főleg, amikor egy ponton a jelenben Bonnie-val arról beszélgetnek, a kamaszlányok miképpen próbáltak kiállni és véget vetni a dolgoknak, és mire jutottak összesen. De kellett ez ebbe a filmbe?
Az üzenetet különben Diana alakja meg is fogalmazza, amikor a film végén nyilatkozik. Abban benne van minden, amiről ez a film szólt. Hogy nincs olyan, hogy öreg. Ha akarsz valamit, dolgozz érte, érd el és hallgass a vészmadarakra. Meg, hogy kell egy csapat. Mert ez az egyéni ambíción és makacsságon túl a barátság története is. Bonnie, aki feladja az életét, hogy segítsen a barátnőjének. Bartlett (Rhys Ifans meglepően szimpatikusan játssza), aki bőven kap hideget, kevesebb meleget az úszótól, de kitart mellette és viszi a cél felé. Ebben annyira furán néz ki, hogy a 62-65 éves nő a 13-14 éves korában történteket emlegeti, és alig van kötve a jelenéhez.
Szuper a kémia a vezető színészek között. Bening és Foster tényleg úgy vannak a vásznon, mintha az életüket egymás mellett leélő és támogató barátnők lennének. Bening zseniálisan hozza az asszonyt, akiről nehéz is eldönteni, hogy felnézzünk rá, vagy a viselkedését lehetetlennek és elviselhetetlennek találjuk. Azért meglepődnék, ha Bening ezzel húzná be az Oscart, de különben megérdemelné. Nagyon sok minden megvan ebben a filmben és alakításban, amiért szeretnek díjakat osztani.
Van humor benne, van látványelem és dráma is. Igaz történet az alap. Határozottan a jó Netflix-filmek közé sorolom.